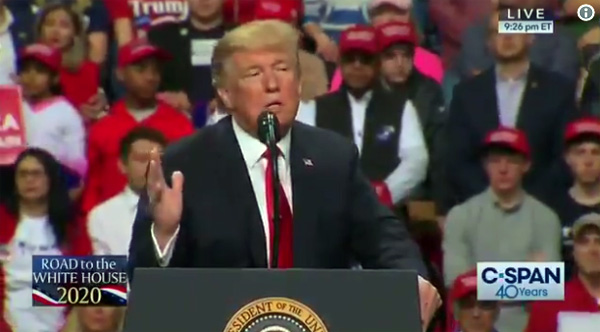 By Cheryl Sullenger
When President Donald J. Trump made comments regarding late-term abortion and infanticide at his recent rally in Green Bay, Wisconsin, he kicked over a hornet's nest.
The "Fake News" media headlines were scathing:
"Trump Pushes Dangerous Abortion Lies At Wisconsin Rally" –The Huffington Post
"Trump offers incendiary falsehood on abortion at Wisconsin rally" -CNN
"Trump Has a New Go-To Lie About Abortion, and It's Horrific" –Mother Jones
"Trump's Lies About Abortion Keep Getting More Disturbing" –The Cut
"Trump's Anti-Abortion Incitement: The president's lies about infanticide could inspire violence" –NYT
Twitter lit up with pretty much every leftist on line denouncing the President and accusing him of inciting violence, being deranged, and bringing shame on women.
So, what did President Trump say that has abortion apologists essentially foaming at the mouth with outrage?
"Your Democrat Governor here in Wisconsin shockingly stated that he will veto legislation that protects Wisconsin babies born alive," Trump explained. "The baby's born. The mother meets with the doctor. They take care of the baby. They wrap the baby beautifully. And then the doctor and the mother determine whether or not they will execute the baby."
The crowd erupted in boos at the prospect that living, breathing babies that survive abortion might be intentionally killed.
Trump continued, "It's incredible. Until this crazy man in Virginia said it, nobody even thought of that, right? Did anyone ever think of that? Late-term. But this is where the baby was born, it came out, it's there, it's wrapped. And that's it. Who believes it?"
Here's Trump making another false & unspeakably dangerous claim about abortion:

"The baby is born; the mother meets with the doctor. They take care of the baby. They wrap the baby beautifully. Then the doctor & mother determine whether or not they will execute the baby." pic.twitter.com/Hg6V6pjgpX

— Caroline Orr (@RVAwonk) April 28, 2019
Trump was referring to comments made by Virginia Governor Ralph Northam in January when he was explaining how his state's proposed new liberalization of late-term abortion laws would work in practice, if passed. Thankfully, they weren't.
"So, in this particular example if a mother is in labor, I can tell you exactly what would happen, the infant would be delivered. The infant would be kept comfortable. The infant would be resuscitated if that's what the mother and the family desired, and then a discussion would ensue between the physicians and the mother," Northam said.
The inference in Northam's comments was that if the mother made the decision, the baby would be killed ("executed" is an accurate word) or left to die without care. No food. No water. Any human being would die under those circumstances.
Trump accurately restated what Northam was proposing.
There is a list of other lies that are wrongly attributed to Trump's abortion comments.
The lie: Trump mischaracterized Wisconsin Gov. Tony Evers' position on a state law that would protect abortion survivors.
When Trump accurately stated the Wisconsin governor's position on the Abortion Survivors Protection Act. When Republicans introduced the bill earlier this year that would mandate medical care for babies who survive abortions, Wisconsin Gov. Tony Evers (D) vowed to veto it.
President Trump never said that Evers supports infanticide, but if he had, he would be technically correct. If abortionists do not supply medical care for premature babies that survive abortions, their intent is for the baby to die, even if he or she might be saved with a little medical assistance. This is to actually kill the baby through a crime of omission.
God forbid, if the surviving babies were to be intentionally killed, it would give prosecutors another tool in addition to infanticide charges to hold the murderers responsible.
The lie: Babies never survive abortions.
Some abortion promoters, including Leana Wen, CEO of Planned Parenthood, are trying to deceive the people into thinking babies never survive abortions, and are certainly never killed if they do survive.
Wen tweeted concerning the Born Alive Abortion Survivors Protection Act, "Today, the Senate will vote on a bill that criminalizes doctors for a practice that doesn't exist in medicine or reality."
Today, the Senate will vote on a bill that criminalizes doctors for a practice that doesn't exist in medicine or reality.

We must call this out for what it is: a direct attack on women's health and rights.#ProtectProviders

— Leana Wen, M.D. (@DrLeanaWen) February 25, 2019
However, there are many abortion survivors who are living today that strongly speak out against the barbaric procedures that were meant to end their lives.
One such survivor is Melissa Oden, who was born alive during a botched saline abortion in Sioux City, Iowa, in 1977. To deny that babies survive abortions is to deny her existence today.
The lie: Abortionists never intentionally kill babies that survive late-term abortion.
This lie is easily refuted since there are volumes of evidence out there that abortionists do in fact find ways to kill babies that survive abortions. These few examples are enough to justify laws protecting abortion survivors, as President Trump supports.
Kermit Gosnell: The first example that comes to mind is the heavily-documented case of Kermit Gosnell, a Pennsylvania abortionist who was convicted of three counts of first degree murder in 2013 for intentionally killing viable babies born alive during late-term abortions by stabbing them in the back of the neck with surgical scissors and "snipping" their spinal cords. Prosecutors believed that he and his unlicensed employees had killed hundreds of living babies in this manner.
Douglas Karpen: Just days after the Gosnell guilty verdicts were read in 2013, Operation Rescue released a report about a Texas abortionist Douglas Karpen, who was accused by his own clinic workers of killing babies born alive during late-term abortions by twisting their heads until they died. One of the workers provided grisly photographic evidence of this crime. After years of attempting to hold Karpen accountable for that baby's murder, his is now under investigation by the FBI.
Operation Rescue asked Mark Crutcher of the Texas-based Life Dynamics, Inc. to interview the women. The video he produced was shocking.
Shelley Sella: In 2008, a former employee of Women's Health Care Center, a now-closed late-term abortion facility in Wichita, Kansas, described an experience she had while assisting abortionist Shelley Sella with a 35-week abortion.
Sella's former colleague explained that when the nearly full-term baby was delivered, she noticed the baby moving. Sella looked up at Ms. David, then picked up a utensil and stabbed the baby in the left ribcage, twisting the utensil until the baby quit moving. Operation Rescue reported the suspected murder to the Wichita Police, but under questioning, the frightened witness recanted. The baby's body had been incinerated, destroying the only evidence of the alleged crime.
The lie: Late-term abortions are exceedingly rare and only done to save the life of the mother or when the fetus has horrible deformities incompatible with life.
In the U.S. there are approximately 100,000 abortions done in the second and third trimesters of pregnancy – and this is a conservative estimate. This is a significant enough number that legal protections for these babies are justified.
Shockingly, most women who receive abortions after 20 weeks of pregnancy do so for the same reasons women have abortions before 20 weeks, according to the Charlotte Lozier Institute. These include "stressful circumstances of unprepared pregnancy, single-motherhood, financial pressure, and relationship discord."
In Kansas, where the largest late-term abortion facility outside Communist China once operated until 2009, there had never been a single report to the Kansas Department of Health and Environment of a woman receiving a late-term abortion to save the mother's life while that clinic was operating.
A disciplinary case against one abortionist revealed that minor girls who sought abortions in their third trimester of pregnancy did so for transient – even petty – reasons. Such reasons were decreased enjoyment and ability to compete in sports. Other reasons included such things as not being able to sleep well at night, (what woman in her third trimester of pregnancy can?), having problems concentrating, being shocked to find herself pregnant, or fearful that parents might find out about the pregnancy.
The lie: Trump's abortion remarks will incite violence.
President Trump keeps telling the same lie about abortion doctors murdering healthy fetuses after delivery. This doesn't happen. Yet he said it again last night. This is precisely the kind of hysteria that inspires people who murder doctors and patients. pic.twitter.com/L9rgwEjND6

— Jamil Smith (@JamilSmith) April 28, 2019
The accusation that talking about the reality of abortion will incite violence is an old accusation based more on emotion than provable cause and effect. Any pro-life act, even praying in front of abortion clinics, has been hysterically classified by the Feminist Majority Foundation as "violence."
The leftist media amplifies crimes committed against abortion facilities while suppressing the increasing number of violent attacks against pro-life activists. For example, death threats and other physical attacks against Operation Rescue are rarely reported, and even a 2018 Federal criminal case against a man who threatened to rape one OR staffer's daughters and murder her whole family got scant coverage.
In fact, pro-life supporters are more likely to be attacked and property destroyed when talking about abortion in the public forum. Just a quick look at the Attacks & Censorship playlist on Created Equal's Youtube.com channel shows one attack after another on peaceful young people exercising their First Amendment rights.
The real liars
The real liars are those who project their own untruthful behavior onto President Trump with false accusations when he is simply telling the God's truth about what is happening behind the closed doors of our nation's abortion clinics – truth they don't want the public to know.
These people are engaging in a concerted effort to deceive the American people about late-term abortion and babies who survive it. Many use the same words and make the same false accusations to confuse the public in an attempt to discredit Trump and intimidate pro-life supporters into silence.
We cannot allow the lying bullies and their friends in the media to silence our President or us when we speak the truth about abortion, late-term abortion, and the heartless murder of newborns who survive abortion.
We must overcome the pro-abortion lies with the truth. The mainstream media will never accurately report on abortion, so we must be the media now.
It is up to us to back up President Trump, the most pro-life president in American history. If we all took to social media and supported President Trump en masse each time he exposes the evil of abortion, the the truth will win out. If we remain silent and allow the lying to proceed unchallenged, the truth will be lost, and with it, the innocent lives of babies who should have the protection of law.