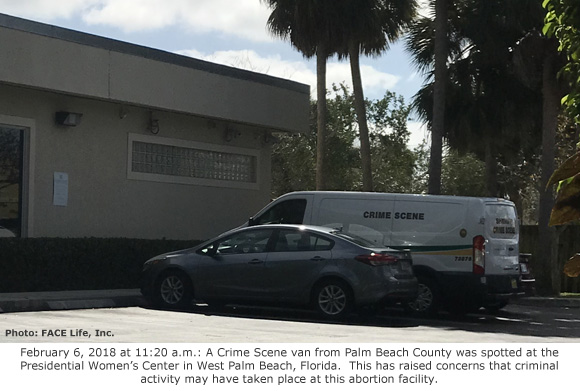 By Cheryl Sullenger
West Palm Beach, FL – A van clearly marked "Crime Scene" from the Palm Beach County Sheriff's Department was seen yesterday at Presidential Women's Center, an abortion facility located in West Palm Beach, Florida.
M. Susan Pine of FACE Life, Inc., told Operation Rescue that the van arrived at approximately 11:20 a.m. on Tuesday, February 6, 2018, and parked in the abortion facility's parking lot. A uniformed officer then entered Presidential Women's Center with some kind of paperwork in hand.
Pine reports that the abortion facility's medical director, Daniel Sacks, was at the clinic during the Crime Scene unit's visit.
Presidential Women's Center was referred to Florida Attorney General Pam Bondi by the House Select Investigative Committee on Infant Lives on November 30, 2016, due to PWC's suspected involvement in the illegal trafficking of aborted baby organs and tissue.
Bondi's office confirmed to Pine that the abortion business was indeed under "criminal review" on February 17, 2017, just two days after Operation Rescue published a report urging supporters to contact her office to ask if there were plans to act on the House criminal referral. Since then, Bondi's office has remained silent on the status of the investigation.
However, it is unclear if the Crime Scene officer's visit to PWC had any connection to the baby parts trafficking investigation.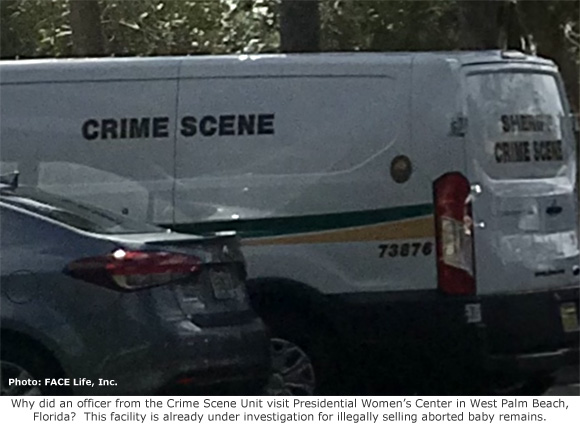 "We are left to wonder exactly what the county was investigating when it sent a Crime Scene unit to the Presidential Women's Center," said Troy Newman, President of Operation Rescue. "There are any number of crimes that abortion facilities have been known to commit, such as failure to report child sex abuse, sex crimes, illegal late-term abortions, financial malfeasance, and the like, but speculation concerning this recent incident is difficult at this time."
PWC is a member of the National Abortion Federation, a scandal-plagued association of abortion businesses that sued members of the Center for Medical Progress — including former board member Troy Newman — to block the release of undercover videos that implicated it and Planned Parenthood in crimes related to the illegal sale of aborted baby remains.
PWC conducts abortions up to 22.5 weeks gestation.