By Cheryl Sullenger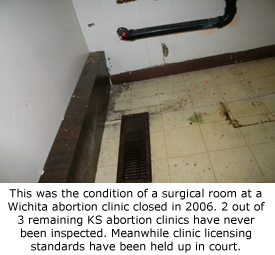 Topeka, Kansas – The State of Kansas will ask for summary judgment at a hearing on Friday, August 3, 2012, in a suit brought by Kansas abortionists challenging a clinic licensing law passed last year.
"We will be watching that hearing very closely," said Troy Newman, President of Operation Rescue and Pro-Life Nation. "Given the history of abortion abuses in Kansas, the enforcement of the new law cannot come soon enough."
Pro-life groups in Kansas have been trying to pass clinic licensing requirements since 2003 in order to add a layer of protection for women seeking services at abortion clinics that have never been inspected or accountable to any safety standards.
But for years, during the radically pro-abortion administrations of Gov. Kathleen Sebelius, who now serves the Obama Administration as Secretary of Health and Human Services, and her hand-picked successor, Mark Parkinson, common sense regulations meant to protect women from exploitation by unaccountable abortion clinics were repeatedly vetoed even though they had the overwhelming support of the public and the State Legislature.
Under the Sebelius/Parkinson administrations abortion clinics ran amok while they were politically shielded from accountability under Kansas law.
Finally, a sweeping change in the composition of state government in 2010 enabled the long-sought clinic licensing legislation to be signed into law. Just as the law was to go into effect, it was blocked by a Federal Court judge in a case filed by abortion clinics that have histories of resisting oversight and engaging in abortion abuses.
"This is a case of the inmates running the asylum," said Newman. "Abortion clinics have been caught red-handed breaking the law or admitting to abuses, yet they have managed to keep the authorities, who have the law on their side, on the defensive."
The court delays have been insufferable. The challenge was first filed in Federal Court in June, 2011, where the court blocked enforcement of the law. When it appeared that the Federal Court would not rule in their favor, the abortion clinics involved in the case dropped their Federal suit and refiled in state court. This reset the case and caused almost a year of delays.
Regulating abortion clinics
Clinic licensing and safety regulations have been passed in several states, including more recently Virginia, Maryland, and Mississippi. In Pennsylvania, several abortion clinics closed rather that bring their clinics up to standards when inspections conducted after an 18-year hiatus discovered massive deficiencies. Such inspections, like those required by the Kansas law, have been found to be constitutional and a vital function of the state, which is tasked with the duty to protect the public's health and safety.
A requirement that abortionists maintain local hospital privileges has passed Constitutional muster in Missouri, yet remains inexplicably under injunction in Kansas.
There are three abortion clinics left in Kansas and each has its own set of problems, which abortion clinic licensing will only partially address.
Comprehensive Health of Planned Parenthood
The largest abortion clinic in Kansas is Comprehensive Health of Planned Parenthood. In 2003, it came under investigation for failing to report child rape. In May, 2009, Operation Rescue again documented Planned Parenthood's willingness to ignore suspected child sex abuse. Yet, political interference ensured that Planned Parenthood was never charged.
In 2007, Planned Parenthood was finally charged with 107 criminal counts related to illegal late-term abortions and manufacturing evidence to conceal their crimes. The case languished in the State Supreme Court for years on Planned Parenthood appeals. Last fall, it was revealed that evidence critical to the state's case was shredded under the Sebelius administration without notice to the appropriate authorities, causing the judge to dismiss the most serious charges. However, 58 criminal counts remain pending. Just three weeks ago, District Attorney Steve Howe announced that he had lost his expert witness in the case and was struggling to replace him. A status hearing is set for August 20, 2012, with no trial date in sight.
After five years, District Attorney Howe, who was a political rival of the prosecutor who initially brought the charges, has failed to bring the criminal case against Planned Parenthood to trial.
"Howe's lack of will to prosecute crimes against Planned Parenthood is more than troubling and may be motivated by political animosity against his predecessor," said Newman. "In the meantime, Planned Parenthood is making a monkey out of him. It's embarrassing."
This case only serves to re-emphasize the need to enact clinic licensing and safety requirements that are enforceable by medical regulators who understand that patient safety should come before politics. In the meantime, Planned Parenthood remains out of control and unaccountable.
Central Women's Services, AKA Aid for Women
Earlier this year, a confidential informant leaked documents to Operation Rescue from Central Family Medical, also known as Aid for Women, that indicated the abortion clinic had illegally dumped private patient medical information and bloody refuse from abortions. Additional documents indicated that the Kansas City abortion clinic never reported incidents of suspected abuse. Videos taken outside the clinic showed women who were unable to walk without assistance being dangerously released after abortions.
Operation Rescue filed complaints with various state agencies demanding an investigation and enforcement of Kansas laws. While the Kansas Board of Healing Arts was quick to launch such an investigation, the Attorney General's office has remained disturbingly unresponsive.
"It has been three months since we reported the violations at Central Family Medical and revealed the fact that disgraced abortionist Malcom Knarr, whose medical license was revoked for dangerous abortion practices in 1994, owns and operates the clinic. Yet it continues to operate doing business as usual. It appears that there is no sense of urgency to protect women from this predatory abortion business," said Newman.
Central Family Medical was the first clinic denied licensure before the Court halted enforcement. It has joined with abortionist Herbert Hodes in his suit challenging the law.
Center for Women's Health
The father-daughter team of abortionists, Herbert Hodes and Traci Nauser, originally brought suit to block the new clinic licensing law, refusing to submit their Center for Women's Health abortion clinic to state inspection.
Hodes is no stranger to headlines in the Sunflower State.
According to the Wichita Eagle, Hodes testified on March 9, 2011, before the House Committee on Federal and State Affairs. The Eagle reported, "[Hodes] estimated that Kansas has seen 'five deaths in the last five years' because of abortion procedures." Hodes later changed his tune and denied any abortion-related deaths occurred during that time span after his comments prompted demands from Operation Rescue that the Attorney General's office investigate the spate of unreported abortion deaths.
Hodes and AFW also were part of a Federal lawsuit tried in 2006 challenging the state's mandatory child abuse reporting requirements. They argued that abortion clinics should not be required to report suspected cases of child sex abuse when girls under 14 come to them for abortions. While initially the judge ruled that abortion clinics could report at their discretion, a change in the law later rendered that absurd ruling moot.
Other Kansas abortion abuses


The Kansas State Board of Healing Arts revoked the license of abortionist Ann Kristin Neuhaus, last month after it was determined that she had for years improperly referred women for late-term abortions for mental health reasons after conducting negligently inadequate patient interviews that she attempted to pass off as mental health evaluations. The revocation was the result of a complaint filed by Operation Rescue. The abortion clinic she worked at had no oversight nor had it ever been inspected to ensure compliance with Board regulations or other laws.
The license of another Kansas abortionist, Krishna Rajanna in 2005 after it was documented that he ran a filthy abortion mill that was so nasty that one police detective later testified before the Legislature about the horrific conditions he experienced. The clinic had never been inspected and would still be operating if not for pro-life activists who documented and exposed the filth.
Operation Rescue's own headquarters is now located in a former abortion clinic where appalling conditions existed, including mold and pest infestations, leaky roof and plumbing, a clogged drain in the room where abortion equipment was washed, and dangerously out of code electrical. It operated for 23 years without a state inspector ever darkening its doorway.
Need for another enforcement avenue
Gaining enforcement of the law by elected politicians in abortion-related cases has always been the weak link in Kansas, with the exception of former Attorney General Phill Kline.
"Politicians as prosecutors have never worked well in Kansas," said Newman. "They either protect the abortion clinics as their ideological soul-mates or are too concerned about their political careers to aggressively take on the abortion cartel. Either way, they have left vulnerable women open for exploitation by abortion clinics that have been able to so far get away with defying the law."
Clinic regulations would add another avenue of enforcement by regulators that have the legal authority to close dangerous abortion clinics that cannot or will not comply with the law. That is a level of oversight that has never existed in Kansas.
"We are praying the State's motion is successful," said Newman. "Women in Kansas simply cannot afford the risk to their lives and health that comes with more delay."
Take action
Operation Rescue continues to ask the public to express concerns to District Attorney Steve Howe, asking him to aggressively prosecute Planned Parenthood.
Johnson County District Attorney Steve Howe
Voice: (913) 715-3000
E-mail: district.attorney@jocogov.org
The public is also encouraged to contact Attorney General Derek Schmidt and ask for an investigation into complaint against Central Family Medical for the non-reporting of abuse and other violations.
KS Atty. Gen. Derek Schmidt
Voice: 1-888-428-8436
Fax: (785) 296-6296
E-Mail form: Click here