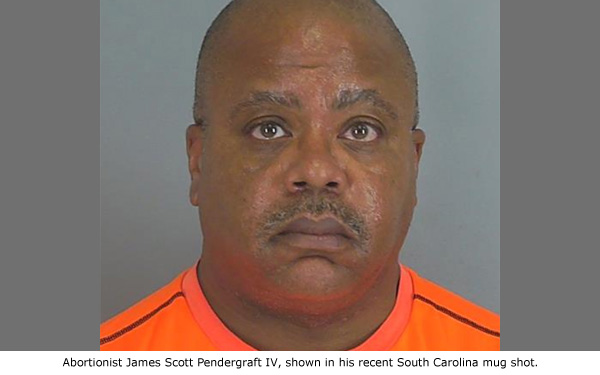 By Cheryl Sullenger
Tallahassee, FL – Operation Rescue has been notified by letter that its complaint filed against Florida abortionist James Scott Pendergraft, IV is moving forward to a Probable Cause Panel, which will decide whether a formal disciplinary action will be filed.
The complaint focused on Pendergraft's arrest in South Carolina in 2015 for operating a "rolling abortion clinic" out of his vehicle and possession of illegal drugs, and his guilty pleas entered on October 16, 2017, on the felony drug possession charges. He was sentenced to five years of probation and fined a total of $26,342.25.
The South Carolina authorities that prosecuted Pendergraft declined to charge him with illegal abortions or practicing medicine without a license even though he has never held a medical license in that state.
"Pendergraft's criminal conviction may now be his downfall. In truth, he belongs in prison, but license revocation and the closure of his Florida abortion facilities would be a huge victory for all who have worked and prayed that his abortion career would end," said Troy Newman, President of Operation Rescue.
Currently, Pendergraft's Florida medical license is under suspension for the fifth time for a variety of shoddy abortion practices, including failure to pay the Medical Board $122,000 in fines and costs.
The South Carolina felony convictions should be enough to finally revoke his license permanently.
Pendergraft continues to operate three abortion facilities in Central Florida. The Florida Department of Health revoked the facility licenses of Pendergraft's four abortion facilities on May 5, 2017, based on his South Carolina arrests. However, three have remained open pending their appeal of the revocations and one has since closed.
Pendergraft's remaining abortion facilities are:
• EPOC Clinic, LLC in Orlando (which has been rarely open in recent weeks).
• Ft. Lauderdale Women's Center, LLC in Ft. Lauderdale.
• Orlando Women's Center, LLC in Orlando.
In light of the felony convictions, and if Pendergraft's medical license is indeed revoked, it is expected that those facilities will permanently close.
Pendergraft has been involved in a number of legal issues, including repeated alleged criminal activity over the years.
In 2012, Operation Rescue conducted an undercover investigation that discovered he was operating an illegal late-term abortion racket at an unlicensed abortion facility in Maryland with the help of abortionist Harold O. Alexander. Alexander's medical license was temporarily suspended as a result, and was later revoked.
In 2011, a malpractice case that resulted in a multi-million dollar judgment against him. In an effort to collect on the judgement, a moving van was used to seize the contents of his Orlando Women's Center in 2013, but he was able to reopen later with supposedly "borrowed" equipment.
In 2015, pro-life activist Michele Herzog caught Pendergraft on video sneaking into the back door of his Orlando abortion facility, apparently to do abortions even though his medical license was listed as "Delinquent" with a note that he was not permitted to practice medicine. No other abortionist was on duty and women filled the waiting room. After Herzog called the police, Pendergraft fled the scene. It was later that same year that he was arrested in South Carolina in the case that could mean the end to his abortion career.
"Pendergraft has managed to stay in business all these years despite efforts by pro-lifers and by regulators to shut him down," said Newman. "If our complaint succeeds in accomplishing that goal, it will end the career of one of the worst abortionists in America. That would be a victory for women and a huge answer to years of prayer."
Read the letter from the Florida Department of Health
View Pendergraft's profile page with further documentation at AbortionDocs.org.