Sharonville Mayor, Board of Health petitions the Ohio Health Department to revoke special privileges in light of violations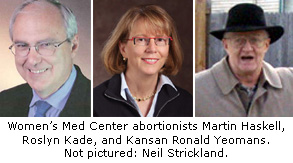 Sharonville, Ohio – City officials in Sharonville, Ohio, are asking the Ohio Department of Health (ODH) to reconsider a waiver/variance issued to late-term abortionist Martin Haskell that allows him to operate his Women's Med Center abortion clinic in their town without having to comply with laws that require physicians at such facilities to maintain valid Ambulatory Transfer agreements or have admitting privileges at local qualified hospitals.
This is the second "variance" that Haskell has received from the ODH. Operation Rescue earlier reported that Haskell's Dayton abortion clinic operates under a variance, which excuses him from having to comply with the transfer agreement requirement.
The clinic web site indicates abortions are done in Sharonville up to 24 weeks, or through the sixth month of pregnancy.
"It is the belief of the Sharonville Board of Health that this waiver/variance was improperly granted and compromises the health, safety and welfare of the general public," wrote the President of the Sharonville Board of Health Virgil G. Lovitt, II, in a letter to the Ohio Department of Health dated May 19, 2011. Lovitt also serves as the Mayor of Sharonville, a suburb of Cincinnati. The 18-point letter included 53 pages of documentation to support the Sharonville Board of Health's findings.
"Both of Haskell's Ohio abortion clinics have now been given permission to operate outside the law," said Operation Rescue President Troy Newman. "The documentation submitted by Mayor Lovitt paints a dramatic picture of an abortion business that is attempting to evade compliance, buy favors, and confuse the public in such a way that it endangers women."
In the letter, the Sharonville Health Department (SHD) expresses concerns that the variance, which was "processed in an expedited manner," was hastily granted while Haskell's new abortion facility was in non-compliance with state and federal laws just two weeks before an election that replaced pro-abortion Gov. Ted Strickland with pro-life Gov. John Kasich.
A timeline of the events leading to the granting of the variance raises questions about campaign contributions from Haskell totaling $3,750 to the Strickland re-election campaign. Significant movement in the variance process took place within days of significant contributions to Strickland.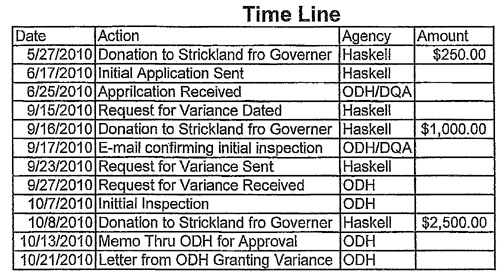 The variance was needed because at least one abortionist, Neil Richard Strickland, (relationship to former Gov. Ted Strickland unknown), has no hospital privileges or transfer agreement with any local hospital. Strickland's name is listed on the signage outside Haskell's Sharonville clinic along with Haskell and abortionist Roslyn Kade.
A fourth abortionist, Ronald Norman Yeomans, is listed as providing abortions on the "Women's Med Consent to Medical Services" form available on the Women's Med Center web site. However, not only does Yeomans not have a hospital transfer agreement, his Ohio medical license is currently expired. Yeomans is a Kansas City, Kansas, abortionist who is perhaps best known for training Wichita abortionist Mila Means, who has been prevented from opening an abortion clinic in Wichita due to intense public opposition.


In addition to the Sharonville location, Haskell operates two other abortion clinics, one in Dayton and one in Indianapolis, Indiana. Yeomans does have a valid Indiana medical license and is listed as an abortionist at Haskell's Indianapolis clinic. However, the SHD has expressed concern that Yeomans could be operating at the Sharonville clinic, which would be illegal. The SHD noted that the consent form given to Ohio women bearing Yeoman's name "appears to legally require patients to release Dr. Yeomans to perform surgical and anesthesia procedures."
Haskell has "courtesy" privileges at the nearby Jewish Hospital and Kade has conditional privileges at Christ Hospital, based on her having a written agreement with a Ob/Gyn with privileges at that hospital. There is concern expressed by the SHD that Kade cannot treat hospital emergencies in her own standing, therefore would not be able to back up Haskell or anyone else should an emergency arise.
An October 7, 2010, inspection of Haskell's Sharonville office indicated deficiencies in 18 categories. A partial listing of those deficiencies include:
• A lack of malpractice coverage.
• Failure to meet requirements for the use of anesthesia and blood products.
• Providing no procedures to track drugs, hospital transfers, and deaths.
• The clinic could not list all physicians with surgical privileges, which was particularly troublesome since Strickland and Yeomans were never mentioned.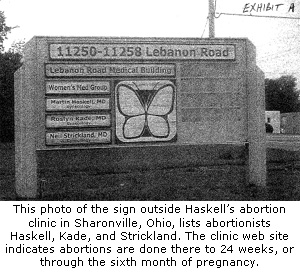 The day after the inspection Haskell made a $2,500 contribution to then-Gov. Strickland's re-election campaign. Five days later, a memo was issued giving tentative approval for the Haskell variance. A week later, on October 21, 2010, the variance was issued without having any evidence that the 18 discovered deficiencies had been corrected or even addressed.
In addition, the SHD discovered that at the time the variance was issued, the clinic was not licensed as a generator of Bio-Waste, but two months later, Haskell's clinic appeared listed with the Ohio Environmental Protection Agency as "a large generator of Bio-Waste." The clinic had operated illegally for over two months without the proper licensing.
The SHD also discovered numerous discrepancies in what Haskell told licensing officials and what was advertised on his web site, including conflicting names of the facility, confusion about the services provided and specialties of the "physicians."
What late-term procedures are done at Haskell's Sharonville clinic are also a matter of some confusion. Haskell has told the SHD that "induction" abortions, a multi-day late-term procedure, only take place in Dayton, yet the Women's Med Center web site indicates that the facility conducts abortion up to 24 weeks and is in fact providing hotel rooms for late-term patients. The SHD considers this a patient care and safety issue concerning the disposal of Bio-Waste and for EMS services in the event medical attention is required while a patient is at her hotel.
"If Haskell's clinics cannot or will not comply with the same regulations that every other ambulatory surgical facility must meet, then he should not be allowed to continue his operations in the interest of public safety," said Newman. "It really is as simple as that."
The SHD has asked the Ohio Department of Health to do the following:
• Reopen and reconsider the variance/waiver.
• Conduct an unannounced inspection of the Sharonville clinic.
• Allow public input on the variance/waiver request.
• Provide notification to the SHD, the City of Sharonville, and all other medical providers and hospitals that were germane to the decision to allow the variance.
• Provide any additional documents that were a material part of granting the variance.
The local pro-life supporters are not standing idly by. Dr. Steve Brinn, a pediatrician next door to Haskell's Sharonville abortion clinic who strongly objects to his new neighbor, has invited a local crisis pregnancy center to use his office for counseling and to provide free ultrasounds to women considering abortion. Activists have organized a continuous pro-life presence outside the clinic every hour it is open. Some are working with the authorities to rescind the ODH variance and peacefully close the clinic through legal means. They have distributed the SHD letter and its attachments in order to help expose the violations on a larger scale.
Operation Rescue is asking the public to help hold Haskell accountable by contacting the Ohio Department of Health and asking them to rescind the variance and uphold the law as written.
Contact:
Dr. Theodore Wymyslo, Ohio Department of Health (Corrected)
E-mail: Director@odh.ohio.gov
Phone: 614-466-3543
Documents:
Sharonville Health Dept. letter, Attachments A-D; Attachment E; Attachments F-G
Operation Rescue's 3-part Exposé on Late-term Abortionist Martin Haskell: Part 1; Part 2; Part 3