By Cheryl Sullenger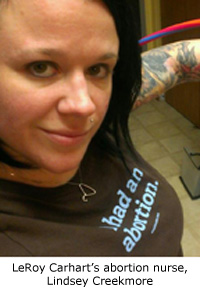 Bellevue, NE — Documents obtained by Operation Rescue show that Lindsey Creekmore, a registered nurse who works for late-term abortionist LeRoy Carhart, has had her license suspended for 60 days and has been placed on probation for a period of two years by the Nebraska Department of Health and Human Services Division of Public Health.
The case was prosecuted by the office of Attorney General Jon Bruning, who originally sought to revoke Creekmore's nursing license.
"While this disciplinary action may not shut down Carhart's Nebraska abortion business, it does expose the routine pattern of negligence and shoddy practices that occur under his watch," said Troy Newman, President of Operation Rescue. "It validates what we have been saying about Carhart's practice for years, that his substandard Gosnell-like practices are endangering the lives and health of women every day. Because of the grave public safety risk posed by Carhart and his negligent staff, his abortion mill should be permanently closed."
According to documents, Patient 1, who had an abortion on March 31, 2012, was improperly drugged by Creekmore. Later that patient was transported to a local hospital. The 911 recording obtained by Operation Rescue, on which one can hear Creekmore's interaction with the 911 dispatcher, showed evasive answers to questions and a request for an ambulance with "no lights or sirens."
But perhaps most chilling were the patient's moans and screams that could be clearly heard in the background of the 911 call.
Creekmore is the only licensed nurse employed by Carhart at his Abortion & Contraception Clinic of Nebraska, located in Bellevue, a suburb of Omaha, and has been the only nurse there since April 30, 2011. Disciplinary documents referred to Carhart's abortion business by its more innocuous-sounding alias, the "Bellevue Health and Emergency Clinic, Inc."
Creekmore was found to have engaged in "a pattern of negligence" and unprofessional conduct in providing care for eleven abortion patients that "did not meet the acceptable standard of care for a registered nurse licensed in the State of Nebraska." She had been routinely delegating complex nursing tasks to unqualified, unlicensed clinic workers.
Creekmore was also found to have operated outside the scope of practice for registered nurses by changing doses and frequency of doses on her own for a number of controlled substances used on abortion patients, without receiving orders from Carhart.
This same practice of illegally drugging women was found to be common among Kermit Gosnell's abortion clinic workers and eventually caused the death of patient Karnamaya Mongar.

Creekmore was also accused of falsifying medical records, failing to maintain accurate patient records, failure to utilize appropriate judgment, and committing acts which endangered patient safety.
Operation Rescue has documented eight abortion-related medical emergencies at Carhart's Bellevue, Nebraska, and Germantown, Maryland, abortion facilities, including one fatality, in the past two years. The most recent incident took place in Germantown on July 2, 2014.
"We can only wonder how many of these incidents Creekmore was involved in or responsible for," said Newman. "The one medical emergency for which we have a 911 recording with Creekmore's voice makes us shudder to think of what horrors that patient was experiencing to make her cry out as she did. That is likely just the tip of the iceberg."
Her suspension is set to run from July 24 through September 21, 2014. Her two-year probationary term will begin on January 24, 2014 and end on January 24, 2016.
Creekmore formerly worked for the infamous late-term abortionist George Tiller in Wichita, Kansas, where she first met Carhart. She later followed him to Nebraska when Tiller's abortion business closed in June, 2009. During that time, while she was using the name Lindsey Alejandro, an Operation Rescue undercover investigation documented the fact that she frequently falsified ultrasound results in order to circumvent certain Kansas abortion laws. She was never held accountable for that despite the evidence against her.
Read the Amended Petition and Petition for Discipline