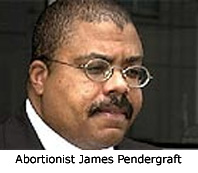 Tallahassee, FL — The Florida Department of Health has again suspended the medical license of late-term abortionist James Pendergraft for a period of two years.
The final order, issued January 26, 2010, indicates that after Pendergraft serves his suspension, he will be required serve an additional three years of probation during which time he will only be allowed to operate under the direct supervision of a Board Certified ObGyn, which must also share an office with him. In addition, Pendergraft was ordered to pay $20,000 in administrative costs by February 25, 2010.
The suspension is the result of a complaint filed April 14, 2008, that states Pendergraft illegally prescribed controlled substances without proper DEA licensing and committed medical malpractice in a botched abortion of a 19 week fetus on February 7, 2006.
After inadequately dilating Patient S.B.'s cervix for a D&E abortion, Pendergraft ruptured her uterus and shoved the pre-born baby's body into the abdominal cavity. She was rushed to the hospital where she received an emergency hysterectomy along with the removal of the dead fetus, which was missing an arm. The arm was later found at Pendergraft's EPOC abortion clinic. His not reporting that he had removed the arm caused a delay in her care at the hospital as surgeons futilely attempted to locate the missing appendage.
This is not Pendergraft's first brush with the law. His Florida license was suspended in 2006 for doing illegal third trimester abortions. He completed that suspension which was unsuccessfully appealed. At that time the Florida Department of Health stated that Pendergraft showed "a flagrant disregard for the laws of the state of Florida and a willingness to endanger the lives and health of pregnant patients."
"It is shocking that Pendergraft's Florida medical license was not permanently revoked. He has been involved in numerous disciplinary actions, and remains a menace to women," said Operation Rescue President Troy Newman. "This is yet another National Abortion Federation member that is not fit to practice medicine."
Last month NAF's president Vicki Saporta was expressed opposition to Operation Rescue's Abortion Whistleblowers campaign that is seeking to bring abortion abusers to justice. Numerous NAF members have already been incarcerated for crimes and/or lost their licenses due to substandard care.
Pendergraft's five Florida abortion mills are expected to remain open using hired abortionists already on staff.
"We urge pro-life activists in Florida to carefully monitor Pendergraft's abortion clinics and report suspicious activity to the authorities immediately," said Newman.