Report contradicts NM AG's claim no laws were broken
By Cheryl Sullenger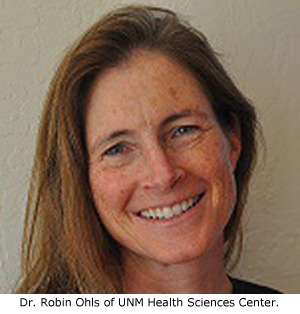 Albuquerque, NM – Since New Mexico Attorney General Hector Balderas released his findings in response to two criminal referrals from the House Investigative Panel on Infant Lives saying no laws against the trafficking of aborted baby remains were broken by the University of New Mexico or Southwestern Women's Option, more information has surfaced that casts doubt on the accuracy of that determination.
Ironically, on Thursday, January 4, 2018, the front page of the Albuquerque Journal featured two contradictory stories. One was a report on Balderas' "findings," and the other was a report based on internal UNM documents obtained by the newspaper that revealed the UNM Health Sciences Center discovered that one of it's researchers, Dr. Robin Ohls, was receiving aborted baby remains exclusively from Southwestern Women's Options, then transferring them to a private laboratory in Michigan.
The discovery was made when Ohls asked for financial compensation to one of her assistants who packaged the remains for transport.
The Albuquerque Journal, referenced a memo written by Dr. Paul Roth, Chancellor of the UNM Health Sciences Center (UNM HSC), and Elsa Cole, a university attorney.
"HSC staff was concerned that: 1) an issue was being raised that would potentially infringe on the University's policy to not buy or sell human tissue, and 2) appropriate research compliance approvals and processes protocols had not been followed," the memo states. [Emphasis added]
Ohls was suspended from conducting research and was locked out of her laboratory by UNM HSC officials last October, 16 months after the first round of criminal referrals were made by the House Select Panel. It is believed by that UNM has halted all research using aborted baby remains, but that could not be independently verified by Operation Rescue.
UNM HSC is apparently conducting its own ongoing investigation into Ohl's suspected profiting from the sale of aborted baby remains procured by her staff from Southwestern Women's Options (SWO).

SWO is one of the few late-term abortion facilities in the country that openly commit abortions throughout all nine months of pregnancy. It is owned and operated by the elderly Texas abortionist Curtis Boyd, who admits to having engaged in illegal back-alley abortions prior to Roe v. Wade.
The destination of the tissue and organs obtained from SWO was a private company called Zietchick Research Institute, located in Plymouth, Michigan. It appears to employ one person, Dr. Tammy Movsas, and is funded through U.S. government awards totaling close to $2 million from 2014-2017, according to one government web site.
"Certainly, Balderas had access to this information at appears to have ignored in favor of marching in lock-step with his pro-abortion cronies in the Democratic Party. I guess his political career was more important to him than doing his sworn duty to uphold the law," said Newman. "Fortunately, the Department of Justice has opened an active investigation into Planned Parenthood aborted baby body parts scheme, and are also investigating the UNM/SWO referrals, so there is still some hope that justice will be done."
[HT to Bud and Tara Shaver of Abortion Free New Mexico.]