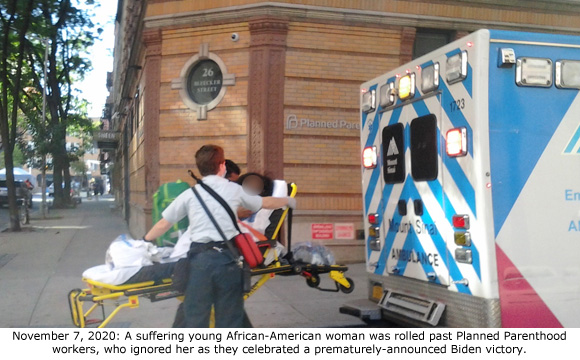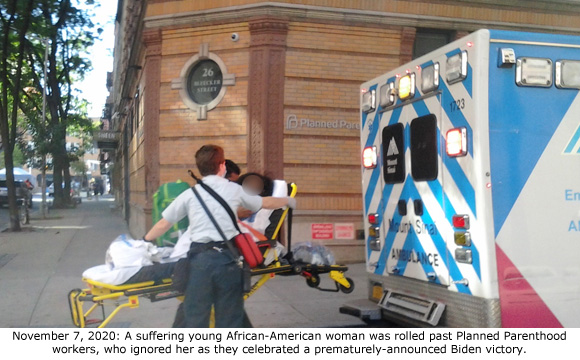 By Cheryl Sullenger
New York, NY – As shouting New Yorkers began to take to the street where cars were honking in celebration of the news media's premature announcement that pro-abortion Democrat Joe Biden was projected to win the Presidency, a young woman, who was apparently injured during an abortion, was removed by emergency workers from Planned Parenthood's flagship abortion facility in New York City and transported to a local hospital by ambulance.
The incident, which took place on November 7, 2020, involved a young African-American woman who appeared to be in severe pain, and was "balled up in the fetal position on the gurney," according to one eye witness.
"The [Planned Parenthood] personnel were on the sidewalks pumping their fists and shouting victory, completely ignoring the ambulance gurney as it was wheeled by them," the witness told Operation Rescue.
Amid the celebrations, the suffering woman was transported in a Mount Sinai Medical Center ambulance away from the scene. As usual at this Planned Parenthood location, the ambulance did not deploy lights and sirens until it was about a block away from the abortion facility.
This was the fourth known medical emergency at the Manhattan Planned Parenthood in 2020. Earlier this year, the facility, which was formerly known as the Margaret Sanger Planned Parenthood after the organization's founder, was forced to change the name of the clinic after allegations of racism within the Planned Parenthood organization surfaced. Margaret Sanger was a well-known eugenicist and racist, who supported ridding the population of minority races.
In all, Operation Rescue has documented a total of 37 women who were transported by ambulance from this high-volume Planned Parenthood abortion facility, that is located on the corner of Bleeker Street and Margaret Sanger Square – a street name the city refuses to change.
Planned Parenthood endorsed Joe Biden and Kamala Harris for President and Vice President. The pair promised to "defend and expand" abortion and "codify Roe v. Wade," according to a tweet posted by Harris in August 2020.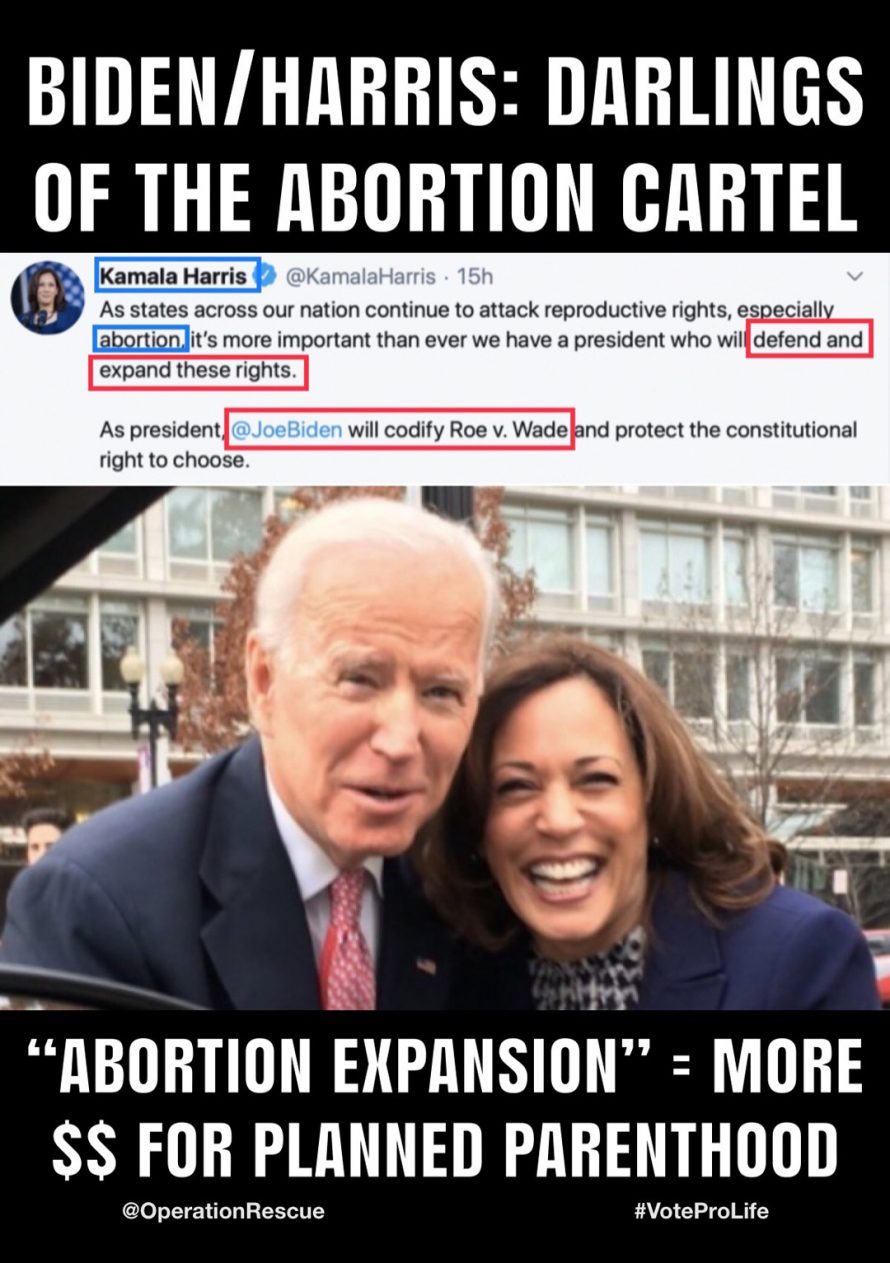 "It's ironic that this injured woman would be wheeled past the Planned Parenthood that workers were cheering and fist-pumping for the pro-abortion team of Biden and Harris. What they were really cheering for was more dead babies and more injured and suffering women," said Troy Newman, President of Operation Rescue. "The Presidential race is not officially over, and President Trump is challenging the outcome in several key states. If successful it could very well change the outcome of the election. We are standing 100 percent behind President Trump as these challenges continue."