Video contains new recording indicating the patient suffered a uterine perforation.
By Cheryl Sullenger
Akron, Ohio – A Freedom of Information Act request has yielded troubling information about a medical emergency that took place at the Akron Women's Medical Group in Akron, Ohio, on February 7, 2015. The recording has been released by Operation Rescue in a Youtube.com video that includes video of the incident taken by a local pro-life activist.
In the process of investigating this incident, Operation Rescue has discovered two additional medical emergencies at this facility, which has also been the subject of numerous health and safety violations.
Operation Rescue obtained an audio recording related to that medical emergency that indicates the abortion facility neglected to call 911 when an abortionist perforated the uterus of a 26-year old woman. Instead, the clinic staff opted to directly call American Medical Response (AMR), a private company that provides ambulance service in the Akron area.
The recording, obtained through the Akron Fire Department, indicated that it would take AMR ten minutes to arrive on the scene. The Computer Aided Dispatch document that accompanied the recording noted that it took the Akron Fire Department medical unit less than four minutes to arrive at the hospital from the abortion clinic.
"Dialing 911 is the fastest way to get help, but lately we have noticed that abortion clinics have been avoiding 911 in order to keep information about a botched abortion from the public eye," said Operation Rescue President Troy Newman. "That didn't work this time. Abortion businesses will do anything to keep the public from the truth that abortion simply is not as safe as they want everyone to believe."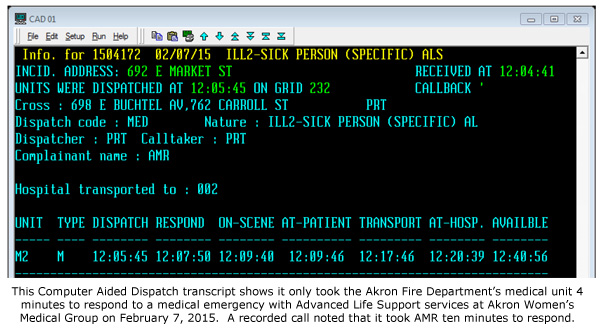 When the Akron Fire Department dispatched a medical unit, it noted that Advanced Life Support (ALS) would be needed. ALS, rather than the option of Basic Life Support, is usually indicated when the emergency is more serious in nature.
The AMR caller explained that the clinic had told her that during an abortion, a uterine perforation occurred when the cannula, used to suction out aborted baby remains, pierced the wall of the uterus.
Not so Rare
"The abortion cartel wants everyone to believe that perforations are extremely rare and not life-threatening," said Operation Rescue President Troy Newman. "But the truth is that women have died from perforations during abortions and many others have nearly died."
Tonya Reaves, 24, died at a Planned Parenthood abortion clinic in Chicago in July, 2012. Reaves' abortionist, Mandy Gittler, perforated her uterus then left her bleeding internally for over 5 hours before calling an ambulance to transport her to the hospital. By then it was too late, and Reaves died from massive blood loss.
As to the supposed rarity of a uterine perforation during an abortion, another woman suffered a uterine perforation on the same day at a Planned Parenthood in Salem, Oregon. In a video produced by Operation Rescue, which has gone somewhat viral, the abortionist in that case, Valerie King, made a bizarre call to 911, but downplayed the seriousness of the uterine perforation, telling the dispatcher that her patient was "fine" even though she had just torn a hole in her patient's uterus.
Other Botched Abortions at AWMG
Operation Rescue has documentation showing that the Akron Women's Medical Group (AWMG) has a history of botched abortions and health inspection failures.
Documents* recently received by Operation Rescue note that in October 2011, a 21-year old patient in the process of a 17 week abortion prematurely delivered her dead baby into a toilet at home and required emergency transport to a local hospital to remove baby's placenta. Notes indicate that she "lost a lot of blood."
In another incident in early February 2011, a 36-year old patient suffered complication during a 21 week abortion that required emergency transport to a local hospital. First the baby was injected into the heart with Digoxin to ensure that the baby was dead prior to surgical removal. The patient returned the following day for the surgical abortion, but 20 minutes into the procedure, the abortion was halted before it was finished due to massive blood loss. An ambulance was summoned to transport her to the emergency room. The abortionist's hand-written were so illegible, that the anesthetist's notes had to be relied on to determine what happened.
Inspection Failures
The NAF certified that AWMG was in full compliance with its Clinical Policy Guidelines, however, in 2011 a patient care complaint alleging that the facility was dirty, a patient was mistreated by a staff member and that the clinic had a rodent infestation prompted two inspections of the facility that uncovered the following violations:
• Trash and food debris was discovered in the patient waiting room.
• Carpets in the facility were stained and in need of cleaning.
• A container of used needles had no lid as required for safety.
• Crash cart and ultrasound machine in procedure room were dirty.
• Cabinets with drugs and prescription pads were unlocked and several drug vials were out on the counter.
• Supplies and supply boxes scattered around the procedure room counters and floor.
• Gurneys were covered with heavy black plastic and secured with duct tape under the mattresses.
• Inadequately trained staff.
Allegations that patients were treated rudely and that unsanitary conditions existed at the clinic were substantiated. The report that mice were seen in the facility was deemed unsubstantiated only because the inspector did not see any during her survey.
A follow-up visit to AWMG showed that while some of the deficiencies had been addressed, the facility still failed to maintain sanitary conditions while another inspection in 2012 discovered additional violations.
Abortionists employed by AWMG include Mohammed Rezaee, Raymond E. Robinson and Lucy Ann Nunnally, who serves as Medical Director.
Please contact the Ohio Department of Health and ask that they close the Akron Women's Medical Group in the interest of public safety.
Ohio Department of Health
Richard Hodges, Director
Phone: (614) 466-3543
E-mail: Director@odh.ohio.gov
*Documents related to the two 2011 abortion injuries contained sensitive information and were redacted by Operation Rescue.