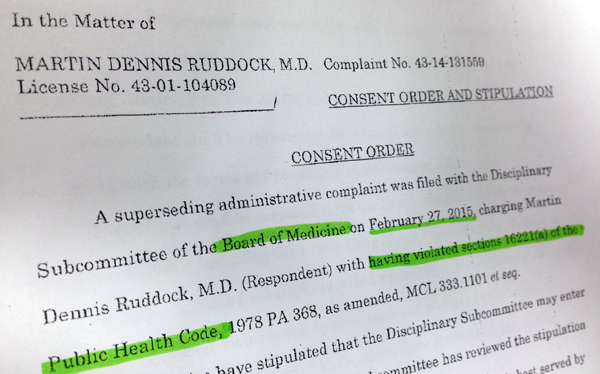 By Cheryl Sullenger
Lansing, MI — Abortionist Martin Ruddock has been fined by the Michigan Board of Medicine and Board of Pharmacy and fined a total of $1,500 for administering sedation to abortion patients without a valid Drug Enforcement Agency license. The Board of Pharmacy also issued a formal Reprimand.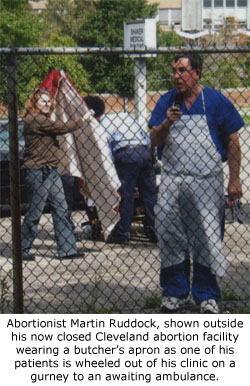 In addition, Ruddock admitted that he pre-signed non-controlled prescription pads, a practice that is prohibited, but told the Board of Medicine that he discontinued the practice once he came under investigation for improper drug practices in Michigan.
The offenses stemmed from conduct during his employment at the Scotsdale Women's Center in Detriot, Michigan during September 24 through October 16, 2013. There, he conducted abortions using sedation on women even though he had no authority to administer the drugs.
Pro-life activists who discovered his failure to obtain the proper DEA licenses filed the original complaint that has now resulted in discipline and fines.
"Whenever an abortionist is disciplined, it puts his bad conduct on the record and further documents the cavalier relationship that abortionists have with the law. Anytime they can play fast and loose, they will. Ruddock is a prime example of that," said Troy Newman President of Operation Rescue.
While this discipline amounts to hardly more than a slap on the wrist, it is just the latest in Ruddock's long history of sloppy abortion practices and even criminal conduct.
Ruddock was a well-established abortionist in Cleveland, Ohio, before being forced to shut down his abortion business in 2013 when he could not meet state clinic licensing standards. Since then, he has been operating in the neighboring state of Michigan.
Ruddock's Ohio abortion business was continually in hot water with regulators.
His clinic was temporarily closed in 2006, after Ohio Department of Health inspectors discovered that the clinic was not meeting even the most rudimentary of medical standards, such as taking a patient's temperature and blood pressure before risky late-term abortion surgeries.
In September 2012, Ruddock appeared outside his abortion clinic during a medical emergency wearing what appeared to be a butcher's apron. He was overseeing the transfer from his abortion clinic to an awaiting ambulance of a 26-year old second-trimester abortion patient suffering from a high fever and disorientation. A recording of the 911 call placed by Ruddock revealed his rude treatment of the dispatcher who was trying to assist him.
Five weeks later, an ambulance transported a 30-year old woman suffering lacerations and heavy bleeding after Ruddock botched her abortion at 22 weeks. A 911 call recording obtained by Operation Rescue indicated she was "bleeding bad" and passing large blood clots larger than a 50 cent piece.
In 2011, Ruddock was sued by a former patient after he refused to stop a painfully inserting laminaria in preparation for a second trimester abortion. Her suit claims Ruddock violated Ohio's informed consent and 24-hour waiting period then lied to her when he told her he could not stop the abortion because her amniotic fluid sack had been broken. She immediately sought care with a legitimate physician who removed the laminaria and informed her that there was no break in her amniotic fluid sack. In due time, she delivered a healthy baby.
Ruddock also has a criminal record. In a March 20, 2000, letter to the Ohio Medical Board, Ruddock admitted to his 1998 arrest on assault charges after he was involved in a road rage incident.
According to Ruddock's side of the story, he became upset when the windshield of his private vehicle was broken by an unknown individual. Angry, Ruddock began to drive his vehicle to a car dealership for repairs when he became involved in an altercation with random motorist driving a van. According to Ruddock, who attempted to argue that he was acting out of fear, jumped out of his car, confronted a passenger then proceeded to smash one of the van's windows.
He pled guilty to 5th degree misdemeanor assault, was placed on one-year of probation and ordered to pay restitution.
"No staff member or patient is aware of this event," Ruddock stated as he attempted to portray himself in the most positive light possible. He continued to make excuses for his violent behavior while throwing himself on the mercy of the Board in an attempt to keep his medical license.
"Patients need to be aware of Ruddock's bad temper, violent behavior, rudeness and sloppy abortion practices, understanding that they could be his next victim," said Newman. "When you look at Ruddock's background as a whole, it paints a grim picture of an unpleasant man that is prone to carelessness that places others at risk in his professional and personal lives. In my opinion, he is a dangerous person who should not be allowed to practice medicine at all."

Read Board of Medicine Consent Order
Read Board of Pharmacy Consent Order
View extensive documentation of these and other misdeeds on Ruddock's prolife page at AbortionDocs.org.