BREAKING NEWS! Judge allows Rutland to keep his license. CA Medical Board's Kathleen Nicholls commented after the hearing, "How many patients have to die before a doctor is shut down? It's unfortunate someone else is going to have to die to change this order." Operation Rescue is shocked by this decision and echos Ms. Nicholls' sentiments. More on this breaking story on Friday.
Operation Rescue's own undercover sting recording submitted to the Board as evidence of illegal activity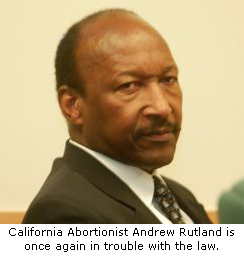 Chula Vista, CA – The California Medical Board has asked for the emergency suspension of Andrew Rutland's medical license after an undercover sting conducted by Board investigators caught him doing first trimester chemical abortions even though he has been banned from the procedure.
Rutland was scheduled to appear before a judge in San Diego County this afternoon.
Rutland's license was only partially suspended on January 7, 2010, after Ying Chen died from a backroom abortion at a dirty, ill-equipped acupuncture clinic in San Gabriel as a result of a botched second trimester abortion done by Rutland. He was banned from surgery and from doing abortions.
Subsequently, Rutland asked for permission to continue doing first trimester abortions, but on January 12, the Board issued a clarification specifically banning him from doing them.
Independently from the Medical Board, Operation Rescue conducted an undercover sting of its own on February 3, 2010, wherein a woman posing as a potential abortion customer received an appointment for a surgical abortion with Rutland for later that day.
Operation Rescue immediately contacted the Medical Board and submitted a copy of the recorded conversation.
Listen to the call
Rutland's attorney told the LA Times that Rutland's daughter was actually doing the surgical abortions, but in the call made by Operation Rescue, the receptionist "Rhea" indicated that the caller's appointment would be with Dr. Rutland, referring frequently to "him." There was no mention of another physician.
"For the second time in two months, the California Medical Board is asking for the suspension of Rutland's full license because of the danger he poses to the public," said Operation Rescue President Troy Newman. "We pray this time they get it. We will continue to work though all legal channels available to us until he is out of the abortion business for good."
Rutland has a long and troubled history. Rutland's license had been previously revoked in 2003, after his negligence caused the death of a wanted baby during childbirth. Rutland lied to the parents about the child's cause of death. At that time he was on probation for the deaths of two other infants. In 2007, Rutland's license was reinstated.
He took over a Chula Vista abortion clinic from abortionist Nolan Jones, who had his license revoked in March, 2009, for violations ranging from botched abortions to fraud. Jones had replaced unlicensed abortionist Bertha Bugarin, who is serving nearly 7 years in state prison for illegal abortions. Bugarin had stepped in after abortionist Phillip Rand surrendered his medical license due to his part in killing a woman during a botched abortion in Santa Ana in 2004.
"We pray that Rutland is the last abortionist in this cycle of abuse of women through illegal and unsafe abortions, and that this clinic will never be allowed to reopen," said Newman.