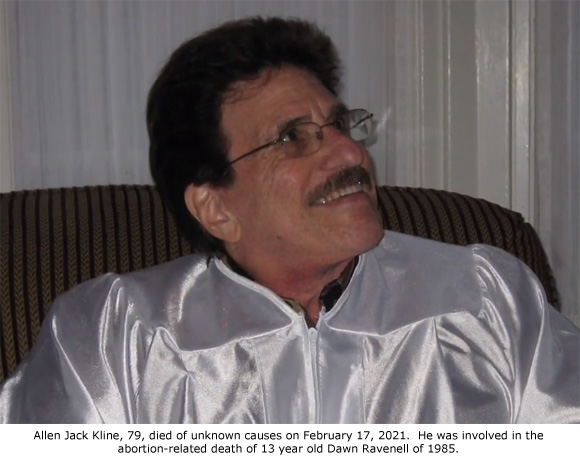 By Cheryl Sullenger
Allen Jack Kline, 79, an abortionist who spent most of his professional career in New York and Pennsylvania, died on February 17, 2021 in Naples, Florida, where he had retired.
Kline appeared to have lived a comfortable life. A memorial video on Youtube.com pictured him in happy moments with his friends and family. It showed him in his beautiful home, mugging for the camera from his backyard pool, enjoying gatherings at expensive restaurants, and relaxing during exotic vacations in the Caribbean.
Kline's happy and prosperous life stands in stark contrast to that of one of his patients, who died at his hand before she had an opportunity to experience all life had for her.
During his career, Kline travelled up to New York once a week from his home in Pennsylvania to conduct abortions at the Eastern Women's Center, then located at 14 East 60th Street in an exclusive area of Manhattan.
That's where he met Dawndalea Ravenell. 
An article written by James A. Miller for EWTN shared details of Dawn's life and what happened to her on that fateful day when she followed through on an appointment with Kline at the Eastern Women's Center.
According to Miller's article, Dawn was part of a loving African-American family of eight. Her father was a pastor and her mother a minister at Faith Tabernacle Church in Queens Village, New York City. In 1984, at the age of 13, Dawn attended Junior High School 192 in Hollis, Queens, N.Y, where she was an honor roll student and talented member of the Glee Club.
It was then that Dawn entered a steady relationship with a 15-year-old boy over the concerns of her mother. Soon Dawn discovered she was pregnant. Concerned about the embarrassment of informing her parents, Dawn confided in a school counselor, who arranged a "secret abortion" for her at the Eastern Women's Center, an abortion facility that conducted the largest volume of abortions in the nation, according to Miller's report.
On January 23, 1985, Dawn went to the abortion facility, paid the $600 fee, and was prepared for her late-term 21-week abortion with the insertion of laminaria dilators into her cervix. She returned the following day with her boyfriend to have the abortion completed. That was the first time she saw Kline and his nurse anesthetist.
Basing his narrative on court transcripts, Miller wrote of what happened next:
Dawn's abortion started at 1:10 p.m. and was over at 1:25. Soon after, it became obvious that something was horribly wrong: Dawn remained unconscious and unresponsive. She was virtually brain dead and would never [fully] awaken.

Dr. Klein [sic] was assisted in performing the abortion by nurse anesthetist Robert Augente, who later testified that he received between $18 and $25 per abortion. According to court testimony, neither Klein [sic] nor Augente had ever met or even spoken to Dawn prior to putting her under general anesthesia. Although Dawn had been "counseled" by a clinic "social worker" the previous day, and had signed a consent form, the abortion mill hadn't bothered to record her weight or age, much less explain the risks and dangers of the abortion procedure. As attorney Thomas Principe, suing for Dawn's estate, told the jurors, "This child was just another piece (of meat) on the assembly line." . . .

Although a 21-week, second-trimester abortion would normally last for 15 to 20 minutes–the baby must be crushed and pulled out part-by-body-part– nurse Augente gave Dawn only 80 milligrams of Brevitol, a dose sufficient to keep her unconscious for just 5 to 7 minutes. Dawn awoke during the abortion and [began] choking and vomiting; medical records indicate that she "aspirated [vomited] gastric juices from her stomach into her lungs." Klein [sic] and Augente gave Dawn more anesthesia and inserted "a 75-cent plastic airway into her throat to help her breathe," and rushed through the rest of the abortion. In his haste to complete the job, Klein left some fetal tissue in Dawn's uterus, which was discovered later during the autopsy.
Dawn was moved to the recovery room where she was left unmonitored. When someone finally came in to check on her, they found that as Dawn had begun to regain consciousness, she had gagged on the plastic airway, vomited into her lungs, then suffered cardiac arrest. By the time the ambulance was called, it was too late to save her.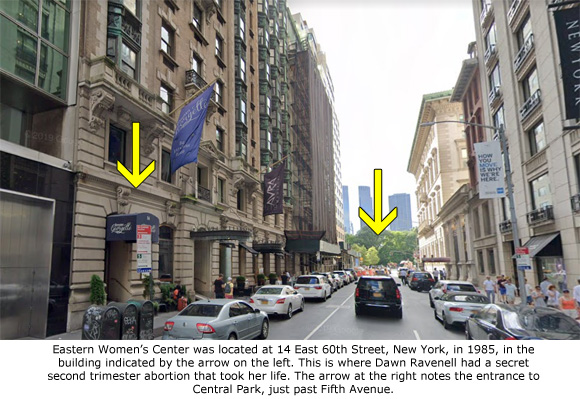 Dawn was rushed to Roosevelt Hospital then transferred to the uptown campus of St. Luke's, where her parents were finally notified that their daughter has suffered complications to an abortion. On February 11, 1985, after 18 days in a coma and on life support, Dawn passed away.
The family sued and the case resulted in a jury trial. Eastern Women's Center, which carried no malpractice insurance, placed the culpability for Dawn's death on Kline and Augente. Kline and Augente blamed the Eastern Women's Center.
Kline, who was 43 at the time of Dawn's fatal abortion, also downplayed his abortion experience, saying he only had conducted 5,000 abortions in his career. However, testimony showed that Kline, who worked at the Eastern Women's Center just one day per week earning $75-100 per abortion, earned $100,000 annually from his once-a-week shifts at Eastern Women's Center. That means he conducted at least 1,000 abortions per year at that clinic alone – not to mention all the abortions he did at his Philadelphia facility up to that point.
To show the heartlessness of Kline's attitude, Miller related the following trial moment:
One of the more amazing bits of trial testimony occurred when lawyer Principe, cross-examining Klein [sic], asked whether Dawn's age bothered the abortionist. Klein [sic] callously replied, "Oh, no. I've done 13-year olds before. When they're 10, maybe I'll notice."
In the end, the jury issued a judgment against Kline and Augente totaling $1,225,000, with the determination that the anesthesiologist was 80 percent responsible, and the abortionist was just 20 percent responsible. However, believing the jury award was too high, the judge in the case reduced the judgment to just $400,000, which was paid to Dawn's grieving family by the two men's insurance policies.
Kline continued for years conducting abortions at his Philadelphia office as if nothing untoward had ever happened.  He lived the 36 years of his life after Dawn's passing in relative luxury in the arms of his adoring family and friends, while the Ravendell family would spend their lives never able to hold their loved one again.
While no one is saying that life is fair, the injustice of Dawn's story cannot be denied. The one who made mistakes in during the immaturity of her teenage years paid for those mistakes with her life while the one who caused her death at the tender age of 13 escaped any real-life consequences while continuing to profit and prosper from the shedding of innocent blood.
But Kline and the Eastern Women's Center weren't the only ones that created conditions that led to Dawn's death.
The laws of New York let Dawn down, just as they are letting down women and girls today. As in 1985, New York has no parental consent laws for minors to obtain abortions. School counselors still do not have to report to parents if they arrange an abortion for a minor girl, even though they must if they give her an aspirin for a headache. There is no reflection period that might give women an opportunity to find other solutions to the issues they face other than taking the lives of their children. Like in Dawn's day, there is no state-mandated informed consent required, even for minors who may not fully understand the risks of abortion or the impact it might have on the rest of their lives.
Women can literally walk into New York abortion facilities one day, not yet having taken a pregnancy test, and walk out having had an abortion or with drugs that will soon cause one. No questions asked.
However, unlike in 1985, New York law now dangerously allows non-physicians to conduct abortions.
In 2019, New York legislators celebrated when they passed the Reproductive Health Act, which erased any laws on the books that regulated abortions or provided safeguards for women. Governor Andrew Cuomo even lit the Empire State Building's spire pink in celebration of making abortion facilities unaccountable to state oversight.
Men like Allen Kline probably celebrated with them.
But for families like the Ravendells who lost loved ones to abortion, it must seem like the betrayal never ends.
Conditions continue to exist for other families to one day get the same unexpected and devastating phone call the Ravendell's received about a fatal abortion done on someone they love.
As long as abortion remains legal and largely unaccountable – protected by politicians that line their campaign coffers with money from Planned Parenthood and other abortionists – those calls and the agonizing pain they cause, are sure to keep coming.
Learn more about other women who have died from "safe and legal" abortions at our Archive of Documented Abortion Patient Death Reports by Operation Rescue and at Abortion911.com.