By Cheryl Sullenger
Germantown, MD – During the filming of a documentary about pro-life efforts to spare women the trauma of late-term abortions at LeRoy Carhart's Germantown Reproductive Health Services, a clinic worker rushed out and assaulted a videographer in an attempt to prevent her from filming.
In a video of the incident released by Two Crown Productions, a clinic worker is seen pushing videographer Wendy Wilmowski, and blocking her camera with an umbrella while Carhart gets out of a car and begins to head toward the clinic.
Carhart can be heard saying, "Hey, I wouldn't push her if I was you."
Wilmowski replied, "You're talking to her, right. I'm not doing anything."
Carhart replied, "I'm talking to you, b****."
Later, the woman with the umbrella is heard calling Wilmowski a "fat a**."
Later, another giggling abortion worker is seen peeking out the clinic's front door and giving the worker who assaulted Wilmowski a thumbs up sign.
"We find nothing funny about using violence to deny a peaceful citizen her Constitutional Rights," said Troy Newman, President of Operation Rescue. "This incident once again confirms that the abortion workers known as 'escorts' are the troublemakers outside of abortion clinics and that Carhart is a vile man that sees no problem with violence against women, inside the womb or out."
Wilmowski is shooting film for a new documentary entitled "Saved" that features not only pro-life sidewalk counseling efforts in Germantown, but touching interviews with families who were persuaded to walk away from Germantown Reproductive Health Services and keep their babies.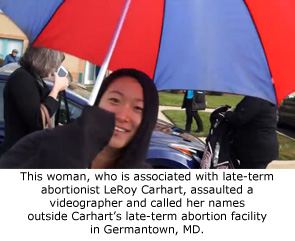 Violence on the part of Carhart's abortion clinic staff escalated after Two Crown Productions released a trailer of the film that was designed to "raise awareness and financial support for the film," according to the company's press statement.
Since then, Wilmowski has been attacked and prevented from filming on at least two occasions.
"Ever since we released this trailer, LeRoy Carhart and his employees have done whatever they can think of to try and stop our filming," stated Wilmowski.
Operation Rescue has documented eight medical emergencies at Carhart's Germantown abortion facility, including the death of 33-week abortion patient Jennifer Morbelli, who died from abortion complications two years ago on February 7, 2013.
Since 2010, Maryland pro-life activists have documented that 226 babies have been saved from abortion due to their efforts outside the largest late-term abortion facility on the east coast.
"We support the pro-life work in Germantown, which we helped establish there in 2010 when Carhart first relocated his late-term abortion business, and support the making of the documentary 'Saved,'" said Newman. "It's important that the truth be told about the human tragedy inflicted on women by late-term abortions and the loving alternatives that are available. We hope that this film will help women understand that life is the most precious of all gifts."
To learn more about "Saved" at TwoCrownProductions.com.
To learn more about pro-life efforts in Germantown, visit PrayforGermantown.com.