By Cheryl Sullenger
Austin, TX – The day before the historic Texas Heartbeat Act went into effect, there were 19 surgical and three chemical abortion facilities cranking away on all cylinders.
If the facilities were allowed to maintain their normal pace, they were set to eclipse the 56,358 abortions obtained by Texas women in 2020, a year of truncated abortion numbers due to the China Virus, which temporarily halted abortions in the Lone Star State.
Of those 56,358 abortions, approximately 85 percent were done after six weeks of pregnancy when a baby's heartbeat in the womb could be detected.
But now, over the next 12 months, it is expected that the Texas Heartbeat Act will give nearly 48,000 babies a chance at life where, previously, they had no chance at all.
Operation Rescue checked each abortion facility in Texas this week and found all 22 abortion facilities were complying with the new law – something a bit surprising given the way most abortion business act as though laws don't apply to them.
Currently, one Planned Parenthood facility in El Paso has closed "until further notice." Two others in San Antonio have halted all abortions for now. The remaining twenty abortion facilities are open but are only conducting abortions if an ultrasound examination shows no cardiac activity on the baby in the womb.
While some clinics are encouraging women to come in for the ultrasound, Operation Rescue confirmed that several offices are turning away women over the phone who suspect they might be close to six weeks pregnant.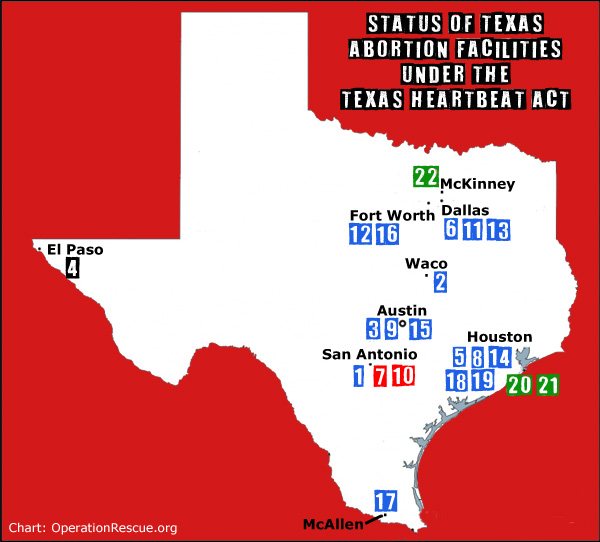 This time, the difference may lie in the Texas Heartbeat Act's unique enforcement provision that allows individual citizens to sue abortionists who violate the law. That means, there is no enforcement body or groups of prosecutors for Planned Parenthood and other abortionists to lean on, cajole, threaten, or bribe with promises of campaign contributions.
The Empire Strikes Back
After threatening to retaliate against pro-life supporters with politically motivated FACE Act prosecutions, yesterday, U.S. Attorney Merrick Garland further came to the aid of the Texas Abortion Cartel, announcing a lawsuit against the Texas Heartbeat Act as a "scheme to nullify the Constitution," even though no right to abortion exists in the U.S. Constitution.
It was only though the 1973 Roe v. Wade Supreme Court Decision that abortion became decriminalized in America – a decision that many Constitutional scholars, including Justice Clarence Thomas, believe was wrongly decided and should be overturned.
After Garland's announcement, Texas Attorney General Ken Paxton was defiant.
"I will use every available resource to fight for life," Paxton tweeted.
Today the Biden Administration sued every individual in #Texas. Biden should focus on fixing the border crisis, Afghanistan, the economy and countless other disasters instead of meddling in state's sovereign rights. I will use every available resource to fight for life. https://t.co/9dMY6AxaCY

— Attorney General Ken Paxton (@KenPaxtonTX) September 9, 2021
Also suing Texas is the Satanic Temple, based in Salem, Massachusetts. It is seeking to overturn the Texas Heartbeat Bill on "religious liberty" grounds since it interferes their appalling "Satanic Abortion Rituals."
TST stands ready to assist any member who shares our deeply-held religious convictions regarding the right to reproductive freedom. Accordingly, we encourage any member who resides in TX and wishes to undergo the Satanic Abortion Ritual within the first 24 weeks of pregnancy(1/3)

— The Satanic Temple (@satanic_temple_) September 3, 2021
Bad AdVice
Siding with the intent of the Satanic Temple to make sure as many babies die as possible, the militant pro-abortion publication Vice stooped to new lows with a piece that directly communicates to minor girls in Texas, encouraging them to defy their parents and any religious beliefs they might hold and secretly seek out abortion-inducing drugs.
"The people who want to control your body need you to think you're evil for getting an abortion; they need you to think you're alone; they need you to think you're endangering yourself and permanently altering who you are as a person. They're completely wrong," the Vice article stated in manipulative language that could have made the Satanic Temple envious.
The article also dangerously coached minor girls not to be truthful with medical providers should they experience complications from taking abortion drugs that required medical intervention.
"If you're worried about people finding out you were inducing an abortion and so think you'd feel reluctant to get in touch with a doctor about complications, don't worry: Know that, from a doctor's perspective, a miscarriage and a medicinal abortion from pills you take orally are identical, which means your doctor will only know you had an abortion if you tell them," the article stated.
More of this deceptive and potentially hazardous marketing of abortions to the women of Texas can be expected to proliferate, especially as abortion profits dramatically decline.
"The Texas Heartbeat Act is about saving lives. It is disgusting to see how the other side fights so hard to make sure lives are lost, the law is defied, and wedges are placed between parents and their daughters," said Newman. "We hope that as the Texas Heartbeat Act spreads to other states, women will begin to realize that they really do not 'need' abortions at all, and that life, family, and faith are in fact the greatest gifts. That could be the awakening that saves us all."