By Anne Reed

Granite City, IL — Operation Rescue's informants have witnessed another incident necessitating emergency medical personnel at the scene of Hope Clinic for Women (HCW) in Granite City, Illinois, in mid-June. This came after at least two emergencies in April alone, and a total of 12 documented by Operation Rescue in just two years.  
On Tuesday, June 14, at around 4 p.m., pro-life observers witnessed emergency medical personnel loading a female patient into an ambulance. A photo was taken to confirm the frightening incident.
But when Operation Rescue placed a FOIA to secure the 911 records pursuant to the Illinois Freedom of Information Act, the City of Granite City responded in writing stating it had "no responsive documents."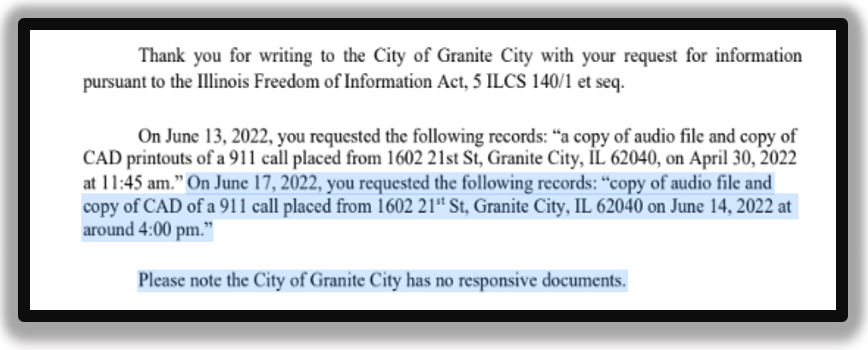 In our attempt to utilize an alternate source of information, we reviewed the emergency dispatch recordings for the referenced time frame and were also unable to locate a recording of an ambulance being dispatched to HCW's address. 
The puzzle was solved when, at 3:52 p.m., approximately eight minutes before the ambulance arrived onsite at HCW, a 911 dispatcher communicated the following: "EMS, can you contact us back for a possible transport?" – an obvious attempt to subvert the 911 system, a publicly available recording.   
Details, such as the address and condition of the patient, were not communicated. Rather, the dispatcher asked emergency personnel to make a phone call to gain the information needed for the transport.
Could this method of getting around the public dispatch service have been directly related to the emergency observed and documented at HCW? And if so, why would the City of Granite City be covering for this notorious late-term abortion clinic? 
This emergency adds to the eleven medical emergencies already documented in two years, as we reported in May.
The high-volume, Illinois, abortion business is in question due to its many emergencies, cover-ups, and questionable business deals.
The clinic was recently purchased by Julie Burkhart, after her abortion business, Wellspring Health Access in Casper, Wyoming, mysteriously burned. The story went viral of a fire intentionally set inside the clinic on May 25, destroying the facility before it opened.
The fire was set just a week before the leaked draft opinion, revealing the U.S. Supreme Court was planning to overturn Roe v. Wade. Of course, prior to the leak, rumors were widespread that SCOTUS would likely reverse the 49-year-old decision that falsely claimed a right to abortion existed in the U.S. Constitution.
The threat of Roe's overturn certainly brought risk to Burkhart's investment in Wyoming, a state with a trigger law that would punish anyone committing an abortion with up to 14 years in prison (set to go into effect next week).
Incredibly swift was her pivot from Wyoming to Illinois, a safe haven for abortionists in a post-Roe environment. She closed on the purchase of HCW in Granite City, Illinois, on May 31 – just four business days after the arson in Casper, Wyoming. 
Burkhart recently boasted about the patient volume at the newly purchased HCW and her plans to increase its capacity. "We are working on ramping up now," she said. 
Burkhart has been involved in the darkest, seediest, corners of the abortion industry for years. She ran a political action committee for abortionist George Tiller who was murdered in 2009, after years of investigations into illegal late-term abortions. Burkhart later took over his clinic.
And now she is taking over HCW, another late-term abortion business with a sordid history and a future full of death – and more injuries to expectant moms.  
"Operation Rescue has seen a surge in 911 abortion emergencies, coupled with more attempts to hide these abortion disasters," said Operation Rescue President Troy Newman. "When mothers are rushed to the emergency room for abortion complications, it is an obvious threat to the abortion cartels' narrative of 'safe, legal abortion.' Operation Rescue is pursuing legal remedies, and lawsuits if necessary, to force the public disclosure of the cartel's botched abortions.
"We know women are being tormented at the hands of the abortion industry, and we will not relent until their malfeasance is uncovered and exposed. The more the public knows about the incredible dangers of terminating an emerging life, the more mothers will shun the lies of the cartel."