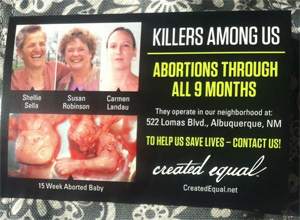 Albuquerque, NM – Operation Rescue was excited to join with Project Defending Life, The Survivors, and Created Equal in Albuquerque to train young activists and send them to the streets with a powerful public awareness campaign to alert the public to the horrors of late-term abortions. Albuquerque is the site of the largest late-term abortion clinic in the U.S.
Project Defending Life and other local pro-life groups have submitted ample signatures to place a legislative initiative on a city-wide ballot in Albuquerque this fall banning abortions after 20 weeks. This week's public outreach campaign is the start of an intensive effort to educate the public to support the municipal ban.
The following is a field report from Created Equal's Mark Harrington.
Today, Created Equal will once again join Survivors of the Abortion Holocaust to go to house to house in the neighborhood of the America's #1 late term abortion center – Southwestern Women's Options in Albuquerque, NM. Mark Harrington, who is leading the student team said, "When a resident gets one of our postcards delivered to their house it is comparable to living on Dachau, Germany and finding soot and ash on the windshield of their car from the death camp crematorium down the road. These residents are now without an excuse."
Yesterday, Created Equal and Survivors conducted outreach at the University of New Mexico and downtown Albuquerque.
My voice mail and email inbox are full of comments from ABQ residents. Some of the comments are indicative of a narcissistic nation who cares more about remaining undisturbed then they care about justice.
Here is one such email: "I am extremely offended that your organization would leave such vile, extreme, graphic propaganda on my doorstep."
The sad truth is this resident cares more that we would disturb them more than the fact that an abortionist is performing late-term abortion yards from their home. Not all residents react this way but even if they would – we have an obligation to be prophetic witness to this evil.
Street activism and nightly Town Hall Meetings will continue through August 10. Check out ProLifeWitness.org for more information.