By Cheryl Sullenger
Cleveland, OH — Operation Rescue has received two 911 audio recordings related to two separate abortion-related medical emergencies that took place at Preterm Clinic in Cleveland on March 20 and April 24, 2015.
During both incidents, abortionist Lisa Perriera was on duty according to eyewitnesses who tell Operation Rescue she was seen at Preterm at the time of the emergencies.
Perriera is known for having conducted the second-trimester dismemberment abortion that led to the death of 22-year old Lakisha Wilson last year.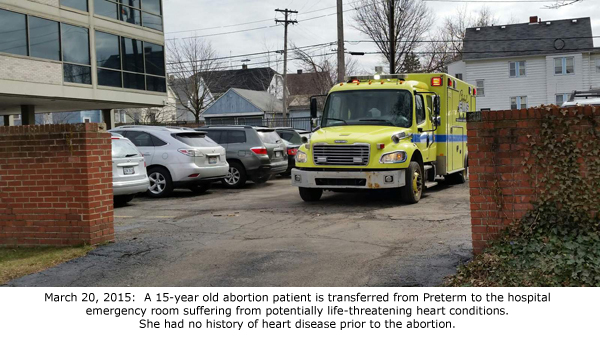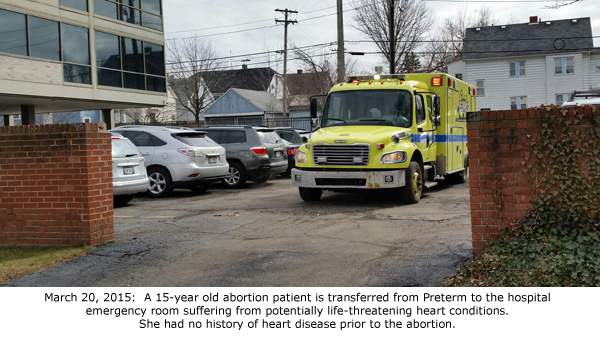 The March 20, 2015, recording indicated that a medical assistant employed by Preterm placed a call to 911 at 2:57 p.m. and asked for the transport of a 15-year old patient that was suffering issues with her heart following an abortion.
The teen was said to be tachycardic and suffering from atrial fibrillation, which means in layman's terms that she had an abnormally accelerated and irregular heartbeat. The patient had no reported previous history of heart disease.
The Preterm caller told the 911 dispatcher that the patient's last pulse rate was 123 beats per minute. The average 15-year old female should have a resting heartbeat between 70 – 100 beats per minute.
The Preterm caller told 911 that the patient was ambulatory and would be waiting for them on the first floor, even though abortions are only done on the third floor, which is accessible to a gurney via an elevator. The elevator repair truck was later spotted at the abortion facility. This has led to concerns that the patient, who was immediately post-abortive and required emergency care, may have been forced to walk down two flights of stairs to get help because a gurney had no access to the procedure rooms on the third floor.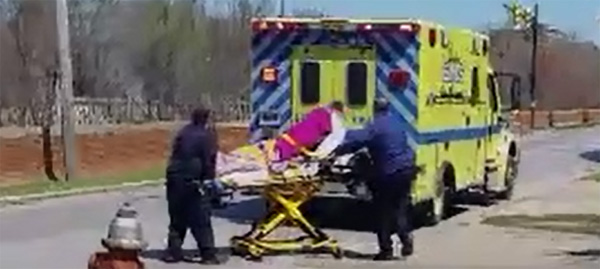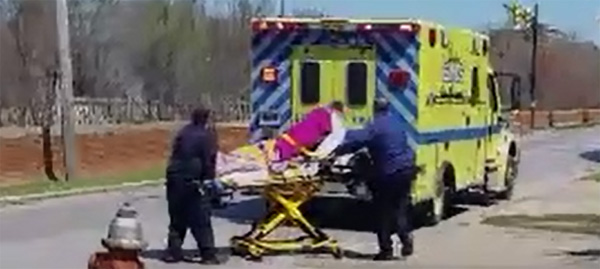 During the April 24, 2015, medical emergency, a Preterm employee requested that a 35-year old patient be transferred and monitored for heavy vaginal bleeding following an abortion, and indicated that the patient had been given Methergine, a drug used to control post-abortion hemorrhage.
The patient had the abortion procedure at 12:30 p.m., but 911 was not called until 2:09 p.m.
Pro-life activists on the scene during this emergency noted that the patient emerged from the clinic on a gurney, "wrapped like a mummy" in pink and purple blankets.
The caller told 911 that the patient had a history of Graves Disease, which is an auto-immune disease that affects the thyroid, but this condition likely had nothing to do with the patient's hemorrhaging.
The patient was said to be available to emergency responders on the third floor of the abortion facility. This was troubling due to the fact that the frequently malfunctioning elevator has delayed emergency medical care to abortion patients on at least two occasions, and is too small to fit a gurney in a fully reclined position.
The malfunctioning elevator contributed to a delay in emergency responders reaching Lakisha Wilson on March 21, 2014, as she laid on the abortion table not breathing at all. The delay could have contributed to Wilson's death.
In an earlier incident on March 31, 2012, emergency care was also delayed after additional assistance was requested to carry a 300-pound patient down two flights of stairs to an awaiting ambulance. That woman suffered from hemorrhaging after an abortion.
All of Preterm's five surgical abortion rooms are located on the building's third floor. (See Floor Plan) Because of this, the undependable elevator poses a potentially fatal health hazard to every woman who undergoes surgical abortion at Preterm.
Local pro-life activists tell Operation Rescue that the Schindler Elevator repair truck is frequently seen at Preterm — sometimes as often as twice a week — indicating that the frequent elevator malfunctions have not been resolved.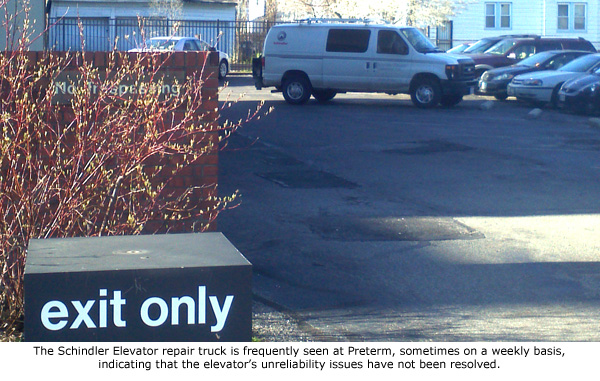 "It is irresponsible for the Ohio Department of Health to allow Preterm to continue operating under the current dangerous conditions, of which they are well aware. It is obvious that Preterm's building is not suitable for surgical abortions and should be shut down immediately," said Operation Rescue President Troy Newman. "In addition, the Ohio Medical Board must take a closer look at why, out of all the abortionists that are known to work at Preterm, that Perriera's name is the one that keeps coming up when an abortion is botched."
Preterm is currently used as a training facility for the San Francisco-based Ryan Residency Abortion Training Program. Medical residents from Case University Medical Center are trained by Perriera and others to do abortions.
In the wake of Lakisha Wilson's death, Perriera was said to have been promoted to a position as the Ryan Residency Training Program Director at Thomas Jefferson University School of Medicine, in Philadelphia, Pennsylvania, but apparently has yet to begin her employment there.
"It's not very comforting to think that new abortionists are being trained by someone that cannot keep her patients out of the hospital or out of the morgue," said Newman.
Ironically, Perriera is to be honored by the Physicians for Reproductive Choice with the George Tiller, MD, Abortion Provider Award for 2015, which "recognizes a physician early in their career who provides abortions while demonstrating leadership and courage, even in the face of adversity." She is set to receive the award at a ceremony to be held on New York City on June 1.
That "adversity" referred to by the Physicians for Reproductive Choice included repeated calls for disciplinary action and even criminal charges related to Wilson's avoidable death by local and national pro-life groups, including Operation Rescue.
No mention of the adversity suffered by an ever-increasing number of her abortion patients.
Operation Rescue has published an exposé on horrific abortion abuses that currently exist at Ohio abortion clinics, including Preterm, based on recently-obtained secret Ohio Department of Health records. Read Operation's Special Investigative Report.