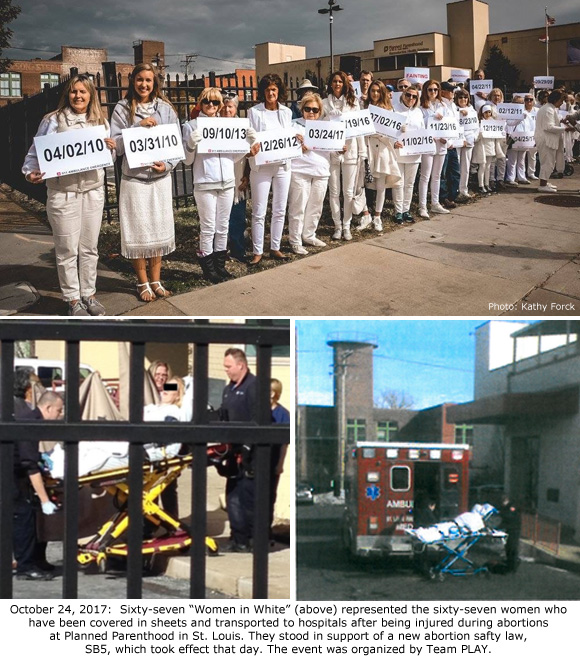 By Cheryl Sullenger
St. Louis, MO – Marking the day that Missouri's new abortion safety and accountability law, SB5, went into effect, 67 women dressed all in white provided a dramatic backdrop to a press conference outside the high-volume Planned Parenthood facility in St. Louis last Tuesday that emphasized the need for the new law.
The demonstrators wore white to represent the 67 women who have required emergency medical transport to local hospitals since 2009, after receiving abortions at the notorious Planned Parenthood facility. Those injured women – covered with white sheets — were removed from the abortion business on gurneys and loaded into awaiting ambulances.
Each of the "Women in White" held placards with a date indicating when specific medical emergencies took place. Records obtained from the St. Louis Fire Department by Operation Rescue and eye-witness reports provided documentation for the number of emergencies, 40% of which involved hemorrhaging that could not be controlled by Planned Parenthood's staff of abortionists.
The demonstration was largely ignored by the mainstream media, which chose instead to cover opposition to SB5.
Missouri's Kathy Forck of Team PLAY organized the St. Louis press conference and demonstration along with simultaneous press conferences in four other cities where Planned Parenthood recently expanded abortion services or plans to do so.
"SB5 will provide much needed, enhanced safety to women by requiring stiffer penalties and stricter safety regulations of Planned Parenthood," said Forck, who also thanked Missouri Gov. Eric Greitens for his support for greater accountability for abortion facilities and for signing the new legislation into law.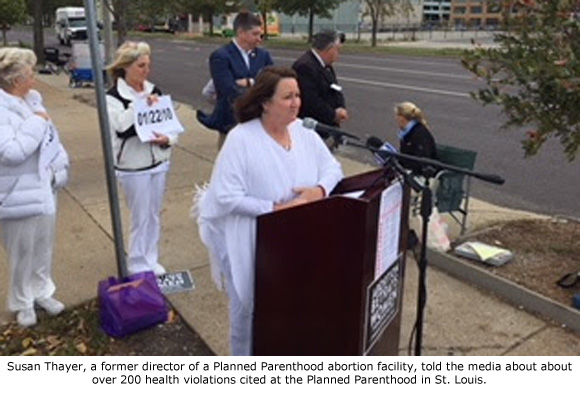 Other speakers included state pro-life leaders, state legislators, and Susan Thayer, a former director of a Planned Parenthood abortion facility in the neighboring state of Iowa.
Thayer shared from her experiences with Planned Parenthood about the existence of abortion quotas, which were rewarded with celebratory pizza parties when met, and reduced hours when the quotas were not achieved.
She also described over 200 violations found in failed inspection reports from the St. Louis Planned Parenthood abortion site, which have been previously reported by Operation Rescue. Those safety violations included gross sanitation issues such the failure of one abortionist to wash his hands, and failure to properly sterilize surgical instruments.
Despite these documented facts about patient injuries and failed health inspections, Bonyen Lee-Gilmore of Planned Parenthood Great Plains had the audacity to tell the local ABC affiliate, "This is not about the health and safety of our patients. If anybody prioritizes health and safety of patients it's Planned Parenthood."
Earlier this year, Planned Parenthood announced plans to expand abortion services in Missouri, which, at the time, had just one abortion facility in the state. Planned Parenthood's Kansas City and Columbia locations were the first to receive new abortion facility licenses just weeks ago after a Federal Court blocked enforcement of a long-standing law that required abortionists to maintain hospital privileges within 30 miles of the facilities where they conducted abortions. Licenses are pending at the Springfield and Joplin locations.
Abortionists working at the four expansion facilities could not qualify for local hospital privileges under that law prior to its blockage, leaving a dangerous gap the continuity of patient care in the event of an emergency.
However, the new law, SB5, which went into effect Tuesday, provides alternative safety measures that courts have declined to nullify. This law now prevents abortion facility employees from requesting that ambulances respond with no lights or sirens, and requires abortionists to personally provide informed consent to women 72 hours prior to their abortions.
In addition, a new regulation implemented by the Missouri Department of Health and Mental Hygiene requires abortion facilities to maintain written agreements with local physicians who would agree to be on call 24 hours a day, seven days a week, to provide emergency hospital care to women suffering abortion complications.
The real test of Planned Parenthood's willingness to follow new safety requirements comes today, when women report to abortion facilities in Kansas City and Columbia for abortions even though it is believed that neither facility is in full compliance.
Troy Newman, President of Operation Rescue, believes that the Department of Health and Senior Services must carefully monitor Planned Parenthood to ensure compliance, and shut them down if they violate.
"Planned Parenthood organizations in Missouri have been known to engage in dangerous and deceptive practices in order to circumvent state laws and safety regulations," he said. "Given their poor past performance and the willingness of Missouri officials to enforce the law, I believe Planned Parenthood's anticipated abortion expansion will not last long."
Related: