By Anne Reed
8/25/22 UPDATE: A federal judge placed an injunction on a portion of the Idaho abortion ban taking effect today, giving abortionists the ability to continue to legally perform an abortion to protect the health of the mother, not only to prevent her death as written in the law.
Wichita, KS – In the last few months, the landscape across the U.S. has changed drastically as many states work to protect the lives of innocent human beings growing in the womb.
After a week of investigative phone calls, Operation Rescue has determined that 62 abortion clinics have recently stopped performing abortions. Among those 62 clinics no longer killing babies, 18 closed altogether. North Dakota's abortion ban is currently blocked, and abortion is legal. However, the last remaining abortion clinic closed, making it abortion free.

As a result, 13 states are currently abortion free.
Over 78 million people are now living in an abortion-free state. That is nearly a quarter of the U.S. population.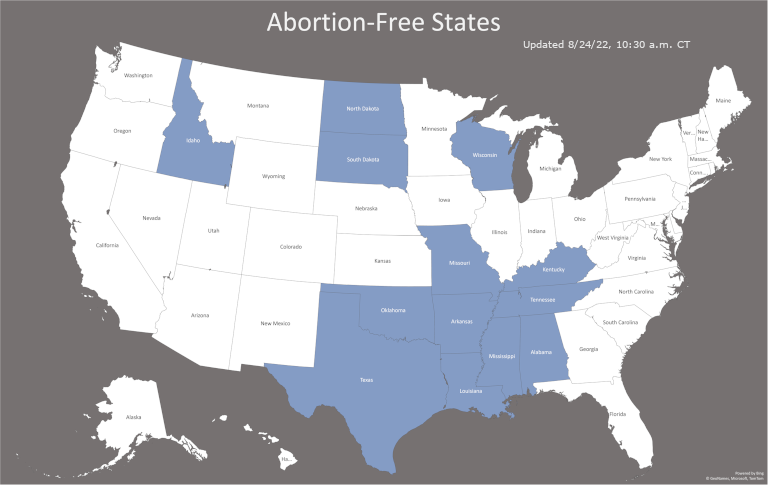 The status of each state working to abolish abortion is explained "at a glance" in the table below: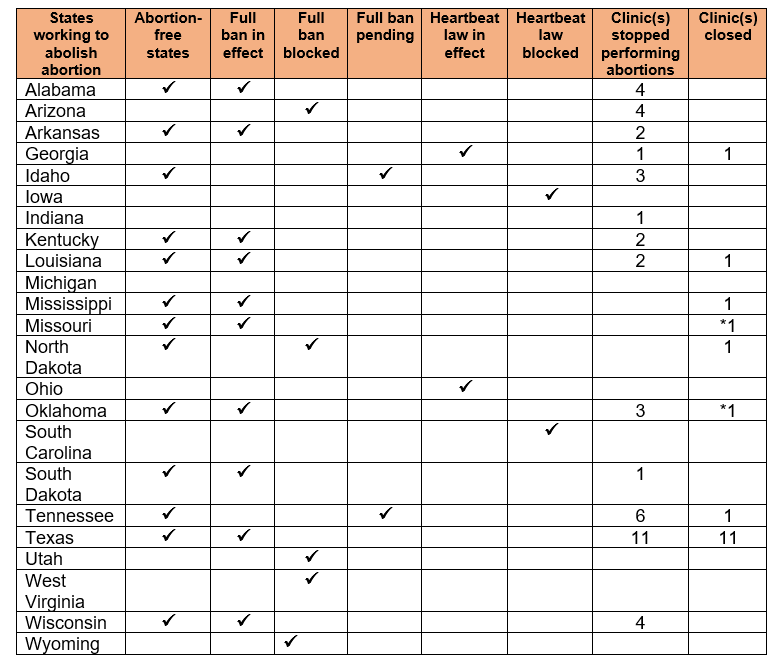 *Closed prior to Roe v. Wade's reversal
Trigger laws are expected to take effect tomorrow in three states:
Idaho: A judge is expected to make a decision today concerning the state's abortion ban set to become effective tomorrow. This is in addition to the state's heartbeat law already in effect. The judge's decision could change the state's abortion-free status.
Tennessee: Operation Rescue verified the two clinics that remained open this week only scheduled abortion through today. Tennessee's abortion ban is expected to take effect tomorrow, putting a halt to abortions across the state. Tennessee was, therefore, counted as an abortion-free state.
Texas: An abortion trigger ban is set to take effect tomorrow on top of another ban that was in effect before the 1973 Roe v. Wade decision and was reinstated after its overturn. The trigger law will strengthen the punishment for those who illegally perform abortions.
"After so many years of fighting to close abortion clinics, we are excited to see some of the fruit of our labor," said Operation Rescue President Troy Newman. "Praise Jesus! Together, we continue to fight this battle for the lives of the most vulnerable among us!"

As the status of each state changes, Operation Rescue works to keep you informed by updating the map below. Bookmark this link for quick and easy access to our regular updates.