By Anne Reed

Late Friday, the Texas Supreme Court blocked a lower court order that allowed abortion clinics to continue performing abortions. The overturn of Roe v. Wade on June 24 had activated a ban on all abortions in The Lone Star State.
Texas leads the way to an abortion-free America! With 29,527,941 people living in the nation's second most populous state, Texas is becoming the tenth abortion-free state since Dobbs overturned Roe v. Wade.
Rep. Briscoe Cain (R-TX), former legal counsel for Operation Rescue said, "Abortions have stopped in Texas because of the 1925 statute that the Supreme Court, nearly 50 years ago, used to craft a supposed constitutional right to kill babies. Roe has ended where it began. It is the very same statutes at issue in Roe that have caused all abortions in Texas to come to a halt. This is a bigger deal than I think people realize."
Operation Rescue could not agree more and applauds the great work of Cain and the courageous work of the entire Texas legislature.
Broad protections for the unborn in Texas are being initiated through two legislative mechanisms:
Pre-Roe v. Wade laws: The state of Texas has never repealed the state statutes that were enacted before Roe v. Wade, which prohibited and criminalized abortion unless the mother's life was in danger.
H.B. 1280, it's "trigger law" of 2021: Just last year, the Texas State Legislature passed a law banning abortions from the moment of fertilization, set to go into effect 30 days after the U.S. Supreme Court's final judgment overturning Roe v. Wade. Abortionists who violate the law could face life in prison and fines up to $100,000. The only exception to the law is for the purpose of saving the life of the mother, or if she risks "substantial impairment of major bodily function."
Following Roe's overturn on June 24, Texas clinics halted abortions. But then on June 28, a Harris County court reassured some abortion clinics via a temporary restraining order (TRO) that abortions could continue. Seven clinics began illegally scheduling patients again, reverting to restrictions set forth by the state's heart-beat bill that went into effect last September.
And now, in light of the Texas Supreme Court's block of the lower court's TRO, all clinics have again stopped scheduling abortions altogether. The ceasing of abortions in Texas has monumental significance, not only because it comprises nearly 30 million of the total U.S. population of over 331 million, but also because the fight started in Texas where the infamous Roe v. Wade court case began.
In the two pro-life bills Texas passed last year, the so called "trigger law," as well as the "Texas Heartbeat Act," language was included declaring and reminding the world that statues at issue in Roe are still good law.
"We put that language in those bills for this exact reason," said Cain who sponsored both bills.
Nearly 20% of the U.S. population is now living in an abortion-free state. And Texas makes up nearly half of that total.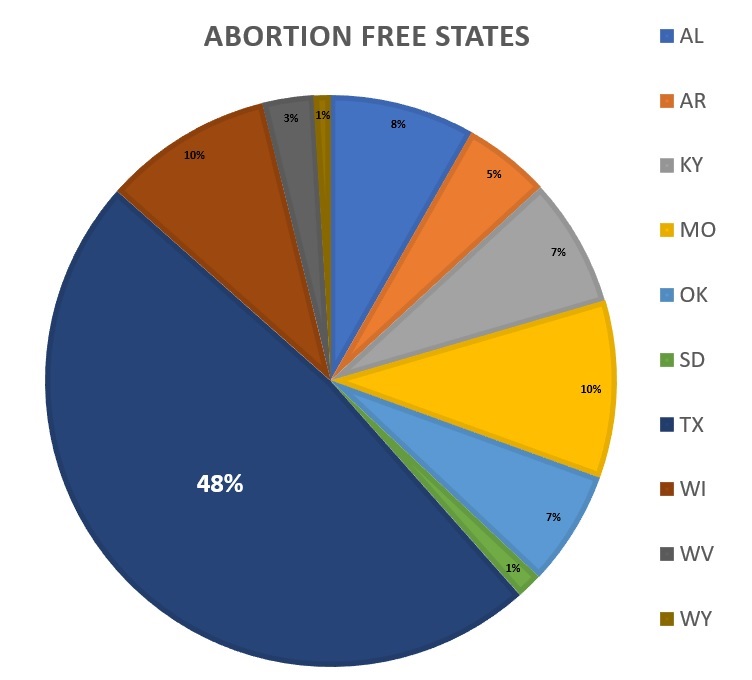 Population of abortion-free states
Alabama: 5,039,877
Arkansas: 3,025,891
Kentucky: 4,509,394
Missouri: 6,168,187
Oklahoma: 3,986,639
South Dakota: 895,376
Texas: 29,527,941
Wisconsin: 5,895,908
West Virginia: 1,782,959
Wyoming: 578,803
Total population living abortion free! 61,410,975
"We are finally seeing the great wrongs being made right in our nation!" said Operation Rescue President Troy Newman. "I hope the vast army of pro-lifers across our nation are encouraged and strengthened for the battle ahead of us as we seek to end abortion in every state!
"More dominos will fall, lets close them all!" Newman rhymed as the Operation Rescue staff cheered on Rep. Cain and all of Texas.