By Anne Reed
In Biden's newest Executive Order "Securing Access to Reproductive and Other Healthcare Services," threatening mechanisms are introduced to dissuade physicians who seek to abide by laws established by the states in which they reside and work.
Upon reading the words of the Executive Order and observing the plans of attack by the Biden-Harris administration, some may notice unmistakable similarities to the culture of fear established in George Orwell's 1984 cautionary novel.
Abortionists are now facing the possibility of felonies for violating state laws. But the Biden-Harris Administration is attempting to flip the narrative and cause fear to rest on the shoulders of law-abiding citizens.
Not only that, this week's Executive Order mandates that American tax-payers fund abortion whether they want to or not. A number of concerns exist related to Biden's directive to use Medicaid funds for advancing abortion access to patients who travel outside the states in which they live.
Medicaid is made possible because of a combination of state and federal taxes. A state can choose to use its own Medicaid funds for abortion. However, because the Hyde Amendment restricts use of federal funds for abortion (except in cases of rape, incest, and endangerment of the mother's life), states must exclude the use of federal funds for abortion.
Important questions should be asked in response to Biden's executive order:
Would state Medicaid programs ensure that no federal funds are used to pay for abortions?
What abortion-related expenses would actually be covered by Medicaid? (It is unclear whether the directive applies to travel expenses or solely to abortions within states where it is legal.)
Which states would pay for abortions? (Considering that citizens of the state provide the revenue for Medicaid through their taxes, can the federal government force a state and the state's citizens to use state funds to pay for abortion? Furthermore, can the federal government force a state to pay for abortion where abortion is banned – even if the abortion is provided in another state? Can the federal government force states and citizens of those states where abortions are legally performed to pay for the abortions of citizens who travel from other states?)
Whatever the case, in order for the Biden-Harris Administration's Executive Order to come to fruition, the federal government must place oppressive mandates on the people of the states.
Earlier this week, the majority of Kansas citizens voted against the Value Them Both Constitutional Amendment that would have clarified the state constitution contains no right to abortion. Voters were heavily influenced by pro-abortion ads filled with fear tactics inferring women would die due to government mandates.
On the same day of the Kansas ballot vote, the Biden-Harris Administration filed a lawsuit against the state of Idaho for its trigger law scheduled to take effect August 25. The law includes an exception for rape and for preventing the death of the mother, while also providing "the best opportunity for the unborn child to survive."
However, the U.S. Department of Justice claims a physician in Idaho would have to commit a criminal offense to comply with the Emergency Medical Treatment and Active Labor Act (EMTALA) requirement to provide stabilizing treatment when an abortion is medically necessary to prevent serious health risks or death. This is clearly not the case, as an exception for the mother's life is obviously present.
Follow us on GETTR and Truth Social
The state of Texas filed a lawsuit last month against the Biden-Harris Administration over its efforts to force physicians in the Lone Star State to perform abortions. Texas Attorney General Ken Paxton made clear that EMTALA has never authorized the federal government to require an emergency healthcare provider to perform abortions.
Yet the coercive scare tactics continue.
Look closely at the disturbing language from the fact sheet explaining Biden's Executive Order. Threatening overtones, reminiscent of those found in Orwell's 1984, are clearly designed to create a culture of fear. Law-abiding medical professionals are the target here — professionals who have taken seriously their oath to "do no harm," whether it be in relation to the life of a small child or the mother of that child.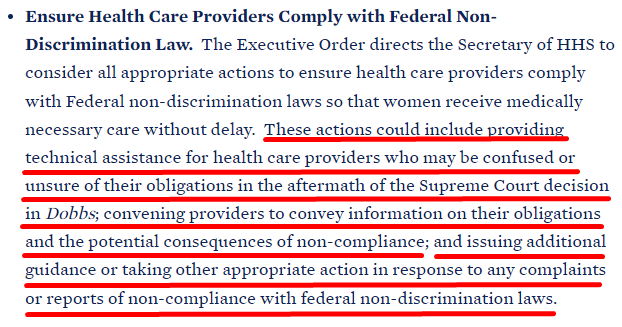 What exactly is the "technical assistance" being offered to "confused" health care providers? And when the rabidly pro-abortion federal government calls medical providers to participate in group informational meetings that sound a lot like "re-education," what information will be relayed concerning their obligations and consequences for their failure to violate their consciences?
Abortionists have been getting away with legal murder for years," said Operation Rescue President Troy Newman. "And now the federal government is attempting to go beyond its power to turn the tables, to put legitimate doctors on the defense, and plant fear in the American people. It's time for abortionists to suffer the consequences of their grave sin toward humanity, while life-honoring, law-abiding citizens are free to live and work in a manner that aligns with their convictions."