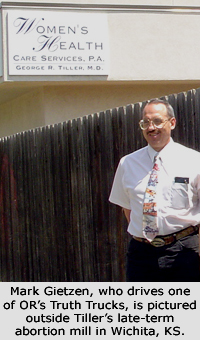 Wichita, KS – Wichita, Kansas, is the home of the most notorious late-term abortionist in the world: George R. Tiller. He has openly admitted killing babies up until the day before delivery and boasts of more late-term killing experience of anyone outside Communist China.
Now you have an opportunity to make a powerful pro-life statement – starting right in Tiller's hometown!
Operation Rescue is proud to endorse the Kansas Coalition For Life's 2008 signature ad and invite you to sign it. This ad is scheduled to be published in the Wichita Eagle on Mother's Day, 2008, and other publications throughout the year as the budget allows.
The ad makes the following bold declaration:
Every human being is created by God, and has an inherent right to life and liberty. Therefore, like William Wilberforce and those who signed the petition to stop the English Slave Trade 200 years ago, we the undersigned urge those in public office, or in any position of power and influence, to stop taxpayer funding of organizations that promote abortion, and to help build a world where all human life is treated with justice, dignity, and love.
This ad campaign is being led by KCFL's Mark Gietzen, who is also one of Operation Rescue's faithful Truth Truck drivers. We encourage you to look over the full ad text, sign your name, and give as generous of a donation to the KCFL ad effort as you can.
To view and sign the ad, CLICK HERE.
(You will be given an opportunity to donate by following the links.)