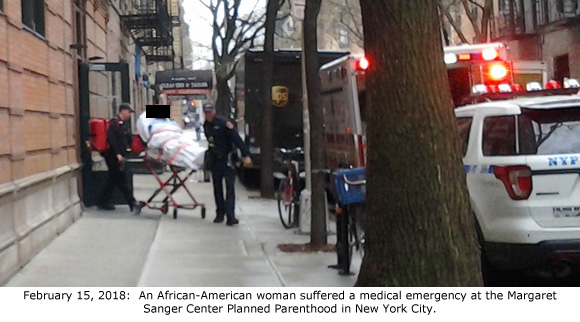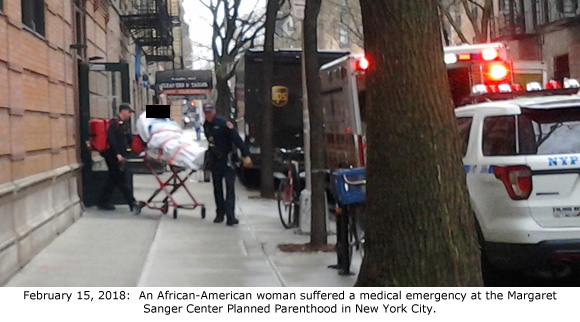 New York City, NY – An African-American woman was transported by ambulance from the Margaret Sanger Center Planned Parenthood abortion facility on February 15, 2018. This is the tenth medical emergency documented by Operation Rescue with the help of local pro-life activists at this facility since January 2017.
Planned Parenthood's flagship abortion facility, the Margaret Sanger Center is located in a high-rise brick building at 26 Bleecker Street on Margaret Sanger Square in New York City.
Planned Parenthood is known to target the neighborhoods of poor, urban women of color, and the Margaret Sanger Center Planned Parenthood is an example of that.
A witness told Operation Rescue that an ambulance, police cruiser, and a fire truck responded to the medical emergency. The ambulance arrived at Planned Parenthood first at approximately 10:44 a.m. She described how the sirens were not used within a block of the abortion facility.
"We heard the ambulance siren, but a block away, the siren was turned off so the ambulance arrived with only flashing lights. The emergency workers went in immediately," explained the pro-life activist, who also took photos of the incident. "The ambulance drove off at 11:00, but waited until it was a block away from Planned Parenthood to turn on the sirens."
"This practice of ambulances running silent within proximity of the Planned Parenthood abortion facility is for the sole benefit of Planned Parenthood. In fact, such a policy could delay emergency care to women when every minute counts," said Operation Rescue President Troy Newman. "It is a shame Planned Parenthood cares more about covering up the fact that they seriously injured a woman, than they do about her welfare."
Photos of the incident showed an African-American woman covered up to her neck with sheets as she was rushed from the building to the ambulance. Gurney access to the actual abortion offices is problematic. Women are generally brought down to the lobby in a wheelchair where they are transferred to a gurney.
The condition of the hospitalized woman remains unknown at this time.