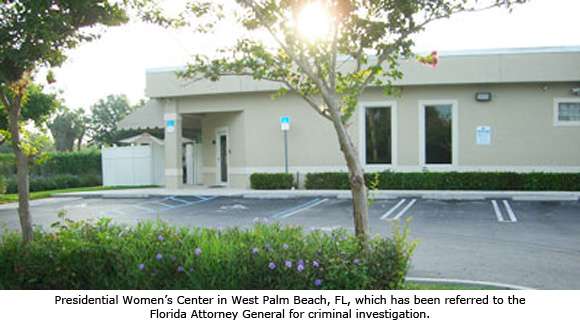 By Cheryl Sullenger
Tallahassee, FL – When the House Select Investigative Panel on Infant Lives issued 15 criminal referrals as a result of their investigation into the illegal sale of aborted baby remains, most news stories focused on Planned Parenthood's part in the illegal profit-taking scheme.
However, the Select Investigative Panel also referred a West Palm Beach abortion facility, Presidential Women's Center, Inc., to Florida Attorney General Pam Bondi for violating State and Federal laws prohibiting the following:
• The sale of aborted baby tissue for profit.
• The use of tissue from aborted babies for research or experimentation.
• The disclosure of individually identifiable health information to another person.
• The disclosure of individual health information for commercial advantage.
These allegations are serious and significant. Selling aborted baby tissue for profit is a second-degree felony that can earn violators up to $10,000 in fines and 15 years in prison for the first offense.
Sharing health information is a violation of HIPAA punishable by a fine of up to $50,000 and imprisonment for up to one year. However, if the disclosure of health information involved commercial advantage, the punishment jumps to a fine of up to $250,000 and/or imprisonment for up to 10 years.
Yet, there has been no word from Attorney General Bondi's office regarding whether or not she will instruct law enforcement to investigate.
Operation Rescue contacted the Attorney General's office for comment, but despite assurances from Bondi's Press Secretary Kylie Mason that she would get back with an answer, she never responded to Operation Rescue's follow up communications.
"The public has a right to know if there will be an investigation based on the Congressional criminal referral," said Operation Rescue President Troy Newman. "We have not asked for information about the progress any possible investigation, which we understand they cannot comment on. We have simply sought to find out if there would be an investigation."

NAF Member
Presidential Women's Center (PWC) is an abortion business located in West Palm Beach, Florida – ironically less than 10 miles from President Donald Trump's "Winter White House" Mar-a-Lago estate.
PWC is a member of the National Abortion Federation, a confederation of abortion facilities with an overall dismal safety record that partnered with Planned Parenthood to educate its members about the potential benefits of selling aborted baby remains.
StemExpress Contract
PWC contracted with the procurement company StemExpress to receive $50.00 per 60ccs of maternal blood and $75 for the collection of "fetal tissue" derived from abortions.
It also agreed to allow StemExpress "access to patient charts and identify of donors 'as necessary to obtain patients' consent for use of POCs and maternal bloods."
"Typical Work Day"
In the PWC criminal referral letter, Chairman Marsha Blackburn describes a "typical work day" for PWC staff on organ procurement/abortion days.
First PWC staff logged onto the StemExpress website for orders awaiting fulfillment that described parts needed and gestational ages.
The PWC procurement staff then "met with patients waiting to be prepped for their abortions and convinced them to consent to donate by saying that the donation will help cure diabetes, Parkinson's, and heart disease."
Once consent was obtained and the abortion completed, staff would collect the remains of aborted babies and procure the parts requested, then ship the remains via FedEx directly to the customer.
Staff updated the StemExpress website throughout the day to let other abortion businesses also participating in the aborted baby body parts trade about what had been procured at PWC. These updates included some patient details.
Finally, PWC staff shared details of patients' private health information with StemExpress, including name, date of birth, date of abortion, gestational age at time of abortion, and other information such as the patients' height, weight, and smoking history.
Disposal of Unused Remains
Disposal of aborted baby remains is a huge problem for many abortion businesses – PWC included. Many medical waste disposal companies refuse to do business with abortion facilities. Those that do charge high prices that cut into the abortion business' bottom line.
To solve that problem, PWC contracted with StemExpress to "cover disposal services for non-used portions of cadaveric materials."
Other Concerns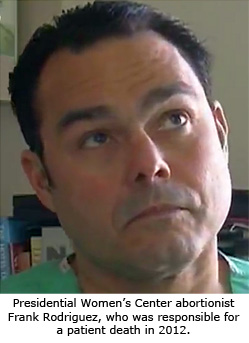 Operation Rescue is not the only one to get the silent treatment when it comes to questions about whether or not Bondi's office will investigate. M. Susan Pine of FACE Life, Inc., has been attempting to get an answer for weeks. Pine is concerned because she is aware of patient injuries, including a 2012 patient death at Presidential Women's Center and has been working to see the facility closed due to dangerously shoddy patient care and in the interest of saving lives.
On September 22, 2012, PWC abortionist Frank Rodriguez conducted an abortion on patient S.H. He mistakenly pushed a cervical dilator into her uterus. After the abortion, Rodriguez failed to remove the dilator. S.H. died five days later.
The Board of Medicine reprimanded Rodriguez March 10, 2016, for killing his patient on ordered him to pay fines and costs in the amount of $14,472, and barred him from conducting surgical abortions until he met all the requirements imposed by the board, including extensive re-education and evaluation.
Operation Rescue has evidence of other injuries inflicted PWC abortionists. In April, 2011, Operation Rescue reported on an ambulance at PWC, which transferred a patient to a hospital emergency room for treatment. The abortionist on duty was Michael Benjamin, who has a history of Medical Board discipline.
Criminal charges related to the illegal sale of aborted baby remains may actually help spare other women from injury or death.
Will She or Won't She?
As serious as the House Select Investigative Panel's charges are, in the nearly three months since the referrals were made, there still has been no word from Florida Attorney General Pam Bondi as to whether her office has taken any action to further investigate Presidential Women's Center, as requested by the Select Investigative Panel.
"It's time to let the public know if there will be an investigation. Please call Attorney General Pam Bondi's office and respectfully request an answer to whether or not Presidential Women's Center will be investigated for violating the laws protecting aborted baby remains from exploitation for financial gain," said Newman.
Read the Criminal Referral Letter
Please contact AG Pam Bondi and ask if her office plans to act on the criminal referral of Presidential Women's Center.
Voice: 850-414-3300
Email: Web form