Commentary by Operation Rescue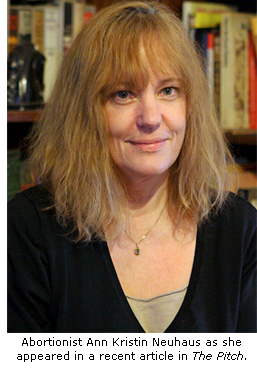 Lawrence, Kansas – A new article has appeared in the overtly liberal and radically pro-abortion The Pitch magazine attempting to sympathetically portray Kansas abortionist Ann Kristin Neuhaus, who faces possible license revocation by the Kansas State Board of Healing Arts for horrendous record keeping and illegal late-term abortion referrals. That case is based on a complaint filed by Operation Rescue.
During the interview Neuhaus claimed she was out of the abortion business forever.
"I'm done with this whole women's-right issue," she says. "It's definitely an underserved population, but I'm done. Not even in the wildest imaginable situation would I do it again. I would even sign a statement that I wouldn't do it again. I'm certainly not going to be working for Dr. Tiller again, am I? And we're not going to have a clinic like that ever again."
But in an interview with MSNBC's Rachel Maddow that aired on February 23, 2011, Neuhaus sang a different tune. Here is an excerpt from the transcript of that interview:
MADDOW: Would you ever go back to providing abortions?
NEUHAUS: I'd love to say that there would be some day that I would be comfortable in the state of Kansas, but I don't think we're anywhere near that, at this point. I would, certainly, do it in other states, or other countries, but, at the moment, I have no intention of resuming practice, here in Kansas.
Coincidently – or not – about the same time Neuhaus applied to have her restricted medical license restored and the Board case against her expedited, Julie Burkhart, a long-time pro-abortion activist, announced that she had hired a "Medical Director" for an abortion clinic she is currently trying to open in Wichita.
It is not a far leap in logic to conclude that Neuhaus is Burkhart's potential abortionist.
Burkhart has only raised half the money she needs to open an abortion clinic, and, realistically, it is doubtful that she will ever be able to bring her grisly plans to fruition in a community that is weary of the abortion wars. If Neuhaus's license is revoked, that could put a permanent end to Burkhart's plans to profit once again from abortions in Wichita.
The question remains of Neuhaus: Will she or won't she jump back into the abortion business if her licensed is cleared? We hope we never have to see the answer to that question. There can be little doubt that her deep contempt for the Board of Healing Arts insures that she will not comply with their rules in the future. That makes her dangerous.
A decision on her professional fate is expected from the Board in February.
In the meantime, the Pitch article shows a haggard, angry, and bitter woman who has serious issues with authority. She resents the KSBHA for attempting to hold her accountable to the standard of care that every other physician must meet. She accuses the expert witness against her of being unqualified to talk because it is her professional opinion is that abortion is not a cure for any mental illness. She attacks former Attorney General Phill Kline for questioning her about her dubious role in George Tiller's late-term abortion operation. She has harsh – and at times obscene – words for everyone from Gov. Sam Brownback to Fox News host Bill O'Reilly. They all conspired against her. She is their victim.
But after admittedly committing 10,000 abortions, for which she remains defiantly unrepentant, she is far from the victim. She is reaping the fruit of her actions, and it's not a pretty sight.
Neuhaus is a pathetic and defeated soul who can now only gnaw at her resentments and occasionally lash out with vitriol at those she blames for her own failings. While she may not deserve our pity, she certainly deserves our prayers.

Read The Pitch article (Caution: obscene language — and what we call "crazy talk.")
Learn more about the KSBHA case against Neuhaus