By Cheryl Sullenger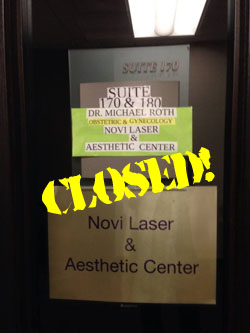 West Bloomfield, MI — Michigan abortionist Michael Arthur Roth's abortion business, the Novi Laser and Aesthetic Center, was evicted last month from its second office space this year. Currently, his abortion business remains closed.
An eviction document provided to Operation Rescue by long-time pro-life activist Lynn Mills, shows that a court request for eviction from his office at 33200 West 14 Mile in West Bloomfield was filed on October 21, 2014. The eviction was ordered due to Roth's violation of a provision of his lease.
Roth had until November 27, 2014, to vacate the premises. Photos taken through his office windows on November 25 show that the office was empty and Roth had already moved out.
Mills told Operation Rescue that she had conducted a literature drop just prior to Thanksgiving featuring information about Roth's abortion business and his involvement in a tax fraud case. Roth moved out soon after.
"Public pressure of the kind used by Lynn Mills is very effective at exposing the 'bad boys' of the abortion cartel and forcing them out of business," said Operation Rescue President Troy Newman. "We applaud her efforts and those of others who also contributed to this pro-life victory."
Earlier this year, Roth was evicted from his long-time office, located at 42450 West 12 Mile Road, Suite 205, in Novi, Michigan, which was the site of several large peaceful, pro-life sit-ins, or rescues, in the early 1990s.
Roth has a checkered history of Board discipline and malpractice suits related to botched abortion procedures. Some of the injuries he inflicted during abortions include perforated uteri and bowels, hemorrhage, and at least one abortion he did not finish because the abortion facility ran out of dilators of the size he needed to complete the procedure. One woman required a hysterectomy to save her life. Documents related to these incidents can be read at AbortionDocs.org.
Roth's personal life was also troubled. He went through an ugly divorce in 2005 that resulted in his then-wife obtaining a personal protection order against her husband that specifically prohibited him from following her, approaching her in public, or prescribing any medications for her. She lived locked in the basement of their home during the divorce proceedings while he enjoyed the master bedroom, according to court documents.
Lynn Mills told Operation Rescue that she is thrilled with the fact that Roth is currently out of the abortion business, but also expressed some concerns.
"My joy is so great," she said. "Please continue to pray for Roth and his conversion. He recently severed ties with another local multiple-mill abortionist. My concern is that out of desperation they will join forces one again."
But for now, one very dangerous abortionist is shut down and there is one less shoddy abortion facility preying on vulnerable women and their defenseless babies, and that is a victory worth celebrating.