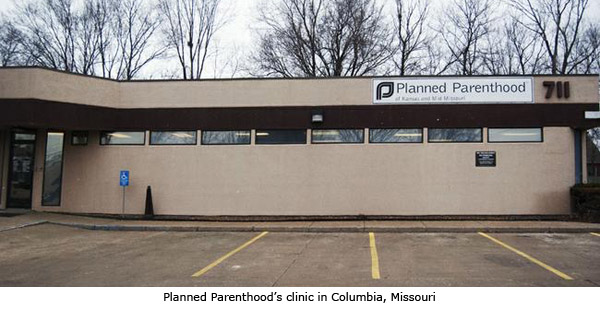 By Cheryl Sullenger
Columbia, MO – Colleen McNicholas has gone to a lot of trouble to conduct abortions at Planned Parenthood's Columbia, Missouri, facility. But for at least three weeks, McNicholas has not shown up for her weekly abortion appointments in that north-central Missouri college town.
According to local pro-life activist Kathy Forck, women are being turned away, and that means lives are being saved.
"Last Friday, March 16, 2018, clients who arrived were met with a piece of white paper blowing on the door which said no clients could be seen that day because of no provider was available," wrote Forck to her fellow pro-life activists.
"Just two days earlier on Wednesday, March 14, they were met with a sign that said it would be closed on Monday, March 19 because of 'Appreciation day for its Employees.' It is amazing, at least every week, they are not able to see clients because of no provider. We know that PP has lost its Nurse Practitioner and this has greatly hindered their ability to give 'care' to women."
The Columbia Planned Parenthood is operated by Planned Parenthood Great Plains (PPGP), based in Overland Park, Kansas — the same Planned Parenthood organization that once faced 107 criminal charges for illegal late-term abortions and manufacturing evidence to cover it up.

Planned Parenthood abortionist Colleen McNicholas.[/caption]Since 2005, when Missouri passed a law requiring abortionists to maintain local hospital privileges, the Columbia facility has struggled to keep an abortionist on staff.
After a period of on-and-off again abortions in Columbia, a local abortionist was found, but in 2011, abortions were halted again when he was deployed overseas and never returned to employment at the Columbia facility.
Sometime later, University of Missouri (MU) Assistant Teaching Professor, Kristin Metcalf-Wilson, who also worked at Planned Parenthood in Columbia as a nurse, recruited McNicholas to provide abortions at the Columbia facility while on the clock at MU, a public funded university.
Metcalf-Wilson then quietly shepherded McNicholas through the system at MU in order to obtain hospital privileges so that the Columbia clinic could qualify for licensing as an ambulatory surgical center abortion clinic and resume abortions there.
But instead of obtaining the required hospital privileges, Metcalf-Wilson and others facilitated the issuance of dubious "refer and follow" privileges only. This meant that McNicholas had no right to admit or treat any patients at MU hospital, but could only "refer" a patient there and receive updates on her care.
Planned Parenthood passed off this phony "refer and follow" privilege as full hospital privileges to the Department of Health and Senior Services, which then issued a new abortion facility license to the Columbia facility.
A 2015 State Senate investigation, led by State Sen. Kurt Schaefer, into Planned Parenthood's shady operations led to the discovery of McNicholas' the phony hospital privileges that did not meet the requirements for abortion facility licensing. As a result, in November, 2015, abortions were once again halted when Planned Parenthood's ill-gotten Columbia facility license was revoked.
As a result of that scandal, the head of the DHSS that issued the bogus abortion license and the Chancellor of MU were forced to resign.
In October 2017, the Columbia Planned Parenthood was once again licensed after an appeals court struck down the 2005 Missouri requirement that abortionists maintain local hospital privileges.
However, abortion numbers have been consistently low and the Columbia facility, which has again been sporatic as far as abortion appointment availability, with thankfully none having been done in the past three weeks.
That leads to the question, "Where in the world is Colleen McNicholas?"
"As long as she is not showing up for work to abort babies, we don't really care where she went," said Operation Rescue President Troy Newman. "But we hope she stays there."