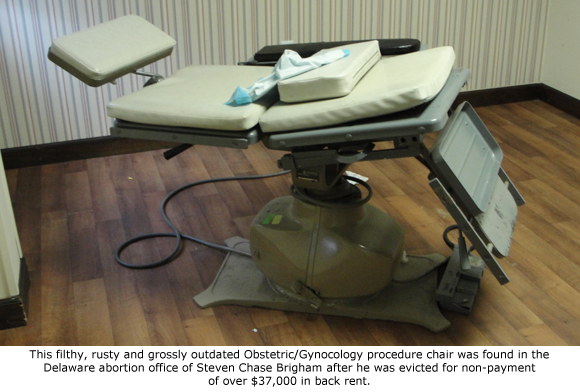 Now he's up to his old tricks – this time in Washington, D.C.
By Cheryl Sullenger
Wilmington, DE – Dr. Parham Farhi wishes he's never trusted Steven Chase Brigham. When Brigham came calling, hoping to lease office space in a building Farhi owned, it seemed like a standard business deal.
What he didn't know was that Brigham was a disgraced abortionist who intended to use the office space as an abortion facility.
So bad were conditions at Brigham's Delaware office, that the state threatened to shut him down. In order to maintain a money stream, Brigham agreed to halt surgical abortions, but continued to conduct medication abortions using a cut-rate injectable drug known as Methotrexate, which has a sky-high failure rate.
When Dr. Farhi was finally forced Brigham out earlier this year, he was left with an unpaid bill for $37,000 in back rent.
But that's not the only thing Brigham left him.
Farhi was befriended by two local pro-life activists, Moira Sheridan and David Williams. Once Brigham had moved out, Farhi allowed Sheridan and Williams to tour the facility. What they found was a trashed office with dirty walls, filthy floors, and bits of trash strewn about.
They also found what appeared to be an ancient ObGyn procedure chair that looked like it came straight from the set of some B-grade horror movie.


Williams snapped photos of the contraption and sent them to Operation Rescue.
"Abortion supporters should be appalled that such a filthy, rusty chair would be used for women. Where is Planned Parenthood's Cecile Richards's statement denouncing such abuse? Where is Ilyse Hogue of NARAL? Why aren't they calling for Brigham's Washington abortion business to be shut down?" asked Operation Rescue President Troy Newman. "Even Philadelphia's 'House of Horrors" abortion mill run by Kermit Gosnell had a better-looking abortion table!"
Now it looks like Brigham is up to his old tricks, this time in Washington, D.C. In a conversation with Reza Sabaii, Brigham's new landlord, he was shocked to hear the news from an Operation Rescue staffer that his new tenant was running an abortion mill out of his building. One can only wonder what horrors might be found there.
Later today, pro-life leaders from a number of organizations will gather in front of Brigham's new office and call for him to be shut down. This is just the first salvo in what is expected to be an intensive campaign to protect women from his dangerous, deceptive, and exploitative abortion practices.