By Cheryl Sullenger
Cincinnati, OH — Since October 28, 2016, city sewer vehicles have been seen outside the Planned Parenthood abortion facility in Cincinnati, Ohio.
First, Roto-Rooter was called out, but the problem seemed to be beyond their ability to solve. Next came the city sewer trucks, which put equipment down a manhole across the street from Planned Parenthood.
On November 10, another vehicle from the city sewer department was called out. This time, workers opened a manhole in the sidewalk directly in front of Planned Parenthood, closing the sidewalk.
While we don't know for sure what the sewer problem is near Planned Parenthood, it is not unusual for abortion facilities to have sewer issues.
Take Kermit Gosnell's Women's Medical Society abortion mill that used to operate in West Philadelphia, for example.
During Gosnell's murder trial, held in the spring of 2013, one of his former employees, Elizabeth Hampton testified under oath about her "cleaning" duties at the notoriously squalid abortion facility.
Her job required her to clean the large bottles on the suction machines that would fill with blood and fetal remains during first trimester abortions. She testified that she would dump the entire bloody contents of the bottle into a wash sink located between procedure rooms. She would then turn on the garbage disposal and grind and flush the contents down the drain, even though it was illegal in Pennsylvania to dispose of bloody human remains in this way.
Hampton's common-law husband, Jimmy Johnson, who worked as Gosnell's handy-man, also gave hair-raising sworn testimony during that trial.
He said that the toilets at the Women's Medical Society were constantly backing up because babies were being flushed down them. He told of opening the clean-out drain only to have arms and legs flood out.
But Gosnell's abortion facility wasn't alone in that regard.



Operation Rescue purchased an abortion facility in Wichita, Kansas, in 2006, and evicted the National Abortion Federation-approved abortion business. When OR's Troy Newman took possession of the building, he and a small group of friends went in to take a look around.
The first thing that struck them was the stench. Between the two procedure rooms (eerily like Gosnell's clinic) was a closet-sized room with a rusty, bloodstained sink where the contents of the suction machine bottles were rinsed and the biohazard bags were kept. Under the dirty sink was an industrial garbage disposal almost identical to the one that was later discovered at Gosnell's facility. It was clogged with rotting material, presumably from the suction machine. That disposal was the source of the foul odor that permeated the former abortion clinic. Newman discovered in each room, there was a can or bottle of air freshener that revealed the futile attempts by abortion clinic staff to cover up the reek.
"I suspect that if Planned Parenthood is the source of the sewer problems in Cincinnati, we will likely see more city sewer vehicles out there in the future," said Newman. "In any case, that abortion facility is engaged in the brutal dismemberment killing of innocent babies, and I for one will rejoice in the day that it is shut down for good."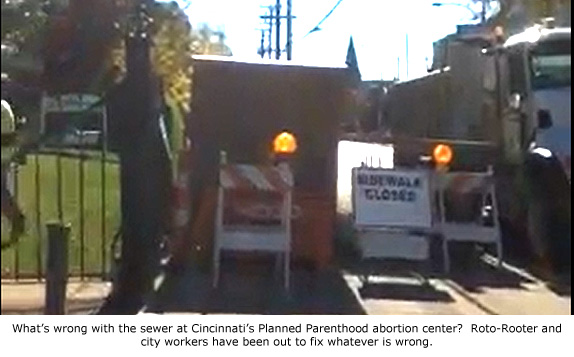 [HT: Paula Westwood, Greater Cincinnati Right to Life]