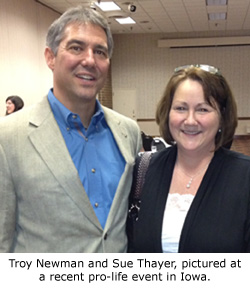 Washington, D.C. — In March, 2010, Operation Rescue released a ground-breaking investigative report detailing the discovery that Planned Parenthood of the Heartland was engaged in the experimental practice of distributing abortion pills over a video-conferencing connection without the presence of a licensed physician, which became known as "telemed" or "webcam" abortions. That report shocked the pro-life community nationwide.
Soon after, Operation Rescue's Cheryl Sullenger, who authored the report, received a phone call from Sue Thayer, who explained that she was a former manager of a Planned Parenthood clinic in Storm Lake, Iowa, where the telemed abortion scheme was implemented in 2008. Thayer confirmed all the facts of Operation Rescue's telemed abortion investigation, including the fact that the lower overhead associated with telemed abortions made them a "mega-moneymaker" for Planned Parenthood even though there were increased risks for women.
When Thayer raised her concerns about telemed abortions, she was "let go" from Planned Parenthood.
Since then, Sue Thayer has come forward as a pro-life woman with an important story to tell. Thayer recently published an opinion column in the Washington Times exposing the dangers of telemed abortions and voicing her concerns about Planned Parenthood placing money over the health and safety of women. She described "abortion quotas" every clinic was ordered to meet, and how abortion revenues account for 46% of its operating budget.
Within 13 months of the release of Operation Rescue's investigative report, Arizona became the first of six states to ban telemed abortions. Iowa Congressman Steve King (R-IA) has also talked to Thayer about a potential federal initiative.
This year, Missouri lawmakers are attempting to regulate the distribution of the abortion pill that is responsible for at least 15 patient deaths. In addition to the mandatory presence of a licensed physician, the Missouri bill aims to restrict the use of the dangerous drugs to under seven weeks gestation, which is in keeping with FDA safety protocols. Currently Planned Parenthood routinely administers the drugs through nine weeks gestation, even though risks to the woman's health increase with each successive week of pregnancy.
Webcam abortion bans are also currently being considered in Indiana and Wisconsin, where a contentious debate took place in the Statehouse in Madison on Wednesday.
"Planned Parenthood continues to strenuously oppose any kind of health and safety rules for their webcam scam, proving that women's safety is secondary to profit," said Troy Newman, president of Operation Rescue and Pro-Life Nation. "Webcam abortions are not about women's health. It is all about keeping overhead down and abortion traffic high in order to squeeze the last dime possible out of vulnerable women who are faced with crisis pregnancies. Webcam abortions are predatory in nature and demean women by denying them adequate medical care."
Meanwhile, the Planned Parenthood office in Storm Lake where Thayer once worked is slated to close on March 1, an answer to prayer for the former Planned Parenthood manager.
Operation Rescue continues to work to expose the dangers of webcam abortions and partner with pro-life groups to aid in the passage of laws that protect women from being preyed upon by Planned Parenthood's telemed abortion scheme.
Read Sue Thayer's Washington Times article "Planned Parenthood's Big Lie"