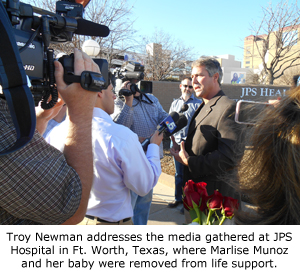 Ft. Worth, TX – Operation Rescue's Troy Newman and Cheryl Sullenger joined a group of about 50 pro-life supporters for a memorial vigil for Marlise Munoz and her baby outside John Peter Smith Hospital in Ft. Worth, Texas, on Sunday after news broke that the hospital had withdrawn life support.
Statements released by the hospital and the Munoz and Machado families indicated that Marlise Munoz was removed from life support at 11:29 a.m. and died a short time later. However, there was no mention made of Baby Munoz, who was 23-weeks gestation at the time of Marlise Munoz' death yesterday morning.
"We needed to give that baby a voice and dignity in death that he or she never had in life," said Newman. "We wanted the world to understand that this baby's life – whether there were health issues or not – had value and deserved a chance at life."
Mrs. Munoz had been on life support at JPS Hospital since November, when she arrived "still alive" according to a hospital statement in November after collapsing at her home. Doctors determined that she was "brain dead" but kept her on life support because she was 14 weeks pregnant in compliance with Texas law that prevents "life sustaining" treatment from being removed from pregnant women. A judge disagreed with the hospital officials' reading of the law and ordered life support terminated.
Operation Rescue objected to way the term "brain death" was being applied to Mrs. Munoz and with the characterization of her as a "dead corpse."
"We are not medical professionals, but we do understand that a dead corpse cannot sustain a growing pregnancy for two months, as Mrs. Munoz did," said Newman. "This dehumanizing terminology was intentionally used for the purpose of making the murder of her and her baby more palatable. The law was clear that life support should have been continued in order to give the child a chance, but the intent of that law was completely ignored."

Pastor Stephen Broden of Fair Park Bible Fellowship and Founder of National Black Pro-Life Coalition, who addressed the pro-life supporters during Sunday's vigil, reminded all of the Bible verses that state, "The life is in the blood," meaning that as long as there is circulation, there is life. That concept was confirmed by the fact that the pre-born baby was nourished and growing.
In addition to dehumanizing the mother, the baby was portrayed by attorneys as little more than a monster, leading one Twitter poster to ask, "The baby was deformed. How is that murder?"
"This baby was a precious gift and his or her life had value even if there were developmental issues. We don't kill people because they are handicapped," said Newman. "This was a naked attempt to redefine life and death in subjective terms that would make it acceptable to end the lives of people that have become inconvenient. This is a very dangerous road to travel on and could lead to lost protections for all our lives. We are thankful that we had the opportunity to speak the truth in opposition to this horrific attempt to strip two precious human beings of their humanity and dignity along with their lives."
Originally, Operation Rescue had planned to engage in peaceful civil disobedience on Sunday to convince hospital officials to appeal the judge's order and to give the baby more time to mature.
"We hoped to intervene in order to give Baby Munoz more time to grow. We had couples who expressed interest in adopting the baby and offers to pay the medical bills. It's tragic that the hospital decided to move quickly," said Newman. "This baby was let down by the very people who should have provided the strongest protections."
Operation Rescue extends thanks to everyone who worked to alert the public of this tragedy and tried to help save the Munoz baby's life.