Bertha Bugarin is scheduled for sentencing on 9 more felonies in San Diego County on Feb. 6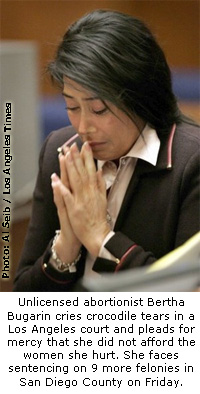 Los Angeles, CA – Bertha Bugarin was sentenced in a Los Angeles court on Friday to 3 years, 4 months in prison for committing illegal abortions without a medical license. Prosecutors had asked for five years.
Bertha appeared in court sobbing uncontrollably and begging for leniency and mercy. Her 22-year old daughter, Evangelina Bernal, cried as she read a prepared statement extolling the virtues of her mother.
"In sentencing Bugarin, Judge Sam Ohta has forgotten that Bugarin's victims were given no such mercy. Many of the women were cruelly given abortions without anesthesia or pain medication," said Operation Rescue spokesperson Cheryl Sullenger.
"Bugarin preyed on vulnerable Hispanic neighborhoods. She hoped to earn the maximum amount of profit by providing the shoddiest care, hoping the illegal status of many in those neighborhoods would prevent them from reporting what one journalist described as her 'shop of horrors.' Her victims will have to live with the trauma and injury Bugarin inflicted on them for the rest of their lives. Bugarin is a cold-hearted predator whose only remorse is that she got caught."
Bugarin has a long history of total disregard for the law and the safety of women who came to her abortion business that once operated 11 abortion mills. At least six of Bugarin's abortionists have lost their medical licenses due to negligence and fraud.
One of her abortionists, Laurence Reich, was a twice-convicted sex offender who molested and raped his abortion patients. Reich surrendered his license in 2006, but continued to work as an abortionist for Bugarin until his arrest in February, 2008.
Even after her arrest in a Los Angeles Police raid on 4 of her remaining 6 clinics, Bugarin continued to operate in San Diego County until her arrest there.
Bugarin pled guilty to 9 felony counts in San Diego County and is scheduled for sentencing there on Friday, February 6, 2009.
"We are very thankful that Bugarin's clinics are now closed and that she is on her way to jail where she belongs. We worked very long to protect the women of Southern California further abuse at the hands of this ruthless predator," said Sullenger.
"This sends a message to abortionists around the nation who have the attitude that they are above the law: We are watching you, and we will not stop working to enforce the laws until you, like Ms. Bugarin, are brought to justice."