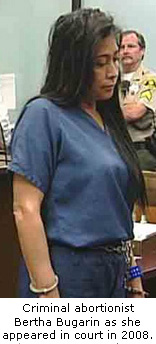 Los Angeles, CA — Operation Rescue has confirmed that abortionist Bertha Bugarin, who was convicted in 2009 of multiple counts of practicing medicine and prescribing drugs without a license, has been released early from prison under a new "realignment" program that was enacted in California last year. Bugarin served less than half of a 6 year, 8 month sentence for felony convictions in San Diego and Los Angeles Counties.
Bugarin's early release was opposed by Los Angeles District Attorney Steve Cooley, who objected to the reclassification of Bugarin as a non-violent "lower level offender" and considered her a "consumer protection" threat.
Since her release, Bugarin has taken up residence at her swanky home in an upscale neighborhood of Granada Hills, California. Until recently, the house was in foreclosure and on the market, but since Bugarin's release, the mortgage has been paid and the house is no longer for sale. According to sources, Bugarin is leading the life of a multi-millionaire off profits she made preying on vulnerable women who she victimized with her quackery.
Bugarin ran a chain of seedy abortion clinics in Southern California known as Clinica Medica Para La Mujer De Hoy, which targeted Hispanic women in low-income neighborhoods. Operation Rescue worked for years to expose her shoddy operation and the long list of incompetent abortionists that she employed, at least six of which suffered forced license surrenders or revocations since 2000.
Bugarin, whose background is in the restaurant business, had trouble keeping abortionists due to their disciplinary and criminal problems, which included botched abortions, sexual assaults on patients, billing fraud, substance abuse, and at least one patient death. To keep her six remaining offices open, Bugarin began doing the abortions herself.
Los Angeles Police Department Health Authority Law Enforcement Task Force (HALT) raided Bugarin's four Los Angeles County mills on August 1, 2007. Those raids resulted in the arrest of Bugarin, her sister Raquel, and two other workers who were unlicensed and unqualified to perform medical duties. San Diego County conducted its own investigation and later arrested Bugarin after nine women came forward to tell abortion horror stories they suffered at Bugarin's hands.
San Diego County District Attorney Bonnie Dumanis, a known abortion supporter, said of Bugarin after her conviction, "This criminal preyed on women in the Hispanic community and has now been held accountable. By passing herself off as a doctor, she put these women's lives in serious danger."
"To classify Bertha Bugarin as a non-violent, low level offender is an insult to the women she has harmed over the years. It diminishes the severity of her crimes and the pain and suffering that she inflicted on so many. Letting her out early only teaches her that she can get away with her crimes without having to pay the full penalty for them," said Cheryl Sullenger, Senior Policy Advisor for Operation Rescue and Pro-Life Nation, who worked in San Diego to expose the dangers of Bugarin's horrendous abortion empire.
"Bugarin is the kind of woman who will continue to pose a threat to the public because she has proven again and again that laws mean nothing to her. She loves living the high life, so we are sure it won't be long before she is back preying on the weak. The authorities need to keep a close watch on her. It's a pretty good bet that she will reoffend, and when that happens, there is sure to be another long victim list. The responsibility for that will rest with California's pro-abortion political machine that esteems abortion over the health and safety of women."
Learn more about Bugarin's abortion abuses.