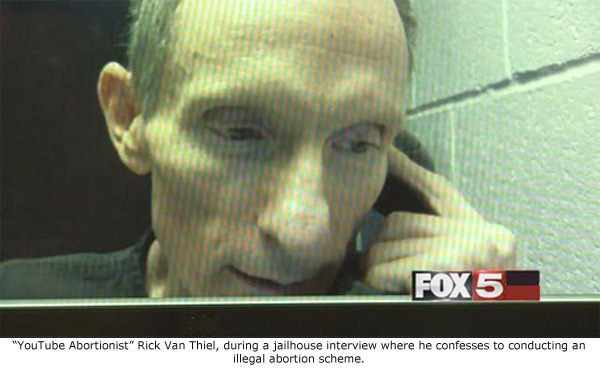 An Operation Rescue Special Report
By Cheryl Sullenger
Las Vegas, NV — He's known as the "YouTube Abortionist." A 53-year old career criminal from Las Vegas, Nevada, has been indicted by a grand jury for illegal abortions and sex crimes that should keep him behind bars — where he belongs — for a very long time.
Rick Van Thiel was arrested and jailed in September, 2015, for conducting abortions and other quack medical treatments out of a grimy trailer in his junk-cluttered back yard. He was never formally educated, trained, or licensed in the field of medicine. His background was instead that of a pornographic movie star/maker and inventor of sex toys.
So how did Van Thiel get into the abortion business? He told a news reporter that he learned to do abortions watching videos on YouTube.com.
A Clark County grand jury issued 30 felony indictments against Van Thiel in June 2016, including:
• 19 counts of engaging as a medical physician without a license.
• 6 counts of sexual assault resulting in substantial bodily harm.
• 2 counts of sexual assault.
• 2 counts performance of a health care procedure resulting in substantial bodily harm.
• 1 count child abuse, neglect, or endangerment.
In addition, Van Thiel, already a five-time convicted felon who has been barred from gun ownership, faces three federal firearms charges and has been transferred into federal detention. Serving as his own attorney, he has flooded the court with a flurry of motions that are currently delaying his trial. Thankfully, Van Thiel remains in custody.


Van Thiel was an opportunist. Like many charlatans before him, he saw that offering cut-rate abortions and quack "holistic" cures to hookers and other vulnerable women was a viable means to quick cash. He lured customers through several seedy "adult" websites and by word of mouth.
Given the evidence against him and his public jailhouse confession, it is almost assured that Van Thiel will be convicted in both state and federal court and will remain incarcerated for many years to come.
But, however bizarre as it may be, Van Thiel's criminal abortion enterprise is not an aberration. In fact, it might be the harbinger of a disturbing new trend.
Within weeks of Van Thiel's apprehension last fall, two others were arrested for conducting illegal underground abortions. Yet these men are not amateurs. Michael Arthur Roth and James Scott Pendergraft IV are known abortionists that worked for or own licensed abortion facilities in two states.
"The Trunk Abortionist"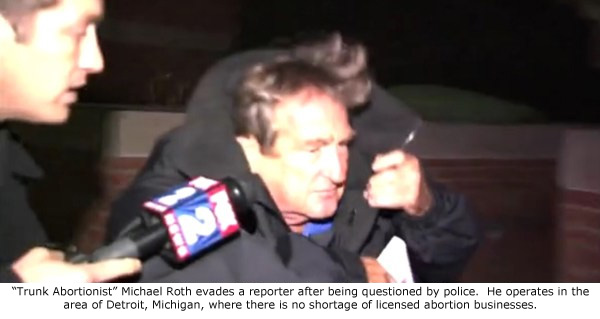 Michigan's Michael Roth, known as the "Trunk Abortionist" was arrested after the police made the gruesome discovery while investigating a traffic accident involving Roth. In the trunk of his car there were aborted baby remains along with abortion equipment and drugs. He had been secretly carrying out hazardous abortions at the homes of his customers. Roth and an accomplice had stolen the instruments and drugs from an abortion facility owned by Angel Ojeda, who had employed Roth.
State Attorney General Bill Schuette criminally charged Roth on June 23, 2016, on ten counts, including:
• 6 counts of identity theft.
• 3 counts larceny.
• 1 count illegal possession of drugs.
The Attorney General's office is also attempting to permanently strip Roth of his medical license.
While not a "career criminal" in the same vein as Van Thiel, that status could well be applied to Roth. He has a history of discipline and other legal troubles, including 2005 accusations made by his wife in a protection order application that she lived locked in the basement of her home in constant fear of assault by Roth.
In 2003, Roth was charged by the state Board of Medicine for conducting home abortions. He was fined, placed on probation, and ordered to cease and desist from conducting abortions outside a licensed facility.
That weak attempt at discipline was obviously inadequate to persuade Roth to amend his ways.
"The Rolling Abortionist"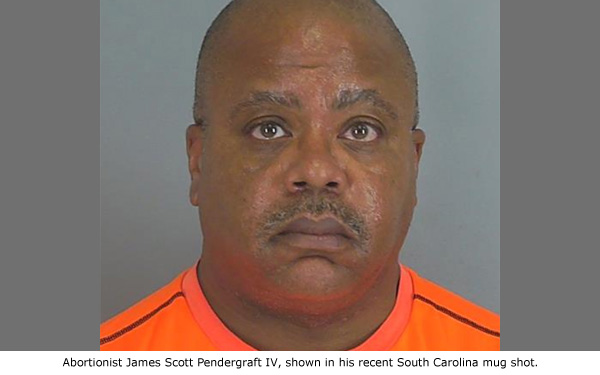 Last October, the "Rolling Abortionist," James Scott Pendergraft, IV, was arrested with a female accomplice during a traffic stop in South Carolina. Sheriff's Deputies discovered abortion instruments caked with blood and bits of tissue from illegal abortions he was conducting up and down the U.S. Interstate Highway system. They also found drugs used to sedate abortion patients and marijuana.
Pendergraft is a well-known Florida abortionist who operates four abortion facilities in Central Florida, but he was never licensed to practice in South Carolina. He is also serving his fifth medical license suspension, and was recently hit with a crushing $37 million malpractice judgment. His financial difficulties coupled with his inability to personally conduct abortions may have sparked his incredibly bad idea to take his abortion business out of state and underground.



Pendergraft was indicted on May 6, 2016, by a Spartanburg County grand jury on ten counts of drug-related charges.
As with Van Thiel and Roth, Pendergraft's criminal case is pending, but unlike Van Thiel, Roth and Pendergraft both remain free on bond until their cases can be resolved.
But his South Carolina arrest certainly was not the first time Pendergraft had been caught exceeding the bounds of the law. Operation Rescue reported him and his Maryland associate, Harold O. Alexander, for conducting an illicit multi-state late-term abortion scheme out of Alexander's unlicensed abortion facility in Forestville, Maryland. (Read more about that.) Unfortunately, Pendergraft suffered no real consequences, except for the loss of income that resulted from the forced break-up of his crime ring. Alexander only received a three-month license suspension, but was ordered not to conduct surgical abortions at an unlicensed facility.
Once again, while Pendergraft spent decades immersed in legal troubles, inadequate discipline failed to reform him.
Stil at large
These illegal – and frighteningly dangerous – abortion enterprises seem to be cropping up with alarming frequency. What is known so far of these shadowy underground abortion schemes may just be the tip of the iceberg.
Operation Rescue has disturbing information concerning four additional suspected illicit abortion operations that should be ringing alarm bells across the nation. While information about these horrific schemes have been reported to the authorities, these perpetrators are still at large.
Among the more disturbing of those is a recent credible report made to Operation Rescue of a man conducting illegal home abortions across several states. He is said to target the poorest urban women of color through a word-of-mouth network. Shockingly, there are reports he offers discounts on his illicit services in exchange for sexual favors.
A second troubling secret abortion scheme reported to Operation Rescue in recent weeks involves the apparent unlicensed practice of abortion by an untrained individual somewhere in the eastern half of the U.S.
Further hair-raising details of these suspected crimes must be withheld for now to ensure investigations are not compromised.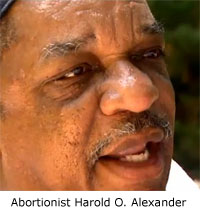 Another documented illegal abortionist is Pendergraft's former partner, Harold O. Alexander, who was reported to the Maryland Board of Physicians earlier this year for conducting prohibited late-term surgical abortions at an unlicensed facility late at night to avoid detection, but so far the only action taken by the Board was to place Operation Rescue's complaint in his hefty disciplinary file. Alexander continues to conduct abortions with the full knowledge of the authorities. Read more about the evidence.
The last suspected illegal abortionist is the notorious Steven Chase Brigham. Beginning last year, Operation Rescue received reports that he may be slipping into some of his American Women's Services abortion facilities to conduct abortions even though he is not licensed in any state. However, Operation Rescue has so far been unable to independently verify those reports. Those who engage in pro-life outreach at any Brigham facility should be on the alert.
Cause and effect
While abortion supporters may try to blame the rise of predators like Van Thiel and others on pro-life regulations that have resulted in a record number of abortion facilities closures, that argument falls flat. In truth, there are easily accessible abortion facilities in all the areas where illegal abortionists have been reported.
Operation Rescue President Troy Newman explains that this trend stems from the very immoral nature of abortion itself.
"Abortion is an immoral business that attracts unethical practitioners and criminals – the very worst of the worst – to its ranks," said Newman. "Traditional discipline and efforts at rehabilitation have been completely ineffective. Now we are seeing that these devious abortionists are moving their negligent abortion activities underground. This is all about criminals making quick, untraceable money through the criminal exploitation of vulnerable women and babies. This has nothing to do with a lack of abortion access."
Newman explained that a strong deterrent is necessary to halt this incredibly dangerous trend before it further propagates.
"Criminals like Van Thiel are aggressively prosecuted while the likes of Roth and Pendergraft have been treated with kid gloves. Prosecutors need to get tough with all these predators. With more abortionists facing discipline and their abortion facilities being closed by state agencies, an example must be made to deter others," said Newman. "They cannot be treated with any kind of leniency because these are the kind of people that will just exploit that."
Raising the alarm
Criminal abortion enterprises usually involve unscrupulous and perhaps financially desperate individuals that view illicit, back-alley style abortions as an opportunity for under-the-table financial gain when all avenues of legitimate employment have dried up. By undercutting the competition's price, they prey on the poor and vulnerable. For the underground abortionists, the welfare of the women they exploit is the least of their concerns.
Operation Rescue emphasizes the extreme dangers that illegal underground abortionists pose to women and babies, and the necessity of ensuring such predators caught quickly and removed from the streets.
"We are raising the alarm, and asking those involved in outreach to pregnant women, particularly in poor areas, to be vigilant of this underground abortion trend and report anything suspicious," said Newman.
Anyone that has knowledge of a suspected illegal traveling/home abortion scheme is urged to contact Operation Rescue's office at 316-683-6790, or make a report to the local police.