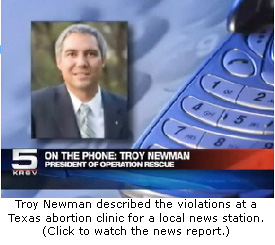 Austin, TX – A McAllen, Texas abortion clinic that was the subject of a three month investigation by Operation Rescue and the Survivors is denying any wrong doing and is clearly in damage-control mode after a local television interview. However, a reporter from KRVG Channel 5 in the Rio Grande Valley was unable to verify the clinic's claims that the Health Department has cleared them.
Last week Operation Rescue released information documenting widespread abortion abuses at a dozen Texas abortion clinics. Among the worst offenders was Whole Women's Health, which operates five abortion clinics in Texas. The McAllen office discoveries were particularly disturbing. Dumped in the trash were the bloody refuse of several abortions along with the names of patients and other private information. (View photo documentation of the evidence with the name Whole Women's Health clearly evident.)
Tuesday evening, KRVG ran the story that showed the reporter digging through the trash and questioning a clinic official.
"Certainly, this abortion clinic will have modified their behavior because they have been caught red-handed," said Operation Rescue President Troy Newman. "We have not been notified by the Health Department of the outcome of our first complaint. We are still processing some of the information from our investigation, and have filed additional complaints with the health department. More will be coming. We are also preparing complaints that we plan to lodge with the medical board next week. This is far from over."
Patient logs and other records were discovered on Whole Women's Health forms and the bloody remains of abortions came in bags with other documents bearing Whole Women's Health's name. Operation Rescue has made examples of this evidence public.
In another development, Youtube.com pulled the short video that showed evidence of abortion abuses along with recordings of phone conference calls that violated the 24 hour waiting period and informed consent laws. The video was put on Vimeo.com, which also yanked the video Monday afternoon. Operation Rescue has protested the blocking of the video as censorship. The video is now available on Pro-LifeTube.com and is embedded in the original online report at OperationRescue.org.