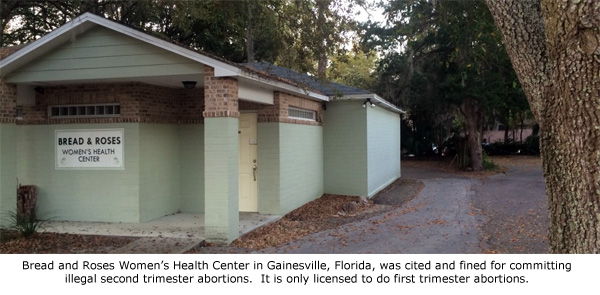 By Cheryl Sullenger
Tallahassee, FL – Two more Florida abortion facilities that are licensed only for first trimester abortions have been cited and fined by the Agency for Health Care Administration (AHCA) for conducting illegal second trimester abortions.
This brings to five the number of Florida abortion clinics cited for exceeding their first trimester abortion limits. Last month, the AHCA cited and fined Planned Parenthood abortion facilities in St. Petersburg, Ft. Myers, and Naples for committing illegal late-term abortions.
Bread and Roses Women's Health in Gainesville and Aastra Women's Center in Plantation were cited during inspections conducted on August 5, 2015.
Second trimester abortions require different procedures that pose more risks to women than those done in the first trimester, and licensing limits reflect that.
"Give an abortion business an inch, and it'll take a mile, especially if it thinks no one is watching or that the political administration favors it and will look the other way," said Troy Newman, President of Operation Rescue. "The abortionists that have been cited for illegal second trimester abortions have endangered women by acting as if they are above the law and can make up their own definitions as they go along."
Sampled medical records indicated that both facilities failed to record the date of patient's last menstrual period (LMP) and relied solely upon ultrasound results to determine gestational ages for a total of eleven abortions. Ultrasound reports indicated that the pre-born babies ranged in age from 13.0-14.0 weeks gestation.
Florida law defines the first trimester as "extending through the completion of 14 weeks of pregnancy as measured from the first day of the woman's last menstrual period."
However ultrasound measurements calculate gestational age from the time of conception, usually about two weeks after a woman's LMP. In other words, a baby that measures 14 weeks gestation on ultrasound may be 16 weeks gestation using LMP calculations.
Bread and Roses Women's Health was fined a total of $2,500 for five violations while Aastra Women's Center was fined a total of $3,000 for six violations.



The initial citations launched a flurry of controversy when Planned Parenthood accused the AHCA of changing the definition of a first trimester abortion. Soon after, Planned Parenthood released a statement on indicating that the AHCA had backed off the citations and agreed with the Planned Parenthood's definition.
However, the following day on August 19, the AHCA issued a sternly-worded letter to Planned Parenthood attorney Julie Gallagher stating, "Your client, Planned Parenthood, continues to misrepresent to the media that AHCA has changed its position, and Planned Parenthood clinics in Florida may now provide unauthorized second trimester abortions. This is false."
So far all three Planned Parenthood abortion centers and Aastra Women's Center have filed appeals of the AHCA citations and fines. A Bread and Roses Women's Health representative has indicated it also plans to appeal.
The inspections of Florida abortion facilities were ordered by Gov. Rick Scott after videos released by the Center for Medical Progress showed evidence that Planned Parenthood facilities were engaged in the illegal trafficking of aborted baby remains for profit.
None of the Florida abortion facilities were found to be involved in selling fetal remains from abortions, but the discovery of illegal late-term abortions did reveal that previous inspections were lax in evaluating important aspects of the abortion businesses.
"Planned Parenthood and other abortion facilities make a lot of money doing the more expensive second trimester abortions, so for every day they are blocked from doing them means the abortion businesses lose money," said Newman. "Planned Parenthood's efforts to continue second trimester abortions is all about money and has nothing to do with helping women."
Read background report.
View clinic profile pages for Bread and Roses Women's Health and Aastra Women's Center on AbortionDocs.org, which contain links to the inspection reports.