Operation Rescue demands that Maryland prosecutors file criminal charges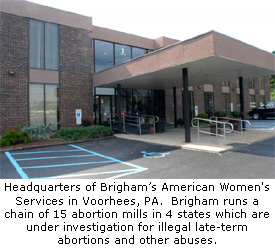 Philadelphia, PA – A news story that appeared in today Philadelphia Inquirer reveals new and shocking details of an illegal abortion ring operated by troubled abortionist Stephen Chase Brigham that spans four states and now includes at least two other abortionists.
The Maryland medical licenses of George Shepard, Jr., of Delaware and Nicola I. Riley of Utah, were suspended on Tuesday, August 31, 2010, for helping Brigham skirt the law. (Read Shepard's Suspension Order; Read Riley's Suspension Order)
It was Riley who was involved in the botched abortion in Elkton, Maryland, that led to the discovery of Brigham's scheme to circumvent late-term abortion laws by beginning the abortion in one state, then transporting the women to Maryland for completion of the abortion. Authorities who raided Brigham's Elkton, MD abortion mill discovered the remains of 35 late-term aborted babies.
Brigham is not licensed to practice medicine in Maryland and never has been. The state issued a cease and desist order to Brigham on August 25.
On September 1, Operation Rescue sent letters asking that the Maryland Attorney General's office as well as state and county prosecutors file criminal charges against Brigham and that he be held to full accountability under the law. (Read OR's letter to Maryland's Attorney General)
"There is a largely unspoken crisis in this country brought on by abortionists who insist that they are above the law," said Operation Rescue spokesperson Cheryl Sullenger.
"We can no longer turn a blind eye to these abortion abuses and pretend that things like this can't happen in a nation where abortion is legally permissible. Brigham is just one example in an industry where this kind of behavior is the norm and not the exception. We have yet to find an abortionist who does not violate the law.
"Shame on the women's organizations that know this kind of abuse is occurring, yet continue to cover up for abortionists. If groups like NARAL and the NAF really cared about women, they would work night and day to close these abortion chop shops and offer real solutions to pregnant women that does not include submitting them to abortionist quacks."
Doctor's four-state abortion business under investigation
By Marie McCullough, Inquirer Staff Writer
http://www.philly.com/philly/news/local/102131499.html
Three weeks ago, physician Steven Brigham led a car caravan of patients from his Voorhees abortion clinic to his facility in Elkton, Md. After one of the patients was critically injured during her surgery there, Brigham put the semiconscious, bleeding woman into the back of a rented Chevrolet Malibu and drove her to a nearby hospital emergency room rather than call an ambulance.
Those details are contained in documents issued over the last 10 days by the Maryland Board of Physicians and Elkton police. The two agencies have launched a wide-ranging investigation into Brigham's long-troubled abortion business, which he conducts in New Jersey, Pennsylvania, Maryland, and Virginia.
On Aug. 25, the Maryland Board of Physicians ordered Brigham, 54, to stop performing abortions in that state, where he has never been licensed to practice medicine. By then police had raided Brigham's Elkton facility – from which they said they removed 35 "late-term fetuses and fetal parts" – as well as the Voorhees headquarters of his chain of 15 clinics, which does business as American Women's Services.

Maryland authorities seek missing medical records, and are looking into Brigham's habit of sending late-term patients across state lines after initiating their abortions in Voorhees.
Brigham's four New Jersey clinics cannot provide abortions after the first trimester (14 weeks of pregnancy) because they do not meet state safety requirements for such risky outpatient surgeries. Brigham has for years performed the first phase of such abortions there – the insertion of absorbent rods that dilate the patient's cervix over a day or more – and sent them to a facility in another state for the surgery. New Jersey law doesn't address whether inserting dilators constitutes abortion.
Brigham did not return a phone message left Thursday at his Voorhees condominium.
Maryland's action is just the latest problem for the doctor, whose medical license has been revoked, relinquished, or temporarily suspended in five states over the last 18 years.
In July, the Pennsylvania Department of Health revoked Brigham's permission to own clinics in the state because he had repeatedly employed unlicensed caregivers; he is appealing that decision. Brigham himself cannot perform medical procedures in Pennsylvania because of a confidential 1992 agreement in which he agreed to give up his license.
Brigham also had $234,536 in federal tax liens against him in April for failing to pay payroll taxes from 2002 to 2006.
Maryland regulators are investigating not only Brigham, but also two physicians he employed, the documents show.
On Tuesday, the board suspended the Maryland license of George Shepard Jr., a Delaware obstetrician-gynecologist hired in 2009 as a part-time medical director of Brigham's four Maryland clinics. The board has charged Shepard with unprofessional conduct and with helping Brigham flout credentialing requirements.
Shepard's lawyer, Jason Allison of Elkton, said, "We are reviewing the allegations and . . . are confident that Dr. Shepard's license will be reinstated."
On Tuesday, the Maryland board also suspended the license it granted less than two months ago to Nicola I. Riley, a family physician who in late July began flying "from her home in Utah every other week to Maryland to perform abortions." Riley did not return a call left with her mother in Utah.
It was Riley who mishandled the abortion on Aug. 13, according to the medical board documents. They provide this account:
On Aug. 12, an 18-year-old woman, 21 weeks pregnant, signed abortion consent forms at Brigham's Voorhees facility, at 1 Alpha Ave. Brigham then inserted the absorbent rods that widen the cervix.
On Aug. 13, the patient returned to the Voorhees clinic, with "the understanding that she would be provided transportation to Philadelphia" for the surgical phase of the abortion.
Instead, "Dr. Brigham . . . instructed [her] and the other women who were scheduled to complete abortions to form a line of cars and follow the lead car to a location where the abortion would be performed."
In Elkton, Riley gave the patient anesthesia under Brigham's direction and began the surgery, but cut through the patient's uterus into the bowel and vagina.
Riley informed the patient's mother and boyfriend of the complications, but refused to call for an ambulance. Riley "originally contemplated taking [the patient] by wheelchair to the hospital, which was about two blocks away."
Brigham drove Riley and the patient to the hospital, where the two abortion doctors dodged questions "about who they were, what had happened, and from where they had come."
The patient's injuries were so complex that she had to be flown by helicopter to Johns Hopkins Hospital while Riley "returned to the Elkton office . . . to perform another abortion."
A few days later, the patient complained to the Elkton police; they raided the clinic on Aug. 17, looking for the patient's medical record. Although that couldn't be found, police discovered frozen aborted fetuses and medical-waste records showing fetal ages up to 36 weeks. (A pregnancy is considered full-term at 38 weeks.)
On Aug. 20, Elkton police searched Brigham's Voorhees office for medical records that would explain the fetuses.
The officers "found only two medical records related to the fetuses," board documents say.
Staff from the New Jersey Attorney General's Office were on hand for the search, spokesman Paul Loriquet said. He added that he believed New Jersey's Board of Medicine, which oversees physicians, would take action soon.
The Maryland board moved against Brigham, Shepard, and Riley after a Johns Hopkins physician filed a complaint. The physician expressed concerns that patients were being put at risk by "being transported across state lines to complete medical care," board documents say.