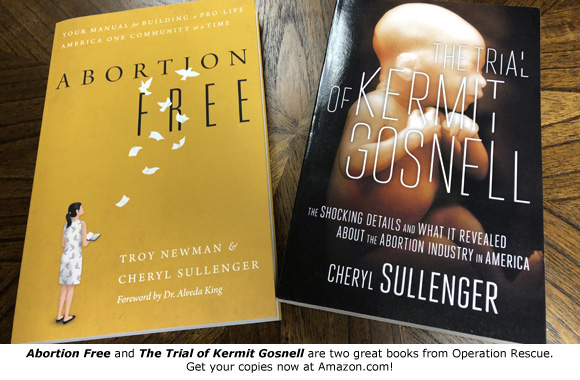 Wichita, KS – Ever wonder what you can do to help make your community abortion-free. Or have you ever wanted to know more about Kermit Gosnell, the infamous abortionist convicted of killing babies born alive during shoddy, failed abortions in West Philadelphia?
Two books from Operation Rescue, available at Amazon.com, can answer these questions and more!
And if you purchase them now, they will arrive in time for Christmas!
Abortion Free: Your manual for building a pro-life America once community at a time, details how pro-life supporters can successfully close abortion clinics using the proven strategies and tactics that have contributed to the closure of three-quarters of all abortion facilities in America since 1991.
Abortion Free gives step by step instructions about how to research and documents abortion abuses, then use them to expose the dangers of abortion in your community. You will find out how to file complaints that can close your local abortion facility and make your community Abortion Free!
Abortion Free, by Troy Newman and Cheryl Sullenger, is available in paperback and Kindle versions for $9.52 at Amazon.com.
The Trial of Kermit Gosnell: The shocking details of what it revealed about the abortion Industry in America is a first-hand account of the Gosnell trial from Cheryl Sullenger, who personally attended it in the spring of 2013. She was the first journalist outside local news affiliates to report daily on the proceedings' shocking revelations and often-emotional testimony to a national audience. Her reporting sparked a Twitter storm that was responsible for drawing national media to cover the trial.
Sullenger followed the story from the moment of the police raid through the trial and sentencing and beyond. Based on her over three decades of research, she shows throughout the pages of The Trial of Kermit Gosnell how many of the practices at Gosnell's horrific abortion business can be found in other abortion facilities around the nation.
In her book, Sullenger documents a terrible truth: Kermit Gosnell is not alone!
The Trial of Kermit Gosnell, by Cheryl Sullenger, is available in paperback currently for $20.70 and in the Kindle edition for $8.69 at Amazon.com.