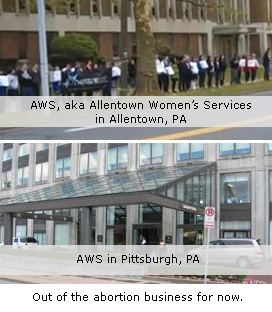 Allentown, PA – Operation Rescue has confirmed that two Pennsylvania abortion clinics with ties to abortionist Steven Chase Brigham, have stopped abortions, at least temporarily. American Women's Services abortion clinics in Allentown and Pittsburgh, are not scheduling women for abortions.
One AWS receptionist told a pro-life activist posing as a potential abortion patient that the abortionist for the Allentown and Pittsburgh locations had taken a "temporary leave of absence" and it was not known when he would return.
A receptionist answered a call today that was placed to a phone number listed for Allentown Medical Services, identifying it as "American Women's Services," which is a chain of 15 abortion clinics operated by Brigham in four states. The receptionist referred the caller to "our Fredrick, Maryland, clinic", another office known to be owned by Brigham.
The receptionist warned the caller that abortions could only be done up to 12 weeks in Maryland. Brigham stands accused of murder in that state for illegally aborting babies that were as old as 36 weeks.
"It seems suspicious that at about the same time Brigham was arrested for murder and jailed, the Pennsylvania abortionist went on a so-called leave of absence. Could it be that Brigham was aborting babies illegally Pennsylvania without a license and against a state order? Given his long and well-documented history of refusing to operate within the confines of the law, we think that is highly possible," said Cheryl Sullenger, Operation Rescue's Senior Policy Advisor.
Brigham's Pennsylvania medical license is inactive and cannot be renewed. In July, 2010, Brigham was banned by the State of Pennsylvania from operating or controlling any abortion clinics in that state citing violations that endangered the public. Brigham circumvented the order by transferring ownership of his clinics to Rose Health Services, a company said to be owned by Brigham's mother. His Allentown and Pittsburgh abortion clinics and are listed as part of Brigham's chain on his AWS web site.
"We have made attempts to draw attention to Brigham's continued involvement with abortion in Pennsylvania with the authorities in that state, but they insist that legally there is nothing they can do. I'm just not buying that," said Sullenger. "Hopefully it will be a moot point and abortions will never resume at those two locations. His abortion empire is finally crumbling and it is only a matter of time before all his notorious abortion mills close for good."
Brigham has been charged in Maryland with eleven counts of murder related to illegal late-term abortions on viable babies and released earlier this week after posting a $500,000 bond. He was never licensed in Maryland. His only remaining medical license in New Jersey has been suspended.
Brigham was arrested after a 16-month grand jury investigation culminated in murder indictments for Brigham and his Utah associate Nicola Riley after a botched abortion led to a police raid of his "secret" Elkton abortion clinic where the remains of 35 late-term aborted babies were discovered in a freezer. Riley is due to be extradited to Maryland from her home state of Utah where she has been held since December 28, 2011, without bail.