"A partial victory for life"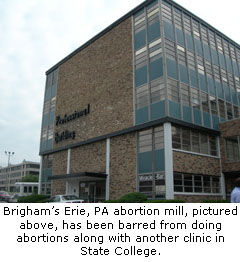 SEE UPDATE BELOW!
Harrisburg, PA — A representative of the Pennsylvania Health Department contacted Operation Rescue today with additional information on the status of the ordered closure of four Pennsylvania abortion clinics operated by disgraced abortionist Steven Chase Brigham.
Brigham has transferred ownership of his clinics in Allentown and Pittsburgh to Rose Health Services. Brigham's Health Department order stated that clinics controlled by him could no longer provide abortions. Since Rose Health Services is not controlled by Brigham, those two clinics will unfortunately be allowed to remain open.
Transferring ownership from one corporation to another has been a tactic used by Brigham in the past to avoid responsibility for his nefarious conduct.
However, Brigham's clinics in Erie and State College have been ordered to immediately stop doing abortions. The clinics are allowed to remain open for services other than abortion.
Operation Rescue has confirmed that, as of this time, the Erie and State College clinics are not accepting appointments for abortions. Those clinics have in fact remained open for other services.
"This is a partial victory for life," said Troy Newman. "We are thankful that babies are not being killed at the Erie and State College clinics. We are very grateful to our supporters who took the time to make calls and made this victory possible. At the same time we are very disappointed a shady business transfer has kept the other two clinics open. After all the trouble that Brigham has had and continues to face, he is not fit to operate in Pennsylvania or any other state. We will continue to work through legal channels to insure the public is protected from this dangerous man."
Read previous story
UPDATED on 7/26/2010: Operation Rescue has received new information from Tim Broderick with People for Life in Erie, PA. Tim informs us that while the buildings in Erie and State College where Brigham had operated abortion clinics are still owned by him, those clinics have been closed for some time. Phone numbers to those locations go into a central phone exchange, giving the appearance that the offices remain open when they in fact are not. It is clear from conversations with the Pennsylvania Department of Health, from reading a recent article in the Philadelphia Inquirer, and from undercover calls made by us that Brigham is attempting to keep up the appearance that these clinics remain open, possibly to get business from these areas that they can later funnel to their open office in Allentown. It is a shady business practice that is false advertising at best, and meant to deceive vulnerable women.
Tim also told Operation Rescue that there are indications that Brigham may still be under investigation in Pennsylvania since a state agent came to the People for Life office within the past few days seeking information about the Erie clinic. In any case, we rejoice that abortions are not being done at the Brigham locations in Erie and State College. We appreciate the work of People for Life and Tim Broderick and thank them for their vigilance on behalf of the pre-born.