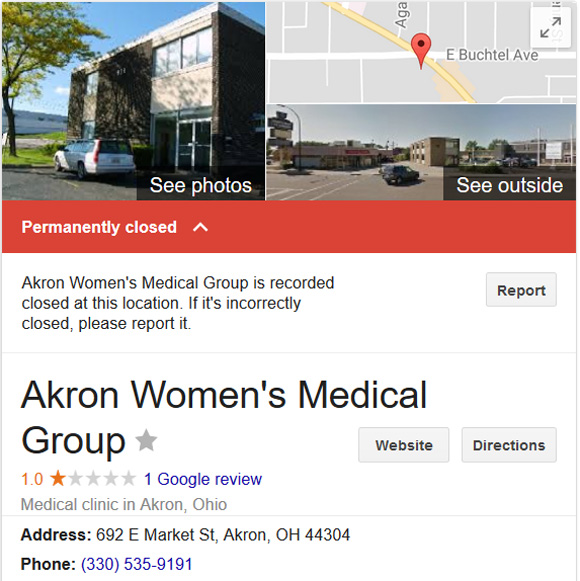 By Cheryl Sullenger
Akron, Ohio — Right to Life of Northeast Ohio has informed Operation Rescue that two Ohio abortion facilities that have a long history of egregious health violations and botched abortions have closed under mysterious circumstances. The closures appear to be voluntary.
The Akron Women's Medical Group, located in Akron, Ohio, is listed on a Google search as "permanently closed." This facility conducted surgical and medication abortions. It's Ambulatory Surgical Facility License is listed as "active." However, the license expired on April 30, 2013, and has been under renewal status ever since, allowing the facility to continue operations.
The Cleveland Women's Medical Group, was a medication abortion facility that currently states on their website, "This facility has been closed until further notice." Because it only offered medication abortions, it did not require an ASF license. This facility referred surgical abortion patients to the Akron location.
All phone lines for both clinics are answered by a busy signal, including their toll-free number.


"Right now, it looks like these two horrific abortion businesses are both permanently closed, and we are very grateful for that," said Troy Newman, President of Operation Rescue. "We applaud the work of Right to Life of Northeast Ohio, and other pro-life groups in Ohio, who have done a remarkable job holding abortion businesses accountable. These closures mean lives will be saved, and we rejoice with them over that."
Both clinics had a history of failed safety inspections and botched abortions.
The NAF certified that Akron Women's Medical Group was in full compliance with its Clinical Policy Guidelines, however, in 2011 a patient care complaint alleging that the facility was dirty, a patient was mistreated by a staff member and that the clinic had a rodent infestation prompted two inspections of the facility that uncovered the following violations:
• Trash and food debris was discovered in the patient waiting room.
• Carpets in the facility were stained and in need of cleaning.
• A container of used needles had no lid as required for safety.
• Crash cart and ultrasound machine in procedure room were dirty.
• Cabinets with drugs and prescription pads were unlocked and several drug vials were out on the counter.
• Supplies and supply boxes scattered around the procedure room counters and floor.
• Gurneys were covered with heavy black plastic and secured with duct tape under the mattresses.
• Inadequately trained staff.
Operation Rescue has documented several medical emergencies at the Akron Women's Medical group. In one instance, a 911 recording confirmed that on February 7, 2015, a 26-year old abortion patient suffered a perforated uterus. Instead of calling 911, which is the fastest way to get help, the clinic called the private ambulance company directly, delaying care by an estimated seven minutes, which is a long time when a woman is suffering a life-threatening medical emergency.
The Cleveland Women's Medical Group, once located on Pearl Road in Cleveland, was forced to move to Warrensville in June 2014, after the property manager refused to renew its lease. Its website once advertised surgical abortions even though it had no license to do them. It later dropped the illegal surgical abortions and continued to offer medication abortions until its recent closure.
View profiles with additional documentation:
Akron Women's Medical Group
Cleveland Women's Medical Group
Read Operation Rescue's Special Report on Ohio Abortion Facilities for more information.