By Cheryl Sullenger
Tucson, AZ – Pro-life activists in Tucson, Arizona, have learned that the Southern Arizona Regional Health Center Planned Parenthood abortion facility has closed "until further notice."
The abortion facility offered surgical abortions to 16 weeks of pregnancy along with abortion-inducing drugs.
Bob Pawson posted the information about the possibly temporary closing on his Facebook page on July 19, 2021. He is calling for all pro-life supporters to join in prayer at the Planned Parenthood facility at 2255 N. Wyatt Road on Friday, July 23, between 9:00-10:00 AM for prayers of thanksgiving for the cessation of abortions and for the facility not to reopen.
"Tucson has been blessed with a vibrant and committed group of pro-life activists who have worked and prayed for abortions to end at that Planned Parenthood. The fact that the facility is closed for now is really a testament to their faith and their determination to save innocent lives from abortion," said Troy Newman, President of Operation Rescue.
Pawson noted that because Planned Parenthood "spent at least $500,000 in renovations, security features, & new construction about three years ago," he expects it to reopen at some future date. It is his opinion that the facility may have been forced to temporarily close due to "financial and staffing challenges."
Operation Rescue, which tracks the number of abortion facilities in the U.S., confirmed that the Planned Parenthood facility apparently plans to re-open in August, with the first appointment availability on August 9, according to a Planned Parenthood scheduler. However, the online appointment booking feature appears to be completely disabled as of this writing.
In May, Planned Parenthood summoned an ambulance to transport a 28-year-old woman suffering from "excessive bleeding from the uterus" during or after an abortion, according to a confidential source with knowledge of the incident.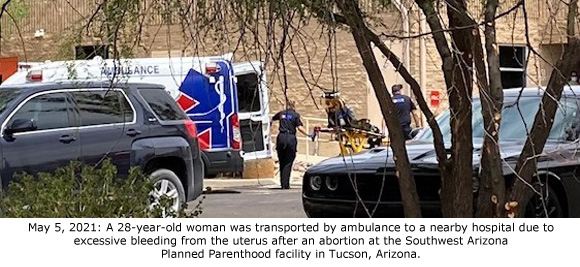 Even though Operation Rescue obtained a radio recording of the dispatch to Planned Parenthood from a private source, Tucson police mysteriously denied that an incident occurred at Planned Parenthood when responding to Operation Rescue's public records request.
Pro-life activists from Pro-Love Tucson witnessed the emergency then publicly invited the injured woman to contact them so they might offer help and support as she coped with her traumatic abortion experience.
One of Pawson's followers on Facebook looked further into the Tucson Planned Parenthood and posted a screen shot of a patient review that gave the facility one star — only because zero stars was not an option. The reviewer, Gabriela B., complained about her horrific abortion experience there that left her suicidal and with symptoms of Post Traumatic Stress Syndrome (PTSD).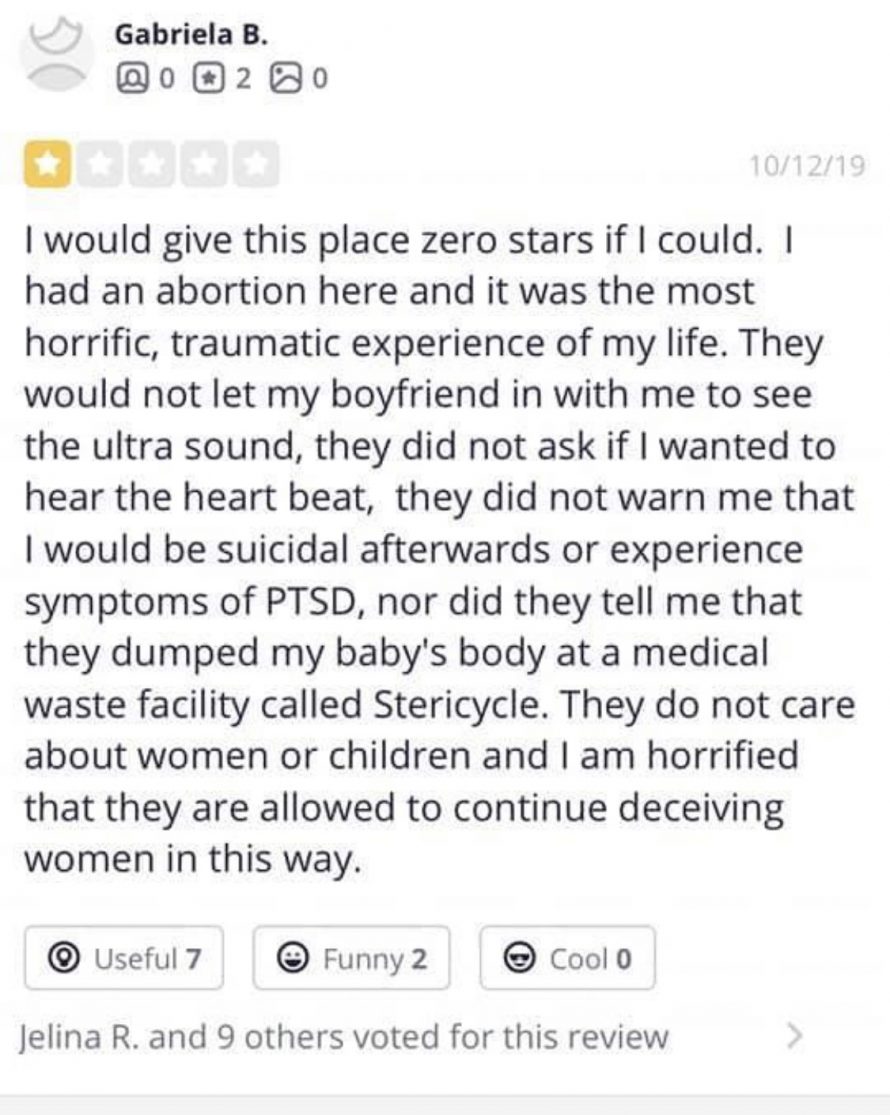 "As long as Planned Parenthood is closed, babies are not dying, women are not being harmed, and the abortion business is not making money.  That is something to be grateful for as long as it lasts," said Newman.  "Operation Rescue stands in solidarity with pro-life supporters in Tucson in praying that this abortion facility never reopens."