This weekend, we can reach more people than the Pro-Bowl and Super Bowl – COMBINED!
February 10, 2010
Dear Friend of Life,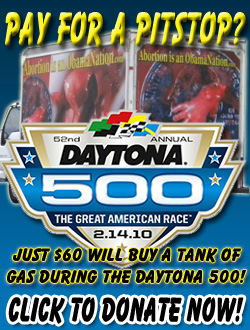 After a hugely successful outreach at the Pro-Bowl and Super Bowl, Operation Rescue's Truth Truck is racing off to the Daytona 500 this weekend to show thousands and thousands of people the truth about abortion.
In case you didn't know, the Daytona 500 is known as "The Great American Race" and is the biggest and most prestigious race in NASCAR.
It is only fitting that the Truth Truck should roll drawing attention to the greatest American moral crisis of our time.
That's why our Truth Truck fleet goes to where the action is, to remind Americans of the ongoing tragedy of abortion.
The truth about abortion must be made unavoidable before it can be made unthinkable!
And efforts like this are working! For the first time the majority of Americans identify themselves as PRO-LIFE!
Just like the Super Bowl, we plan to turn the Daytona 500 into a pro-life event!
Just as we did with the Super Bowl this year, we will be circling venues where people gather in Daytona.
The Daytona 500 boasts the largest attendance of any NASCAR race. That means we have to opportunity to influence literally thousands and thousands of people for life! These are people who might otherwise never be exposed to our message.
We also plan to capitalize on the continued discussion over the Focus on the Family Super Bowl ad featuring Pam Tebow and her Heisman Trophy-winning son, Tim Tebow. Now that the ad has aired, people are discussing abortion like never before.
Our Truth Trucks will give sports fans an opportunity to see the "choice" that Pam Tebow could have made, and tear the mask off the pro-abortion rhetoric that attempts to cloak the true human tragedy of child-killing through abortion.
That's why having the Truth Truck in Daytona is so important.
But we need your help!
It costs money to keep the Truth Truck on the road, and as we mentioned before, money is one thing that is in short supply this year.
For just $60, you can fill up our gas tank and keep the Truth Truck rolling. It would be a shame to park the Truth Truck this week because we can't afford that extra tank of gas.
Our Truth Truck has been in Florida for over a month in preparation for this event.
• Our Truth Truck rolled during Pro-Bowl Week, attending numerous venues around Miami. This historic football game was the first played outside Hawaii in thirty years. A whopping 70,000 people attended this event, making it the highest attendance of any Pro Bowl in NFL history.
• Our Truth Truck continued to roll through the congested streets of Miami during Super Bowl Week as the nation debated the Tebow ads, and was on hand for the big game attended by over 74,000 people.
THIS WEEKEND PROMISES TO BE THE BIGGEST EVENT OF THEM ALL!
That's right! The Daytona Speedway has a seating capacity of 168,000. That's bigger than the Pro-Bowl and the Super Bowl – COMBINED! And you can bet, with the popularity of NASCAR, every seat will be full!
That's why we are racing to Daytona with our Truth Truck and its critical message.
But we can't do it without you.
Your gift of any amount will help keep the Truth Trucks running.
• $35 will feed our driver for a day.
• $60 will fill our gas tank once.
• $180 will gas up the Truth Truck for a whole day of in-town driving.
When you think about it, it is hard to find a project that will make as big of an impact for so little money.
Please CLICK HERE to make your donation online now, or CLICK HERE for more giving options.
May God bless you and all you do for the cause of Life!
For the babies,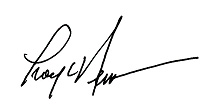 Troy Newman
President, Operation Rescue