By Cheryl Sullenger
South Bend, Indiana – Abortionist Ulrich Klopfer's legal problems have just gotten worse. After volunteers with Indiana Right to Life filed 1,200 complaints against him for not reporting child sex abuse and other information required by the State, St. Joseph County Prosecutor Mike Dvorak has asked the Special Victim's Unit to conduct a criminal investigation into the abortionist's activities.
In addition to the massive number of failure-to-report accusations, it now appears that there is no record that Klopfer has the required admitting privileges to a local hospital or an agreement with a doctor who does at his Gary, Indiana, abortion clinic.
And it appears that no one has ever bothered to check.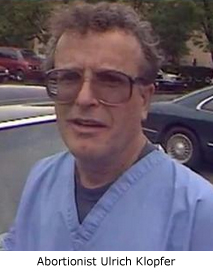 "We applaud the great people of Indiana Right to Life for not only exposing crimes that appear to have been committed by Klopfer, but also for shining the light on an important regulatory oversight – one that has placed the lives of women at risk," said Troy Newman, President of Operation Rescue, who advised the pro-life activists when the incriminating information was first acquired by them.
Reporter Kelli Stopczynski of news station WSBT phoned Klopfer at his Gary, Indiana, abortion clinic to ask him to verify with whom he has a valid transfer agreement. Klopfer immediately defensively claimed to be a victim and refused to answer, alluding that he did not want a hospital dictating to him what he can or cannot do.
"Now a days the majority of medical school graduates become employed in some big corporation where the hospital or otherwise controls and dictates everything you can and cannot do. For me to divulge information that's not necessary, I will not," said Klopfer, adding, "No, I'm not going to advertise. I'm sorry, I'm not running for political office."
Klopfer claimed that he has a clean record and doesn't understand why he is in such deep legal trouble.
However, Operation Rescue has found that Klopfer's record is far from clean.
The blog RealChoice.com documents at least 7 malpractice suits brought by former patients that suffered serious complications from abortions done by Klopfer, including perforated uteri, incomplete abortions, and repeated misdiagnosis of fetal age. The women also consistently complained that Klopfer operated under filthy, unsanitary conditions.
Next week, Klopfer has been ordered to appear before the Indiana Medical Board to answer charges of failing to report an abortion on a 13-year-old girl. He is currently allowed to practice while is case is under review.
Earlier this month, Klopfer was forced to close his Ft. Wayne abortion clinic after negative publicity generated by the accusations that Klopfer ignored child sex abuse reporting caused a physician to withdraw from an agreement to provide hospital care for Klopfer's botched abortion victims.
View Klopfer's profile page at AbortionDocs.org.