By Cheryl Sullenger
Pensacola, FL – To look at Candace Sue Cooley's Florida Department of Health medical license profile, there is certainly nothing that would raise suspicions. There is no record of discipline
No one would ever guess that she has had trouble with the law dating back at least seventeen years.
Nor would anyone realize that Cooley is an abortionist who is currently employed at American Family Planning in Pensacola, Florida, a member of Steven Chase Brigham's notoriously dangerous American Women's Services abortion chain.
Cooley seems to be a perfect fit for Brigham's unsavory organization, which currently employs at least one known sex offender and drug abuser, and once employed an abortionist who was caught on video attacking his pregnant girlfriend in order to force her to get an abortion she did not want.

Other abortionists that have been on Brigham's payroll at one time or another are no better. Two were convicted drug violators, one abortionist was guilty of billing fraud, and another was a convicted income tax cheat who once paid out $3.5 million in a malpractice suit.
Then there was Nicola Riley, Brigham's associate at his illegal late-term abortion mill in Elkton, Maryland, where she nearly killed one patient. She told the Utah medical board on her license application that she was "traveling the world and making friends" during a time she was really incarcerated in a military prison for identification theft and credit card fraud. The Maryland Board of Physicians stated that she had a "fraudulent and deceptive nature" when revoking her medical license.
Brigham himself has 30 years of deceptive and illegal practices under his belt that have cost him six medical licenses in six states. He was once arrested for the murder of over 30 late-term babies discovered stacked in a bloody freezer during a police raid, although the charges were later dropped. The State of Pennsylvania even once ordered him never to operate an abortion business in that state again – an order he has never fully obeyed.
It may seem hard to live up (or down) to the reputations of that bunch of misfits and criminals, but Cooley somehow manages.


She appears to be well acquainted with the Okaloosa County, Florida, court system. The County Clerk of the Court's case search shows cases against her dating back to 2000.
There were five speeding violations, seven non-speeding traffic violations, three medical malpractice cases, and one arrest for Driving Under the Influence that took place earlier this year.
Another DUI arrest that is estimated to have taken place last year, was found with a quick Google search.
But most troubling was evidence of Cooley's deteriorating personal life that resulted in yet another shocking arrest in 2016.
In 2010, she filed for divorce from her husband, Patrick Kelly Armbruster. Two children were involved in the messy break-up that is still subject to the court. One attorney representing Cooley quit the case. Records show that motions for civil contempt were filed in 2013 and again in 2017, although there is no mention of who the object of those motions might have been.
In 2015, Cooley was hit with a financial responsibility violation that appears related to failure to pay fines or fees.
On March 1, 2016, foreclosure proceedings were filed on the former couple's home.
Then on June 16, 2016, Cooley's record took a dark turn when she was charged with two counts of felony child abuse "without great bodily harm." She was arrested and posted bail. The judge in the case authorized the release of reports and records from the Department of Children and Families Child Protection Team. However, Cooley was never convicted. About two months later, the case was closed without comment.
She was arrested for driving under the influence of alcohol around the same time. It could be possible that the children may have been in the car with her when she was arrested for drunk driving, hence the child abuse charges.
Cooley's reckless and self-destructive behavior seemed to intensify.
Two months after the felony child abuses charges were dropped, Cooley was cited for speeding. Then was arrested for her most recent Driving Under the Influence case just five months later on March 27, 2017. She was charged with four more traffic-related charges, including failure to yield when making a dangerous improper turn into traffic, and failure to drive in one lane — reckless behavior that clearly endangered other motorists.
Now, she is working as an abortionist for Steven Chase Brigham — the worst abortionist in the nation who is not currently in prison — at his American Family Planning abortion facility in Pensacola, Florida.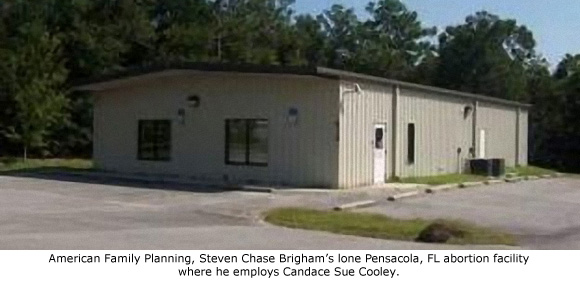 Almost unbelievably, all seven health and safety inspections conducted at the American Family Planning abortion business since 2010 have been passed with no deficiencies cited.
"Someone must be inspecting with their eyes closed, because Brigham's corners-cutting, shoddy practices are well documented elsewhere," said Troy Newman, President of Operation Rescue. "The lack of facility citations means very little as long as Cooley, with her obvious substance abuse and personal problems, continues to kill babies there under Brigham's management."
Operation Rescue has submitted a complaint with the Florida Medical Board, informing them of Candace Cooley's lengthy record of arrests and citations, and seeking disciplinary action for her unprofessional conduct.
"Cooley's rap sheet reveals personal problems that are indicative of what we often find within the Abortion Cartel, such as malpractice cases, divorce, substance abuse, and other reckless behavior that endangers herself and others," said Newman. "But at Brigham's abortion business, she would probably qualify for 'Employee of the Month.' We are working hard with state authorities to make sure his entire despicable abortion operation is shut down permanently."
View Cooley's profile on AbortionDocs.org for full documentation.