By Cheryl Sullenger

Richmond, VA — Under the grossly erroneous assumption that abortion facilities – including those operated by the disgraced and incompetent abortionist Steven Chase Brigham — need little to no regulatory oversight, the Virginia Department of Health will be holding a hearing at 9:00 a.m. on Thursday, December 4, 2014, for the purpose of gutting the current Regulations for Licensure of Abortion Facilities passed by the State Legislature in 2012.
"The move by the pro-abortion administration of Gov. Terry McAuliffe to repeal regulations that set common-sense safety standards for abortion facilities will only ensure that women are subjected to substandard conditions and practices that will continue to endanger their lives. It is appalling that McAuliffe would so heartlessly endanger women's lives in order to repay the abortion cartel for millions in campaign support. In Virginia, politics has trumped the State's duty to protect women from abortion facilities operating under 'back alley' conditions," said Operation Rescue President Troy Newman.
Now it appears that the deck is stacked by McAuliffe against the safety of women and babies. He has appointed a transgender individual with a bias in favor of unfettered abortion to be in charge of regulatory revisions. He has also replaced many Health Board members with those whose political ideology is favorable to emasculating the regulations.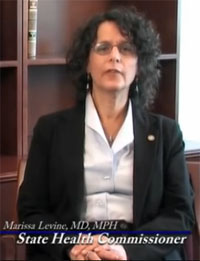 Already, Virginia abortion facilities have been granted variances that exclude them from compliance with such basic facility requirements as ensuring gurney access in the event of medical emergencies that are known to transport thousands of abortion patients nationwide to hospital emergency rooms each year. If the regulations were to be enforced as written, the majority of Virginia's 18 remaining abortion facilities could be forced to close.
The person who granted those variances, Dr. Marissa Levine, was recently promoted by McAuliffe to the post of State Health Commissioner. Levine, who was formerly known as "Mark Levine" prior to sex change procedures, promotes a radical agenda that has included support for a state-funded health study conducted by the Virginia Health Department and Virginia Commonwealth University "intended to unravel the fears and prejudices hindering transgender people from seeking health care," according to a 2006 Washington Post story.
Now this radical liberal mind-set all its with questionable moral underpinnings is being applied to abortion facilities.
While Levine has admitted that since the abortion facility rules were passed by the State Legislature, the Health Department has no authority to repeal the regulations, as McAuliffe has initially requested. However, the goal is now to alter the regulations to render them essentially meaningless.
Levine has stated that the regulations should be revised "to be aligned more accurately with medical best practices."
"If Levine's reference is to 'best practices' of the abortion cartel, that is a frightening thought," said Newman. "The best the abortion cartel has to offer is bottom-of-the-barrel practices that one would not wish on an animal. McAuliffe has described the regulations 'harsh,' but what is really harsh is subjecting women to unaccountable abortion facilities without regard to the suffering such facilities inflict upon unsuspecting women."
But is there any documentation to support the claim that Virginia abortion facilities can be trusted to police themselves? Not according to the published results of health inspections conducted as a result of the 2012 law.
The deficiency reports that were acquired by Operation Rescue, with the help of local pro-life activists, reveal a glimpse of abortion clinic practices that consist of over-all lax and substandard practices, ill-maintained facilities, and poorly-trained staff.
A report on ten of eighteen Virginia abortion facilities was published by Operation Rescue on September 16, 2014. It described conditions reminiscent of those discovered at Kermit Gosnell's Philadelphia "House of Horrors" abortion clinic.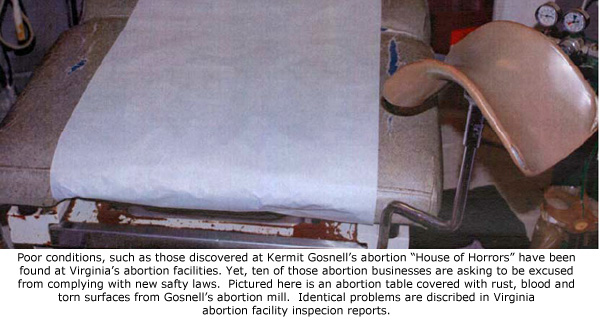 While conditions were expectedly abysmal at Brigham's Virginia Women's Wellness abortion facility, other clinics were as bad, if not worse. A sampling of the dozens of pages of violations discovered at Virginia abortion facilities include:
• Failure to have on duty during abortions staff with current CPR certification.
• Inadequate infection control plans.
• Failure to clean "direct care" equipment between patients.
• Dried blood, torn surface, and tape on abortion table.
• Blood collection sets were bloody and not cleaned between patients.
• Dust-covered and generally dirty equipment throughout the facility.
• Blood-spatter on the door to a procedure room.
• Dirty sponge used to wipe up blood spatter was never cleaned.
• Failure to change gloves or wash hands between patients.
• Lack of regular pest control.
"Abortion clinic claims that they maintain the highest standards are simply not true. In fact, Brigham is famous for stating that his facilities comply with the 'strictest standards,' yet every one of his medical licenses have been revoked and his practices are so shoddy and deceptive that he has been banned from operating abortion facilities in at least two states. Yet in Virginia, his two abortion facilities have been exempted from compliance with existing safety laws. Attempting to relax these safety requirements is completely irresponsible on the part of the Department of Health," said Newman. "The bottom line is that when abortion clinics have no oversight, eventually you end up with another 'House of Horrors.' It's inevitable."
With just two days left before the Virginia Department of Health takes up the issue of heavily revising the Regulations for Licensure of Abortion Facilities, Operation Rescue is urging the public to contact the Department of Health and express opposition to the changes.
Levine's Director of the Office of Licensure and Certification, Eric Bodin, is scheduled to make a final status report concerning the abortion facility licensing regulations at Thursday's hearing. Operation Rescue is encouraging the public to contact Mr. Bodin and voice opposition to any alterations in Virginia's abortion facility safety standards.
Erik Bodin
Office of Licensure and Certification
Voice: 804-367-2102
E-mail: Erik.Bodin@vdh.virginia.gov
Background
Read documentation of abortion abuses at Virginia abortion facilities at AbortionDocs.org.
Read Operation Rescue's Special Report: Why Virginia's Appallingly Substandard Abortion Facilities Must Not Be Excepted from the Law