Witness questioned about contact with Operation Rescue


Wichita, KS — Three witnesses took the stand on the third day of testimony in a hearing where late-term abortionist George R. Tiller is asking District Court Judge Clark Owens to dismiss 19 criminal charges against him based on "outrageous prosecutorial conduct."
Investigator Tom Williams testified for the third straight day about his involvement in an investigation of Tiller that began under former Attorney General Phill Kline.
Williams was questioned about his interview with Dr. Ronald V. Erkin, a retired psychiatrist who reviewed ten abortion records that had been obtained by Kline through a subpoena with the permission of the Kansas Supreme Court.
Dr. Erkin told Williams that he believed that the diagnoses of mental health conditions used to justify the post-viability abortions were not irreversible conditions as required by law. However, he also told Williams that he did not believe that they had a case because of the way Tiller defined "irreversible" to apply only to the life of the pregnancy. Dr. Erkin said he believed that the definition of "irreversible" was a matter subject to debate.
Dr. Erkin did not want to be involved in the case because he had been retired for a number of years and did not consider himself current on the latest developments in the field. Kline's office then sought the professional opinion of Dr. Paul McHugh who determined that Tiller's diagnoses did not meet the standard required by law, and signed a statement to that effect.


In an affidavit supporting 30 criminal charges against Tiller, Williams referred to Dr. Erkin's opinion that Tiller's diagnoses were not substantial and irreversible conditions. Monnat tried to persuade the court that Williams engaged in deception and outrageous conduct when he did not include Erkin's statements about the debate over the definition of "irreversible."
Disney and Monnat sparred throughout the day. At one point, Disney rose to object to a question and Monnat lost control of his emotions and began angrily shouting in a tremendously loud voice over Disney's objections. The outburst shocked courtroom observers.
Monnat found evil motives behind a decision to gain a search warrant for some of Tiller's abortion records. The search warrant was issued by Judge Richard Anderson, who found the information supporting the request met the highest burden of proof. However, it was never executed, and was exchanged instead for a subpoena. Prosecutor Barry Disney objected to Monnat's portrayal of the plan to execute the search warrant as "outrageous conduct," especially since the conduct never took place.
"Monnat seems to process everything through a faulty filter of paranoia, which leads him to find evil motives behind every action of those who were investigating Tiller," said Operation Rescue President Troy Newman. "His frequent inflammatory questioning was obviously meant to play to the media in the courtroom. Mr. Monnat needs to keep his day job because an Academy Award just is not in his future."
Monnat found malevolent motives behind Kline's application for an arrest warrant after Kline charged Tiller with 30 misdemeanors in December, 2006. An arrest of Tiller was never executed. He challenged Williams for seeking the identity of a 10-year old abortion patient from California, but Williams explained that because he could find no evidence that an abuse report had been filed, he needed to ascertain her identity to insure that she was safe, which he was able to do.
Monnat was also suspicious that Williams may have had contact with "anti-abortionists." He asked Williams if he ever visited the Operation Rescue web site and if he ever interviewed OR representatives Troy Newman and Cheryl Sullenger or a number of other pro-life persons. Williams could not recall doing so.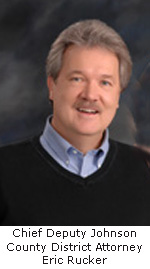 Also testifying was an inexperienced former Kline employee Jared Reed, who feared rumors that former Attorney General Paul Morrison would arrest everyone involved in the Tiller investigation. He went to Morrison and asked for immunity in return for his statements about his discomfort with the Kline investigation, even though he admitted his own role in the matter was limited.
"It says a lot that no other person involved in the Tiller investigation sought immunity," said Newman. "That means that no one really thought there was anything improper about what they were doing."
Also testifying was Eric Rucker who worked with Kline in both his tenures as Attorney General and Johnson County District Attorney. Rucker testified that he remembered very little about specific meetings and e-mails that Monnat brought to his attention.
Thursday, witnesses could include Steven Maxwell, an attorney who worked for Kline during the Tiller investigation, and the long-awaited testimony of disgraced former Attorney General Paul Morrison, who resigned after his adulterous affair and attempts to impede abortion investigations became public.
The hearing is expected to be extended into next week. If Tiller's motion to dismiss is denied, he is scheduled to stand trail on March 16, 2009.