A list of thirty companies that enable Tiller's disreputable abortion business is released to the public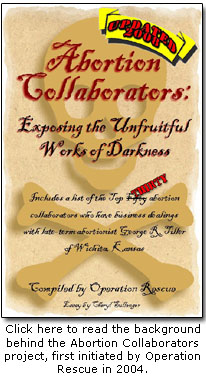 Wichita, KS – Today Operation Rescue released the latest list of businesses that help abortionist George R. Tiller continue his questionably legal abortion business.
The project, called the Abortion Collaborators, was first launched in 2004 with a list of over 50 businesses that did work for Tiller's late-term abortion clinic, Women's Health Care Services. Since then 25 businesses – 50% – have stopped collaborating with Tiller. Today's list contains 30 business listings.
This announcement follows on the heels of the decision by two physicians and the Wichita Clinic to stop providing the second signature for Tiller's post-viability abortions after Operation Rescue reported that Burt Odenheimer and another physician had been secretly seeing Tiller patients. Within hours of Operation Rescue's announcement, the Wichita Clinic confirmed that the two physicians had volunteered to stop providing that service for Tiller effective immediately.
"This victory underscores the effectiveness of the Abortion Collaborators campaign," said Operation Rescue President Troy Newman. "Tiller's political cronies may be willing to prop up Tiller's business, but the community proved this week that it is not."
The purpose of the Abortion Collaborators project is to expose those with dealings with Tiller, so that people of conscience can avoid them and, more importantly, so that members of the community can contact them and ask them to stop participating in the promotion and enabling of abortion. Operation Rescue has re-published an updated booklet explaining the need for the Abortion Collaborators campaign.
"Some attempt to justify these dealings with abortionists as simply a business decision. 'One has a right to make a living,' they often say. However, history has clearly spoken on this matter. Throughout time and across the globe it has been considered morally reprehensible to collaborate with those who would callously destroy innocent lives, especially when that collaboration advances the cause of the oppressors," said OR spokesperson Cheryl Sullenger. "Applying those long established social mores to abortion collaborators, it becomes very clear that one does not morally have the right to make a living off the backs of dead children. The profiteering from innocent bloodshed goes beyond compromise; it is an act of treason against God and man."
Operation Rescue encourages the public to review the list of Tiller Abortion Collaborators, and as they are led, contact them and ask them to stop doing business with Tiller.
View the list (HTML)
Read updated booklet: "Abortion Collaborators" (PDF)