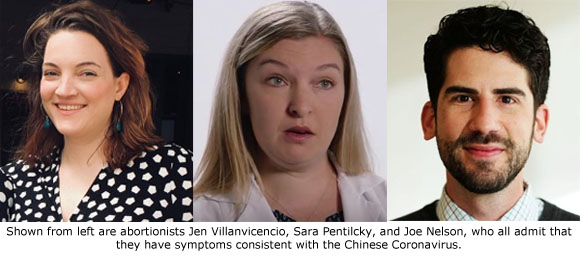 By Cheryl Sullenger
Washington, D.C. – As businesses across America close down and events are cancelled in an attempt to control the spread of the Chinese Coronavirus, abortion businesses are bucking the system and are staying open.
Abortion clinics and hospitals where some abortions are done are ignoring the U.S. Surgeon General's guidelines to halt elective surgical procedures, and are booking elective abortion appointments despite the threat of accelerating the spread of the disease.
Now, at least three abortionists have admitted that they are in self-quarantine after exhibiting symptoms consistent with the Chinese Coronavirus.
Jen Villacicencio, a Planned Parenthood abortionist in Ann Arbor, Michigan, complained on Twitter that it took her a week to get tested for the virus after showing symptoms.
"Can someone explain to me why it took 1 week, 4 hours on the phone, and an hour drive for me, a symptomatic physician, to get tested but asymtpmatic [sic] celebrities seem to have an abundance of access? #COVID19"
As of this writing, Villacicencio has yet to post the results of her test, or if she has been allowed to return to work.
"Don't have the results yet – worked hard to get tested so I can get off isolation and back to work at the hospital and clinics. Not helping rn is killing me," she posted.
Sara Pentlicky, an abortionist at the Seattle Planned Parenthood replied to Villacicencio with a post about her own experience getting tested.
"I feel you. I had almost the exact same experience yesterday," Pentlicky responded.
No word on the outcome of Pentlicky's COVID19 test or even if she is under quarantine.
Meanwhile, in Texas, abortionist Joe Nelson is voluntarily quarantined after he supposedly failed to find anyone who would test him. Nelson works at three abortion facilities, including Whole Women's Health of Fort Worth.
But Nelson chose to blame the Trump administration for his problems in a March 15, 2020 tweet.
"It's pretty clear that the Trump administration does not want to know how bad the COVID19 problem is. Testing as few people as possible means less confirmed cases. I don't know why I expected better of them. I'm a physician with symptoms and I can't get tested either," Nelson posted.
But one response put a perspective on Nelson's whining.
"Really? What makes you so special? You think you deserve a test more than any of the other 1000s of emergency workers? Testing as few people as possible? Dude. If you are really an M.D., use your position to educate the public with FACTS, please. Don't be part of the problem!" posted @DeplorableDoc.
"So you hang out at abortion clinics and kill babies…but you think that YOU deserve to be tested more than the 50k+ ER Docs working in the trenches?! Dude. All you have to do is put down the forceps and stay at home to save lives!" @DeplorableDoc concluded.
Nelson was the subject of a Huffington Post article written by pro-abortion reporter Melissa Jeltsen, who lamented on Twitter, "Abortion clinics cannot survive for long without healthy doctors."
Jeltsen lamented that there are not enough abortionists to take the place of those who fall ill, which may cause abortion facilities to close.
She continued, "Coronavirus is exposing just how fragile access to abortion is across much of the country. If a few abortion providers get sick, it could have a dramatic domino effect."
One popular meme that is currently circulating around social media questions why that is considered a problem.
"If #COVID19 causes @PPFA (Planned Parenthood) to close for just 2 weeks, the virus will have saved more people than it has killed. Think about that statement. #coronavirus," tweeted Amber Rowell.
People infected with the Chinese Coronavirus are able to infect others even before symptoms manifest.
With abortionists Villavicencio, Pentlicky, and Nelson all symptomatic, this raises several important questions. What steps were taken at the clinics –if any — to mitigate the spread of the virus. How often were surfaces in common areas sanitized — if ever?
How many women did these abortionists have contact with at abortion facilities before sickness led them to self-quarantine and were exposed without their knowledge? How many more people will be exposed by those women before anyone realizes what happened to them?
Abortions done at Planned Parenthood and other abortion facilities are elective surgical procedures, which should now be suspended according to U.S. Surgeon General Jerome Adams, because of the threat of spreading the virus.
Other Twitter users, had creative ideas to help with shortages in the medical field due to the Chinese Coronavirus pandemic.
Robert Kemp suggested, "Stop abortions. Use the clinics and medical supplies to save lives. #COVID19"
Meanwhile, in Toronto, Canada, the Choice in Health Clinic is barring women from bringing a "support person" with them for their abortion appointment. Somehow, while this is supposed to limit the spread of the Chinese Coronavirus, the move seems inadequate, since it would take just one infected patient or abortion worker to expose all others to the virus even without the presence of support people.
Other clinics in the United States are said to be rearranging chairs in the waiting rooms to prevent the virus from spreading.
"This is like rearranging deck chairs on the Titanic," said Operation Rescue President Troy Newman. "Deficiency reports that we have collected from every abortion facility that is inspected show that these clinics already have massive infection control problems. Now they expect us to believe that rearranging a bit of furniture will help stop the spread of this very contagious virus? It's ridiculous."
One city councilman in the city of London, Kentucky, Daniel Carmack, believes abortion facilities must be included in the ban on elective procedures as a matter of public safety.
"While it is important to encourage clinics and hospitals to stop elective procedures to prevent and win the war against #COVID19, its also important that [pro-abortion] Gov. Beshear also order abortion clinics to stop the elective procedure of abortions as well. #TogetherKY," tweeted Carmack.
Carmack has a point. The CDC states that there is a possibility that pregnant women are more susceptible to contracting the virus than the general population.
We do not have information from published scientific reports about susceptibility of pregnant women to COVID-19. Pregnant women experience immunologic and physiologic changes which might make them more susceptible to viral respiratory infections, including COVID-19. Pregnant women also might be at risk for severe illness, morbidity, or mortality compared to the general population as observed in cases of other related coronavirus infections [including severe acute respiratory syndrome coronavirus (SARS-CoV)* and Middle East respiratory syndrome coronavirus (MERS-CoV)] and other viral respiratory infections, such as influenza, during pregnancy.
"In reality, abortions are elective procedures and should be halted while we battle the Chinese Coronavirus. The sooner we can flush this virus through, the sooner there can be relief for people who are hurting due to the shutdowns of legitimate businesses. Abortionists and their germ-infested clinics should not be exempt. They should be closed immediately," said Newman.
Want to help?
Please contact your state's governor and insist that abortion facilities follow the same protocols that other medical institutions must follow, and halt elective abortions immediately. This should include abortions done by surgical and chemical means.
Tap this link, then tap the photo of your state's governor for contact information.